The 10 most expensive Premier League transfers of all time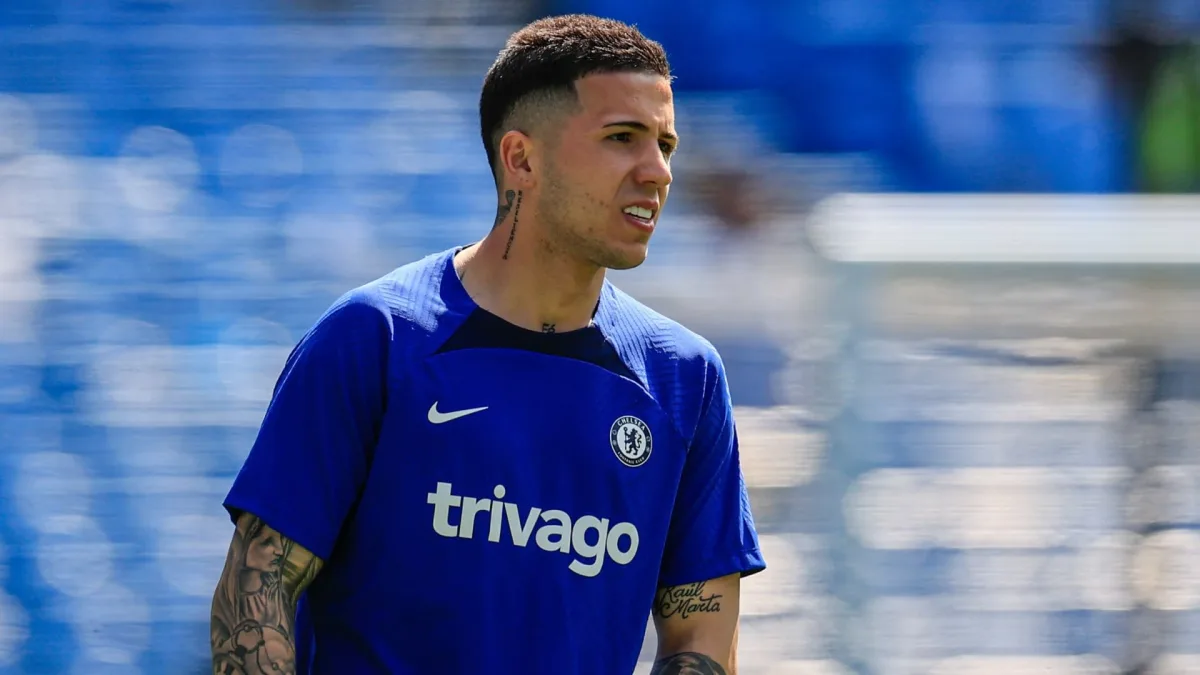 The Premier League is the richest league in the world with some of the world's most powerful teams.
Mammoth sponsorship and broadcast deals, and the biggest concentration of elite clubs means that money pours into the organisation and, in turn, the clubs themselves.
Article continues under the video
No top-flight spends money quite like the Premier League - and it means it is always making football transfer news headlines. For example, in the 2022 summer transfer window, spending in England's top flight outstripped that of its three biggest competitors combined.
READ MORE: The 10 most expensive Saudi Pro League transfers of all time
Chelsea set a new record for spending in a single transfer window during the summer of 2022, while Manchester United, Manchester City and Arsenal have flexed their financial muscles impressively in recent years. Liverpool and Tottenham, too, can spend big when required.
And, now, of course we have another superpower that has arrived on the scene; Newcastle United, whose new Saudi owners are the richest in world football. Indeed, they flexed their muscles during the 2022 winter transfer window - the first they had entered since taking over - and were the biggest-spending club in the world game.
What this promises, then, is an even greater arms race in the Premier League, with even bigger spending on ever more stars.
READ MORE: The 10 most expensive WSL transfers of all time
But who are the most expensive Premier League players ever?
What are the biggest transfer fees in Premier League history?
10. Jadon Sancho - €85m (from Dortmund to Man Utd, 2021)
After one of the longest transfer sagas in recent memory, Manchester United finally signed Jadon Sancho from Borussia Dortmund in the summer of 2021.
The Red Devils had been locked in negotiations with the German giants for well over a year with regards to the England international, having failed initially to sign him in the summer of 2020.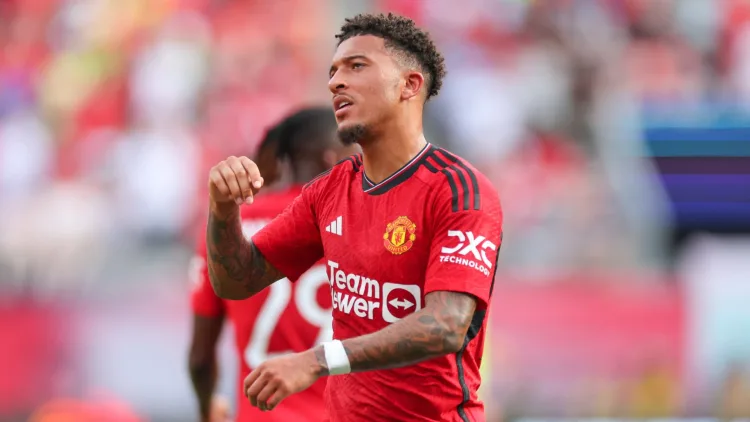 Dortmund initially remained firm on their €100 million valuation of the player, but the club eventually settled for €85m. Sancho was viewed as the final piece of the attacking puzzle at Old Trafford, but his form and fitness have both been questioned.
He was frozen out by Man Utd manager Erik ten Hag in September 2023 after a public bust-up between the pair.
9. Harry Maguire - €87m (from Leicester City to Man Utd, 2019)
Just 18 months after Liverpool made Virgil van Dijk the most expensive defender in history, Man Utd broke that record by signing Harry Maguire from Leicester.
It took the Englishman just half a season to become the permanent United captain, and despite initial concerns over the fee, he became one of the first names on Ole Gunnar Solskjaer's team sheet.
However, he was stripped of the captaincy by Ten Hag ahead of the 2023-24 season, with Bruno Fernandes replacing him after Maguire lost his place in the Man Utd starting XI by Lisandro Martinez and Raphael Varane.
After initial promise, Maguire's career at Old Trafford looked to be over during the 2023 summer transfer window amid interest from West Ham, but a move didn't materialise.
8. Josko Gvardiol - €90m (from RB Leipzig to Man City, 2023)
Josko Gvardiol was wanted by every big club in world football in 2022, but RB Leipzig managed to hold onto him for one more season.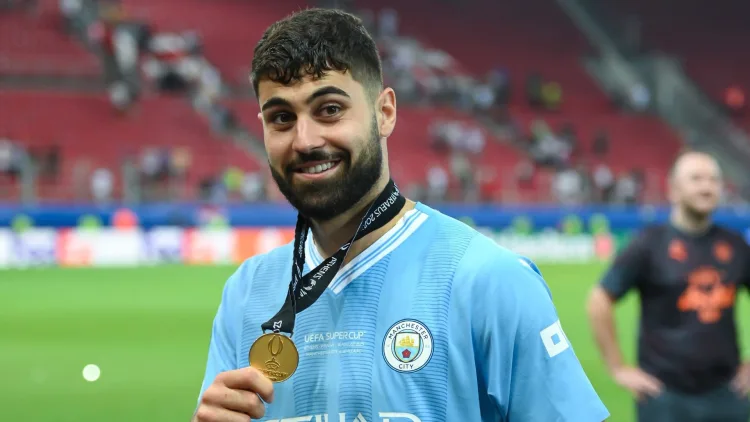 Gvardiol's final year in the Bundesliga was excellent and convinced Pep Guardiola's Manchester City to spend €90m to acquire him, making him the most expensive defender of all time.
The Croatian was viewed as the perfect player for Guardiola's system given his ability to play at both left-back and centre-back.
7. Antony - €95m (from Ajax to Man Utd, 2022)
Man Utd landed Antony on Transfer Deadline Day in the summer of 2022, in the biggest deal ever concluded on the final day of the summer transfer window.
He was a priority for Ten Hag throughout the summer but United's reticence to match Ajax's asking price meant that a deal was slow to conclude.
Ultimately, the Red Devils ended up shelling out €95m in a deal that was widely seen as being too pricey for what they received. In his first season at Old Trafford, Antony failed to live up to his transfer fee and was widely criticised for his performances in a Man Utd shirt.
6. Paul Pogba - €105m (from Juventus to Man Utd, 2016)
Paul Pogba made his widely publicised return to the Red Devils in the summer of 2016 for a world-record transfer fee at the time.
The Frenchman had left Man Utd to join Juventus on a free transfer just three years earlier, a decision that was soon seen as a huge mistake given how much the Old Trafford club were willing to pay to bring him back.
Pogba had some tremendous performances for Man Utd - his brace away against Man City in 2018 and his four assists versus Leeds in 2021 spring to mind - but he was far too inconsistent given his price tag.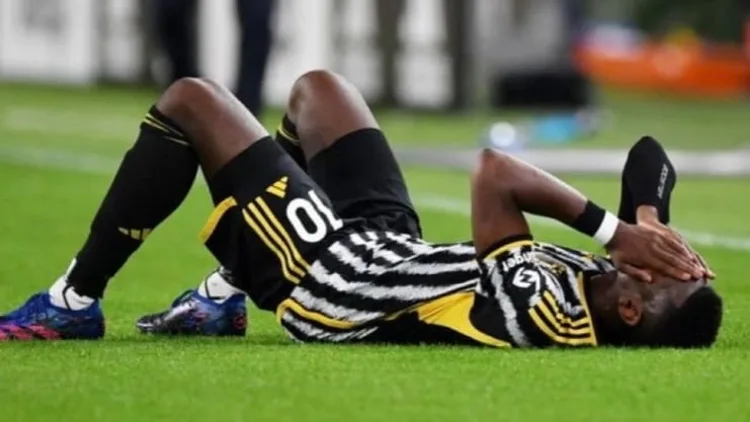 Furthermore, he typically played better for France than at club level and he returned to Juventus on another free transfer in 2022.
5. Romelu Lukaku - €113m (from Inter to Chelsea, 2021)
After spells at Everton, Man Utd and Inter following his Chelsea exit in 2013, Romelu Lukaku made a sensational return to Stamford Bridge in 2021.
The Belgian netted a brace against Arsenal in his first game back at Chelsea, but things quickly turned sour when he revealed his love for Inter in an interview with Sky Italia.
Thomas Tuchel soon favoured Kai Havertz, and Lukaku was then shipped off on loan to Inter for the 2022-23 season.
After a transfer saga that looked as though it would never end, Lukaku joined Jose Mourinho's Roma on yet another loan move for the 2023-24 campaign.
It's fair to say Chelsea have seen much reward on their €113m investment.
4. Moises Caicedo - €116m (from Brighton to Chelsea, 2023)
Liverpool or Chelsea? That was the question for Moises Caicedo during the 2023 summer transfer window.
Both clubs were desperate to sign the Ecuador international to complete their midfield rebuild, and it was Chelsea who managed to finalise a deal, despite the fact Brighton had previously accepted an offer from Liverpool.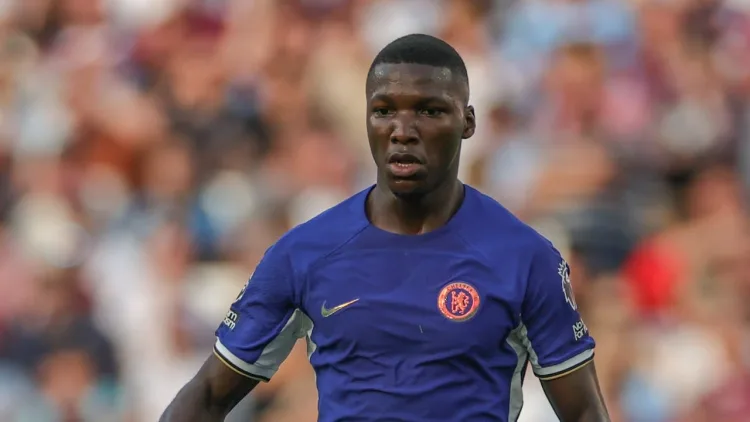 Caicedo was courted after a fantastic season under Roberto De Zerbi at Brighton and was seen as the perfect player to unlock Enzo Fernandez's potential at Stamford Bridge.
3. Declan Rice - €116.6m (from West Ham to Arsenal, 2023)
Arsenal obliterated their transfer record with the €116.6m signing of Declan Rice in July 2023.
The England international was also wanted by Man City, but he chose to join Mikel Arteta's Arsenal instead after their second-place finish in the 2022-23 Premier League.
Rice left West Ham on a high, having captained them to Europa Conference League glory in his final match for the club.
2. Jack Grealish - €177.5m (from Aston Villa to Man City, 2021)
Jack Grealish emerged as one of the most exciting players in the
Premier League with Aston Villa and in 2020-21, he recorded the third-highest tally of assists in the top-flight, despite missing three months of action.
Even before the 2020 European Championship started, he was the subject of interest from both Manchester City and Manchester United, who were looking into the possibility of a £100m transfer.
His stock rose during the Euros, too, as he came off the bench to play a role in both goals as England defeated Germany in the first knockout stage.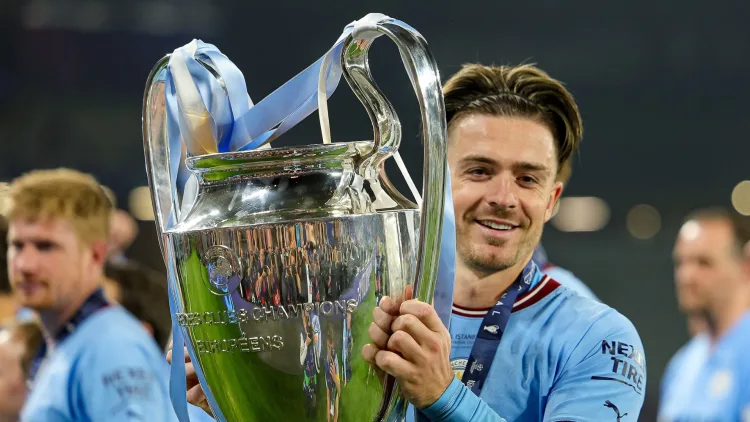 Eventually, Man City stepped up their efforts and signed him for a then-British record fee. Grealish played a key role in their historic treble win in his second season at the club.
1. Enzo Fernandez - €121m (from Benfica to Chelsea, 2023)
Enzo Fernandez overtook Grealish as the most expensive British transfer arrival of all time when he swapped Benfica for Chelsea in January 2023.
The Argentina World Cup winner had only joined Benfica in a €12m deal from River Plate the previous summer, but having been elected best young player of the tournament in Qatar, interest in the 22-year-old was high.
With Chelsea having already splashed the cash since American billionaire Todd Boehly replaced Roman Abramovich as owner, Benfica were confident they could extract maximum value from their asset, and they did.
The Portuguese side dug their heels in, insisting Chelsea meet the player's release clause, and after negotiating throughout the winter transfer window, the Blues finally acquiesced.
The 10 most expensive Premier League signings of all time
| Player | From | To | Year | Fee |
| --- | --- | --- | --- | --- |
| 1. Enzo Fernandez | Benfica | Chelsea | 2023 | €121m |
| 2. Jack Grealish | Aston Villa | Man City | 2021 | €117.5m |
| 3. Declan Rice | West Ham | Arsenal | 2023 | €116.6m |
| 4. Moises Caicedo | Brighton | Chelsea | 2023 | €116m |
| 5. Romelu Lukaku | Inter | Chelsea | 2021 | €113m |
| 6. Paul Pogba | Juventus | Man Utd | 2016 | €105m |
| 7. Antony | Ajax | Man Utd | 2022 | €95m |
| 8. Josko Gvardiol | RB Leipzig | Man City | 2023 | €90m |
| 9. Harry Maguire | Leicester | Man Utd | 2019 | €87m |
| 10. Jadon Sancho | Dortmund | Man Utd | 2021 | €85m |