Barcelona's 10 most expensive transfers of all time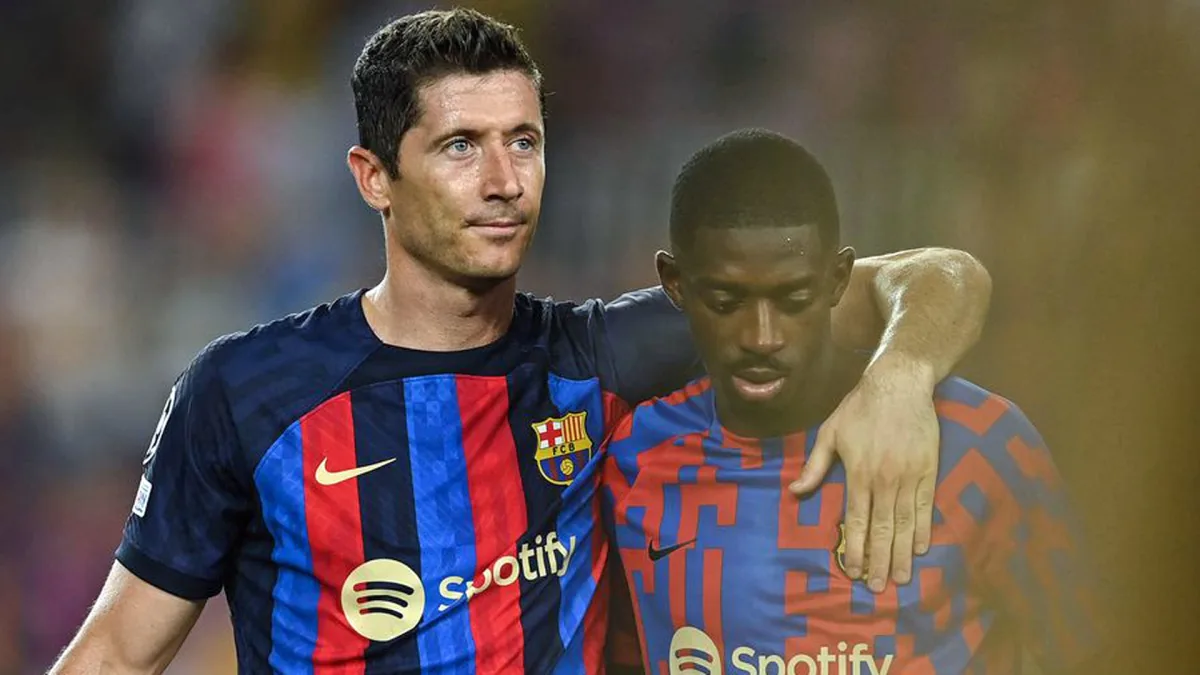 Barcelona might be better known for La Masia than spending big on transfers, but the Catalonians have made a number of huge splashes in the market in recent years.
Some of these transfers have come against the backdrop of financial problems for the club that have only been eased by the activation of "financial levers" - selling a percentage of future revenues for liquid capital in the here and now.
Football Transfers runs down the 10 most expensive signings in Barcelona history.
=9. Miralem Pjanic - €65m (from Juventus, 2020)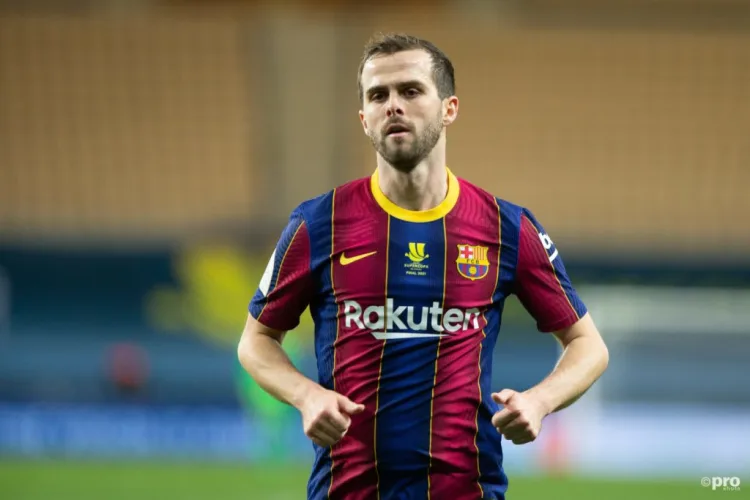 The fact that Barcelona paid Juventus €60 million - plus €5m in bonuses - for a 30-year-old who had badly declined over his previous two seasons raised eyebrows.
In reality, Barca's decision to sign Pjanic and sell Arthur Melo to Juventus at an equally inflated price of €72m – plus €10m in bonuses – was an accounting transfer designed to help both debt-fuelled teams balance the books.
Pjanic struggled horribly in his first season at Barcelona, making just six La Liga starts and failing to score across all competitions. He spent the 2021-22 season on loan at Besiktas before joining Sharjah in the UAE.
=9. Ferran Torres - €65m (from Man City, 2022)
Ferran Torres became the first major signing of Xavi's reign at Barcelona when the Blaugrana agreed to splash out €55m plus €10m in add-ons for the wide attacker.
Xavi specifically requested Ferran from president Joan Laporta as he attempted to rebuild a Barcelona empire that was close to completely collapsing.
Torres had spent 18 good months at Man City after arriving there from Valencia in the summer of 2020 but jumped at the chance to return to his homeland.
So far the move has not worked out and Torres has struggled to hold down a regular starting place.
8. Raphinha - €66m (from Leeds, 2022)
Barca completed Raphina's signing from Leeds for big money having been struggling to fund a deal just weeks earlier. The Brazil international winger had lit up the Premier League with Leeds and the Blaugrana beat Chelsea to the signature of the former Rennes wide man.
The size of the deal came as something of a surprise, particularly since the Catalans had been in financial dire straits for months leading up to the conclusion of the transfer.
So far it has not been worth the outlay, even though Raphinha won La Liga in his first season at the club.
7. Zlatan Ibrahimovic - €69m + Samuel Eto'o (from Inter, 2009)
Financially, Barcelona's signing of Zlatan Ibrahimovic was one of the worst deals of all time. Barca not only splashed out around €69m for the Inter star, they also handed over a world-class attacker in Samuel Eto'o in addition.
Although Zlatan's goal record was good - 21 goals in 45 games on the way to winning La Liga and five trophies in one year - his time in Catalunya soon turned sour.
He fell out with Pep Guardiola, lost his place in the starting XI as Lionel Messi was converted into a 'false nine', and suffered the ignominy of seeing Eto'o and Inter beat Barcelona in the Champions League semi-finals.
After just one year at Barca he returned to San Siro - with AC Milan - for a cut-price €24m.
6. Frenkie de Jong - €75m (from Ajax, 2019)
After helping his Ajax side win a domestic double and march to the semi-finals of the Champions League, Frenkie de Jong was one of the most sought-after talents in world football in the summer of 2019.
After rejecting offers from Manchester United, PSG and Manchester City, the Dutch midfielder made the move to Barcelona for a deal believed to top €75 million, with high hopes of taking his Dutch domestic form to a new level.
De Jong hasn't quite lived up to expectations at Camp Nou but he still played an important role in Barcelona winning La Liga in 2023.
5. Luis Suarez - €82m (from Liverpool, 2014)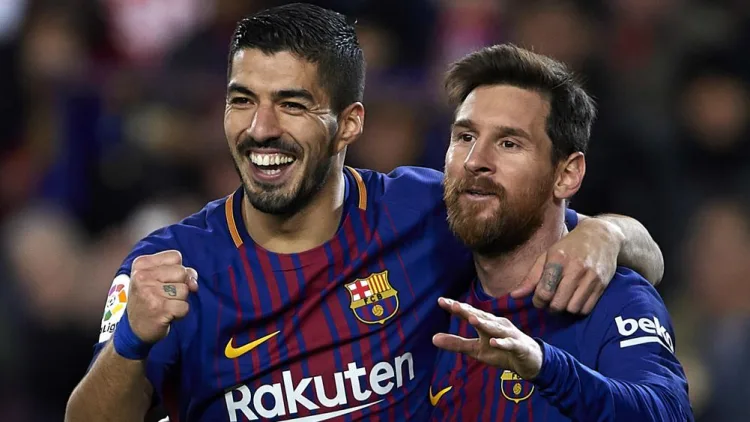 After batting his eyelids at the club for a number of years, Luis Suarez finally got the move he'd been dreaming of in 2014 when he left Liverpool for the Camp Nou.
Despite signing on a five-year deal for a record €82m, Suarez was immediately banned from playing or even training with his new club until October after biting Giorgio Chiellini at the 2014 World Cup. But eventually he got to work.
Over the course of six seasons at the Catalan club, Suarez scored a remarkable 195 goals and bagged a further 113 assists in 283 games and picked up no less than four league titles, four Copa del Rey trophies and the Champions League in 2015.
Alongside his superb individual talent, Suarez formed one third of Barca's feared "MSN" attacking line of Lionel Messi, Neymar and the Uruguayan striker and, despite his routine bouts of stupidity off the ball, became one of the best forwards in the world.
4. Neymar - €86m (from Santos, 2013)
Although the manner of Neymar's move to Barcelona from Santos eventually led to the club and vice-president Josep Maria Bartomeu being charged with tax fraud, it's safe to say the player's transfer fee of €86 million was repaid comfortably by the Brazilian's on-field performances.
Neymar needed time to adapt to European football in his first season, but by the 2014/15 campaign the Selcao talent was at his very best with 39 goals in 51 games as Barca claimed a continental treble.
In total, Neymar scored 105 goals and provided 76 assists in just 186 games for the Spanish giants and won eight major titles before earning his club a remarkable profit with a €222 million move to PSG in August 2017 - still a word record fee.
3. Antoine Griezmann - €120m (from Atletico Madrid, 2019)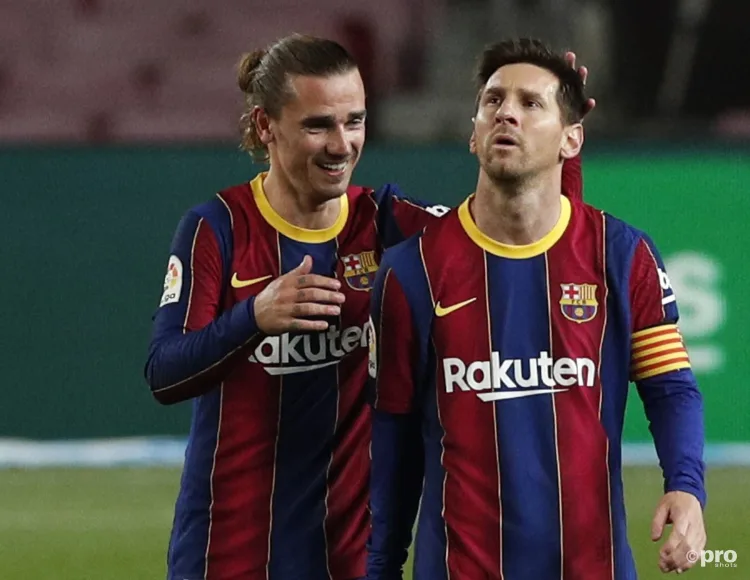 With Neymar now a distant memory Barcelona went big in signing a long-term replacement in Atletico Madrid star Antoine Griezmann for €120 million in 2019.
The capital side seriously disputed the manner in which Barca paid off Griezmann's minimum-fee release clause and Atleti fans defaced the player's plaque outside the club stadium, but the France international was eventually confirmed as a Barca player in mid-July.
However, two years on, he proved not to be worth the money or the hassle.
His performances, combined with the fact Barca needed him off the wage bill, led to a return to Atletico on a two-year loan in 2021, which was made permanent in October 2022.
2. Ousmane Dembele - €145m (from Borussia Dortmund, 2018)
Barcelona were held to ransom by Borussia Dortmund as they sought a replacement for Neymar.
Having just recouped the biggest transfer fee ever seen, they were forced to pay over the odds for Ousmane Dembele, who had admittedly shown plenty of potential first with Rennes and then BVB.
A €105m deal was thrashed out, with a possible €40m to follow in bonuses.
Dembele's time at Barcelona was dominated by injury problems and despite some moments of brilliance he was ultimately a disappointment. He left for PSG in the summer of 2023.
1. Philippe Coutinho - €160m (from Liverpool, 2018)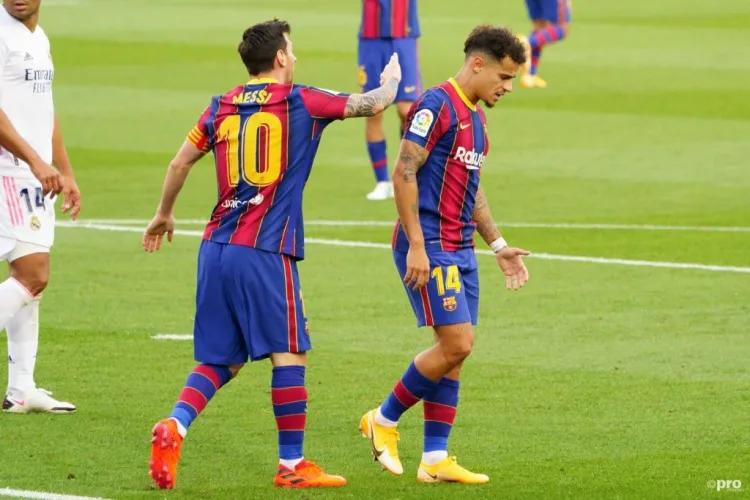 After Dembele struggled to replace Neymar in his first six months at Barcelona, the Blaugrana threw money at the problem again by purchasing Philippe Coutinho for an outrageous initial fee of €121m plus bonuses potentially reaching €160m.
The move turned out to be a disaster for all parties as Coutinho failed to make an impact on the team, regularly taking up the same positions as Messi before the Argentine followed Neymar to PSG last summer.
Coutinho returned to the club after he failed to earn a permanent move to Bayern following a loan deal – and once again failed to shine.
In the summer of 2022, he made his loan deal to Aston Villa permanent for €20m.