No laughing matter! Hazard's Chelsea antics may spell end of disastrous Madrid career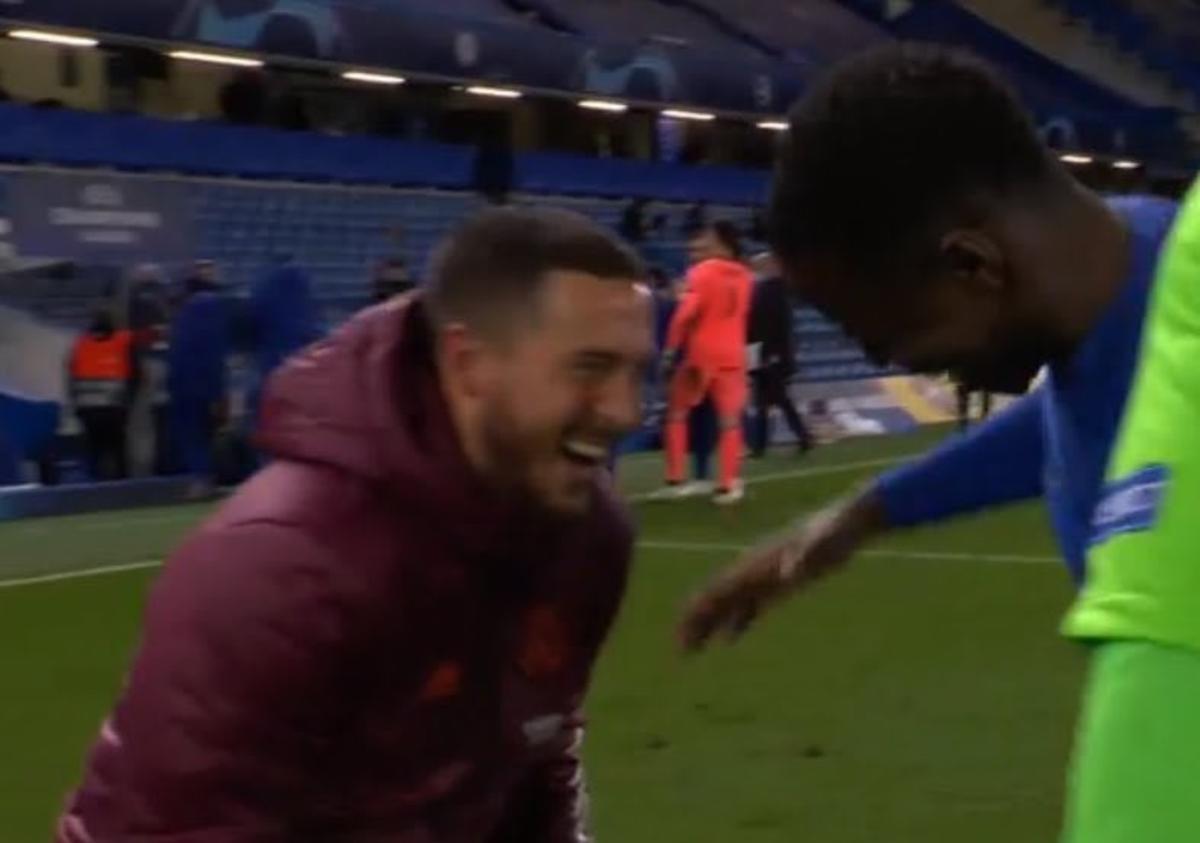 By Ben Hayward, Spanish Football Expert
It was billed by many as the night on which Eden Hazard could finally make his mark as a Real Madrid player. Back at former club Chelsea, the Belgian was handed a starting spot. After two injury-hit seasons, this was a chance for the spotlight and the headlines.
And after a 2-0 loss for Los Blancos, Hazard was indeed the main talking point. Not, though, for his performance on the pitch. That had ended disappointingly after 89 minutes, when he was replaced by Mariano Diaz in a last desperate roll of the dice by Zinedine Zidane. Real Madrid were heading out of the Champions League and he had done little to prevent it.
But following the final whistle, there would be much worse.
READ MORE: What the hell has happened to €146m flop Hazard?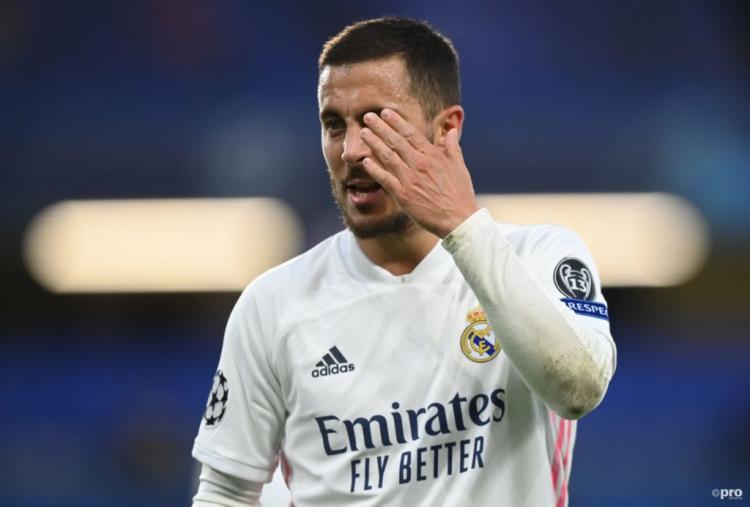 Hazard was seen laughing with former Chelsea team-mate Kurt Zouma on the pitch at Stamford Bridge and the images went viral on social media. Back in Spain, he soon became the scapegoat for a toothless team performance.
Late-night sports show 'El Chiringuito', renowned for its outspoken opinions and large doses of melodrama, opened with an extraordinary monologue from presenter Josep Pedrerol.
"Real Madrid knocked out and Hazard [is] cracking up laughing," he said solemnly to the camera. "Hazard. Two years mocking madridismo. Two years. [Weighing] too many kilos. He doesn't go past anyone."
He then went on to compare Hazard to Gareth Bale, the programme's long-time target for criticism. "Another Bale in life," he said. "Another Bale."
But Bale won four Champions League titles at Real Madrid, scored in two of those finals and racked up over 100 goals for Los Blancos. Hazard has not contributed anything like the Welshman.
Hazard at Real Madrid
| | 2019/20 | 2020/21 |
| --- | --- | --- |
| Appearances | 22 | 18 |
| Goals | 1 | 3 |
| Assists | 4 | 1 |
| Yellow Cards | 1 | 0 |
| Red Cards | 0 | 0 |
| Ave Rating* | 7.0 | 6.5 |
*Source: FootballCritic
The Belgian, signed for €100 million in 2019 in a deal which could rise to €146m or even higher, has played just 40 times for Madrid and netted only four goals. And when it mattered most, he was unable to produce. After all his injury problems, how could he?
"Madrid paid €100m for him," Pedrerol continued. "You have just been knocked out… how is it possible that you find something funny?"
And the segment, full of tense music and clever pauses for added effect, concluded with an angry message sounding more like a veiled threat to the Belgian attacker.
"Hazard cannot continue for one second more at Real Madrid," Pedrerol announced.
Hazard was wanted at Madrid by Zidane, but the move has been blighted by injuries and after two turbulent seasons, it is understood Real will consider selling the 30-year-old.
As with Bale before him, the problem will be finding a bidder and also a club prepared to pay high wages to an injury-ravaged and ageing player seemingly past his prime.
In the meantime, Zidane will continue to back the Belgian, but it is hard to see how Hazard can recover his career at Madrid.
Gestures like these are taken very seriously in Spain. In 2019, Ivan Rakitic felt the wrath of many Barcelona fans for attending a fair in Seville the day after the Blaugrana were thrashed 4-0 by Liverpool.
That seems tame compared to this. And although typically blown out of all proportion by the Spanish press, Hazard's actions on the pitch at full-time in London are seen as no laughing matter. It could well be the beginning of the end for the Belgian in Madrid.