Penalty king Henderson shows he's better than De Gea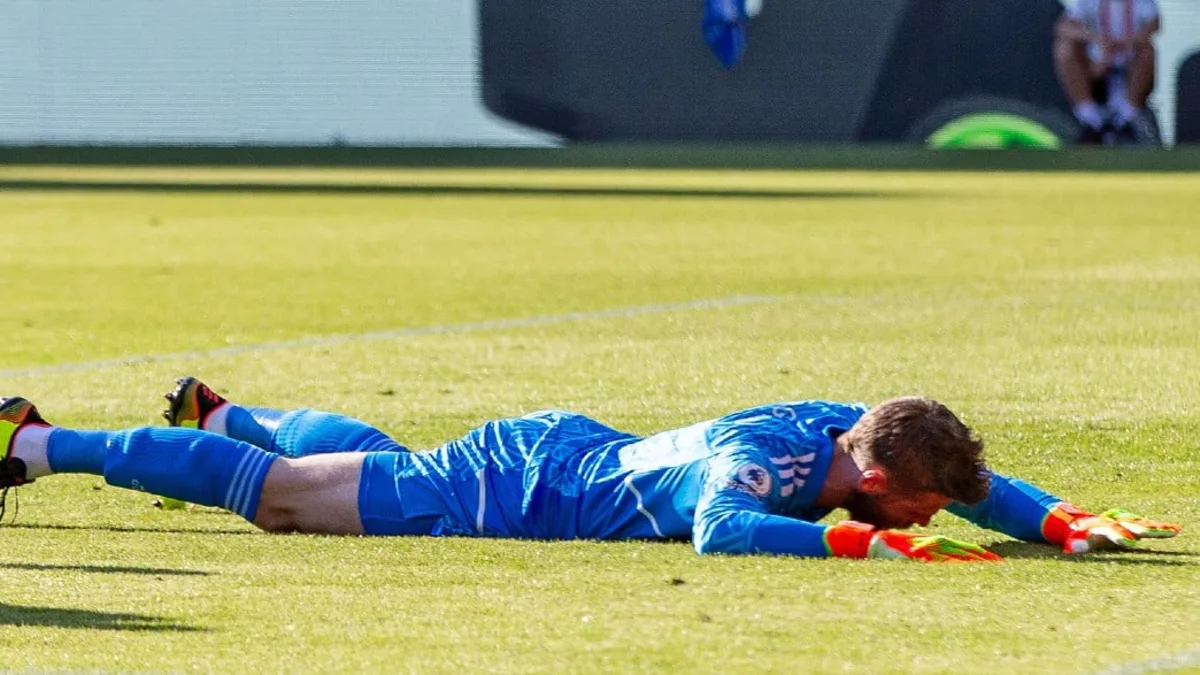 David de Gea had another shocker on Saturday as Man Utd were humiliated 4-0 at Brentford.
The Spaniard was guilty for Brentford's first two goals. For the opener he allowed a simple Josh Dasilva shot to squirm under his body. For the second, his suicidal pass to Christian Eriksen was stolen, allowing Mathias Jensen to dispatch into the net.
This came after he was also at fault for one of Brighton's goals as Man Utd lost 2-1 on the opening day of the season.
He swept for a low cross with his feet, completely missing the ball and allowing Pascal Gross to score a simple tap-in.
Meanwhile, Nottingham Forest's on-loan goalkeeper Dean Henderson faced a similar cross the previous day, easily sweeping down to claim the cross with his hands, making it look basic.
Henderson was in supreme form in matchday two also, making a string of stunning saves as Nottingham Forest faced West Ham in their first home Premier League game this century.
The highlight was a penalty save from Declan Rice in the second half that preserved Forest's lead at 1-0.
Penalty Records in English football:

Dean Henderson - 9 penalties saved - 17 penalties faced - 53% penalty save percentage

David De Gea - 7 penalties saved - 45 penalties faced - 16% penalty save percentage

Massive save vs. Declan Rice. 🧤 pic.twitter.com/poObDpsi9A

— Statman Dave (@StatmanDave) August 14, 2022
It was the latest indication that Man Utd have the wrong goalkeeper starting for them on a weekly basis.
Man Utd made a mistake in letting Henderson go
De Gea has been a problem for Man Utd for several years, and it's contributed to holding Manchester United back.
Earlier this month, Henderson expressed his ambition for being Manchester United's number 1, and had it not been for him catching the coronavirus, he likely would've been last season under Ole Gunnar Solskjaer.
He was apparently promised the starting role as well, but that all changed at the start of last season, and Henderson expressed his frustration, as he rejected loan offers to stay at United only to rarely play.
The issue with De Gea has hindered teams under Solskjaer, Ralf Rangnick and it's already started under Erik ten Hag: he's unwilling to claim authority, distribution is poor, and he's proving to be an overall negative.
While he isn't Manchester United's biggest problems – solely because there are so many – he's still one that is holding the team back.
The belief that he's a good shot-stopper is valid, but numbers show Henderson is better, and even then, it's perhaps the only attribute that De Gea excels at and it's no longer enough for a team looking to play expansively.
xGOT performance in GW1:

Dean Henderson: +0.07
David De Gea: -0.44

Deano is off to a much better shot-stopping performance this season (as expected) 🔜🔛🔝 pic.twitter.com/vDH2uu7wYM

— lewis 🇬🇧 (@utd_Lewis) August 7, 2022
There were some signs of encouragement in pre-season, as he was willing to play more with the ball at his feet, and he showed a slightly improved sense of distribution, but that all fell apart on the league's opening day.
How much Ten Hag will be willing to persist with this will be interesting to see – his teams at Utrecht and Ajax have always had a confident, ball-playing goalkeeper who can take charge, and De Gea isn't that.
Henderson, on the other hand, has often shown those attributes, and while he may not be amongst the league's best, he's a better fit for this Manchester United team.
He got a run of games at the end of the 2020/21 season, proved he was better and more consistent, then was dropped the following campaign, which proved to be a big mistake.
Another issue facing De Gea is his massive contract – he's on a contract that sees him earn about £350,000-a-week, the highest for any goalkeeper in the world – and no one would take that on in 2022.
The lucky part for United is that he's not got long on his contract – they should let him go on a free in 2023, because he's no longer a modern fit, and taking the option to extend his deal would be the wrong call.
The season is two games old but it already feels as though Manchester United have the wrong goalkeeper away from the club, and it may be a decision that costs them come the end of the campaign.