Who is Tiago Tomas? The 'new Ronaldo' wanted by Arsenal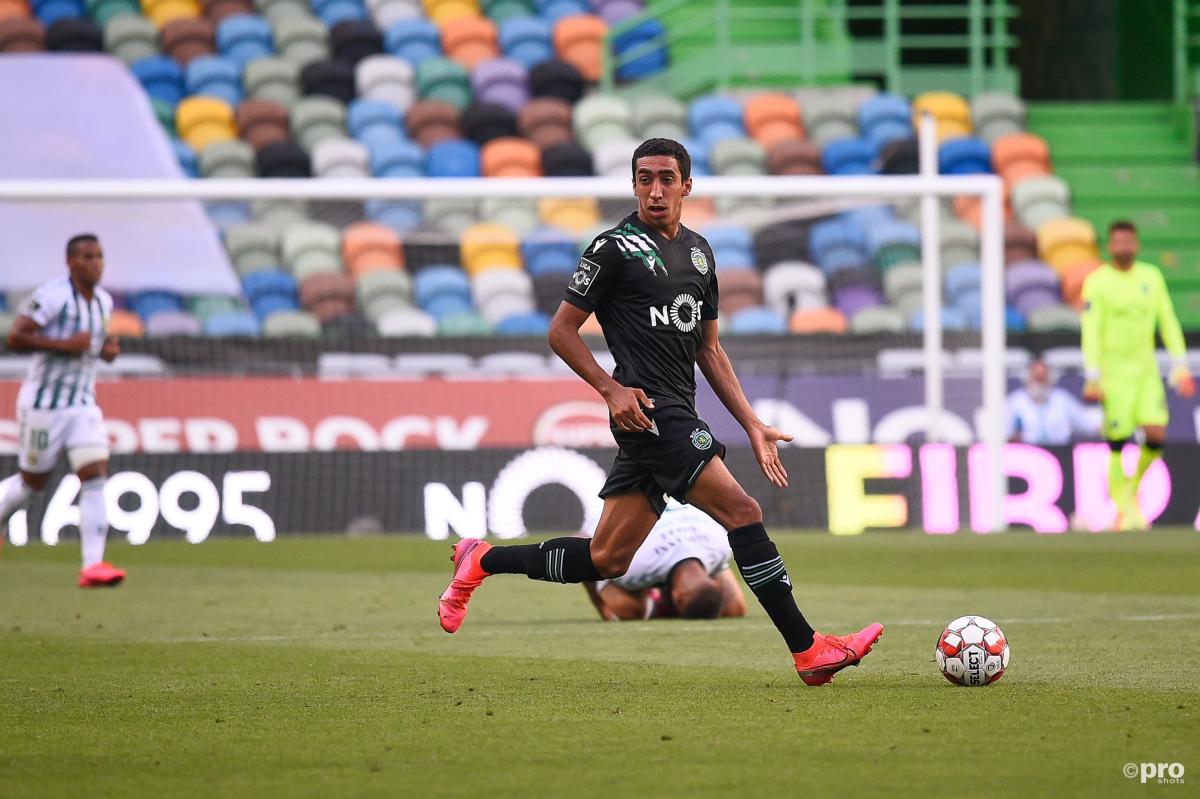 Back in 2003, Manchester United pulled off a masterstroke when they signed Cristiano Ronaldo from Sporting Lisbon. Now, Arsenal are trying the same thing.
The man in question this time is Tiago Tomas, a young centre-forward impressing in Portugal.
He's a player that most fans outside Portugal won't have heard of, but Tomas has caught the eye and is considered the country's next big thing in forward areas.
Tomas is clearly doing something right, but who is he?
What position does Tiago Tomas play in?
Tomas is a forward who mainly operates through the middle. He can play off either wing, but his best position, and the one he most often plays, is as a number nine.
How good is Tiago Tomas?
While the 'new Ronaldo' tag is simply down to the team he plays for, Tomas has actually been likened to both Kylian Mbappe and Kaka. In fact, the reason for that comparison to Ronaldo is because against Gil Vicente in 2020, all of Sporting's players had a club legend on the back of their shirt to celebrate the 114th anniversary of the club's foundation - Tomas was the player given 'Cristiano Ronaldo' on his shirt. That game was also his first-team debut.
He was even offered Ronaldo's old No.7 shirt by club president Federico Varandas, but according to AS, Tomas said this in response: "I do not want it, president. I do not want that pressure. I prefer to be Tiago Tomas."
In the 2020/21 season, he helped Sporting to their first league title since 2002, playing 30 times. In all competitions last season, he scored six goals and assisted three in 37 appearances, which is an encouraging start.
Sporting legend Manuel Fernandes spoke about Tomas to Record, and said: "Given his age and the rate of progression he has shown, in the future he will be an excellent striker. He's not just a striker who plays in the box, but a mobile forward. Sooner or later, big clubs in Europe will appear to sign him."
Tomas was reportedly so good as a youngster, coaches "imposed limitations on him." That's what Paulo Bolrao, his former coach at Carcavelos, told Record, adding: "like only giving him two or three touches of the ball at a time.
"Sometimes, he sulked, so then we had to explain why we were doing it."
At Sporting, Tomas first broke into the thoughts of the first-team after he bagged 30 goals during the 2018/19 season in the U-17 side.
His agent, Carlos Goncalves, told AS: "He has a profile that is not typical of Portuguese players, so he is very interesting for the international market. He is still very young, but he has a lot of strength and technique.
"Tiago also has a lot of mental strength. It is what marks him out as being different, because technique and talent are preordained.
"If we talk about his qualities, technically he is very good, he is strong, he is able to find space very easily and he makes strong decisions. He has almost everything a striker needs.
"He doesn't have to rush [to leave]. There is still more to do in Portugal. In the end, it will depend on the club that comes in for him – if they need an immediate performance or if they plan to let him grow."
What clubs are interested in Tiago Tomas?
Arsenal are currently the frontrunners for Tomas' signature, but his €60 million (£51m) release clause may be a stumbling block. It has been reported by TMW that the Gunners are "crazy" about the Portuguese forward, so they may simply pay up.
Roma are also interested, but so far, they've been less active than Arsenal in terms of pursuing Tomas.
When does Tiago Tomas' contract expire?
Tomas' current contract expires in 2025. He signed an extension in 2020.
How old is Tiago Tomas?
Tomas was born on 16 June 2002. He is 19.
What is Tiago Tomas' ​height?
Tomas is 180cm or 5ft 11in tall.
What is Tiago Tomas' weight?
Tomas weighs around 73kg.
What football boots does Tiago Tomas wear?
Tomas wears Nike Mercurial Vapor 14 Elite cleats
What is Tiago Tomas' Instagram?
Tomas' Instagram has 91.5k followers as of October 2021.
Who is Tiago Tomas' girlfriend?
Tomas isn't dating anyone publicly.