Who is Gavi? Barcelona's mercurial 17-year-old Spain wonderkid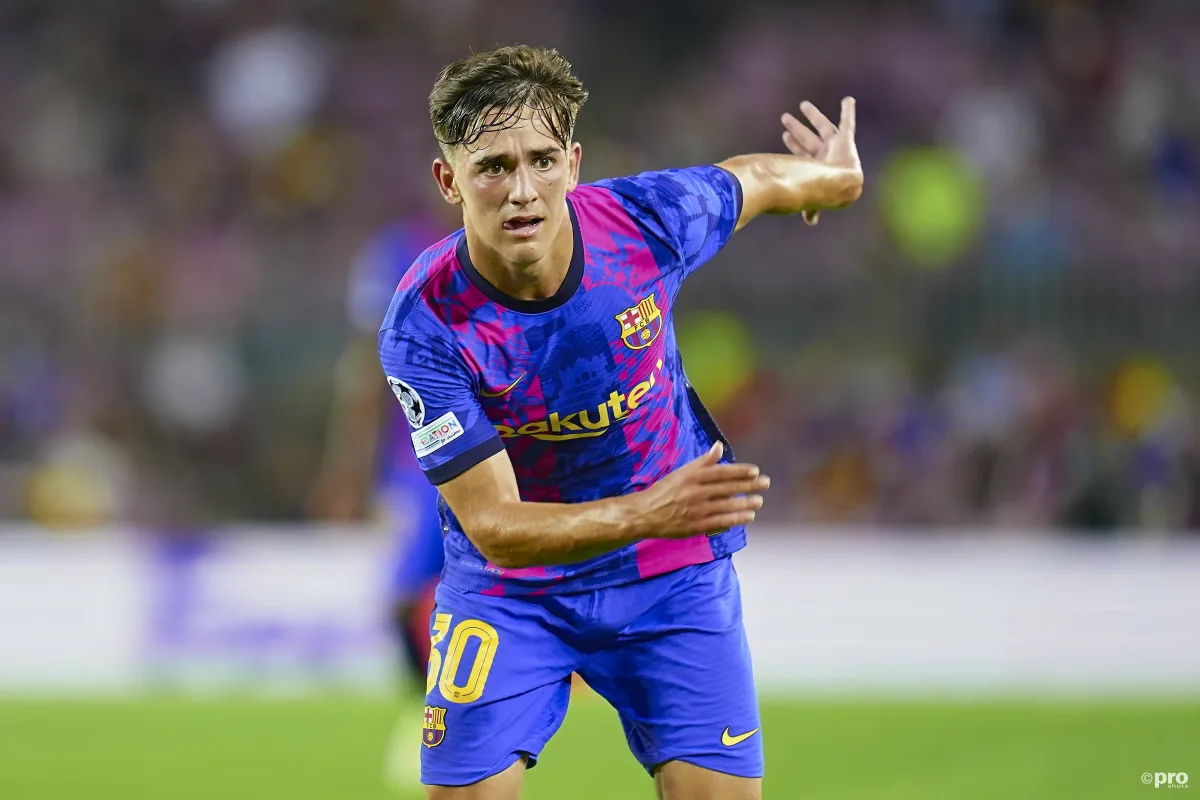 It appears Barcelona have unearthed another La Masia gem in the form of young midfielder Pablo Paez Gavira, or Gavi.
The Blaugrana have always had a reputation for fielding ball-players in the middle of pitch no matter their age, as proven by the recent emergence of Pedri, who was signed from Las Palmas in the summer of 2020.
Drafted in from the Canary Islands, though, Pedri is not considered homegrown. Instead, Gavi is considered to be the next big star to come out of La Masia, following in the footsteps of Ansu Fati and so many other big names.
Who is Pablo Gavira?
At the end of September 2021, Pablo Martin Paez Gavira - better known as 'Gavi' - was called up to the senior Spain national team by Luis Enrique despite his young years. He was selected to make his debut against Italy in the UEFA Nations League semi final on October 6. Spain won the game 2-1.
This made Gavi the youngest Spain international in history at the age of 17 years and 62 days.
And he started again just four days later as Spain took on France in the final of the UEFA Nations League at San Siro.
Here, we look at what kind of player Barcelona have on their hands.
What position does Gavi play in?
Gavi is a central midfielder.
How good is Gavi?
Prior to joining La Masia, Gavi was in the youth ranks at Real Betis, where he scored a sensational 96 goals before moving to Catalunya.
At the end of August in 2021, he made his senior debut for the club, coming on as a replacement for Sergi Roberto in a fixture against Getafe.
He then made five subsequent appearances and even started two La Liga matches in a row against Granada and Levante.
Gavi has emerged as a trusted younger player for Ronald Koeman and is now ahead of Riqui Puig in the pecking order at Camp Nou.
Like every product of La Masia, he displays a wondrous touch of the ball and poise when in possession. His name has, perhaps unfairly, already started comparisons with Xavi.
Franc Artiga, a former La Masia coach, outlined a few of his strengths.
"He is so technically gifted," he told Goal.
"He is capable of changing what he is about to do in tenths of a second, and improvising under any circumstance of the game.
"It is very difficult to find a player with these abilities, and with this speed of execution."
After Gavi made his debut against Getafe in La Liga, he thanked the coaches at La Masia for getting him ready for his happy moment.
"Right now I am the happiest kid in the world! he said.
"Since I was little I had that dream of making my debut in La Liga at the Camp Nou and today I have been able to achieve it.
"A thousand things are going through my head, I was a little nervous, I went to do it the best I could. At times like this I remember my family, my friends, all the coaches at La Masía."
What clubs are interested in Gavi?
Gavi is so young that no major suitors have emerged yet, though if Barcelona's financial problems continue they may start to sweat over the youngster's future.
When does Gavi's contract expire?
Gavi's contract at Barcelona ends in June of 2023.
How old is Gavi?
Gavi was born on 5 August 2004. He is 17.
What is Gavi's height?
Gavi is around 5ft 7in tall.
What is Gavi's weight?
Gavi weighs around 68kg.
What football boots does Gavi wear?
Gavi wears Nike Mercurial Vapour football boots.
What is Gavi's Instagram?
Gavi's Instagram has 370k followers as of September 2021.
Who is Gavi's girlfriend?
Gavi is not dating anyone publicly.