From punching a fan to destroying Man Utd – Neymar's 11 steps to PSG greatness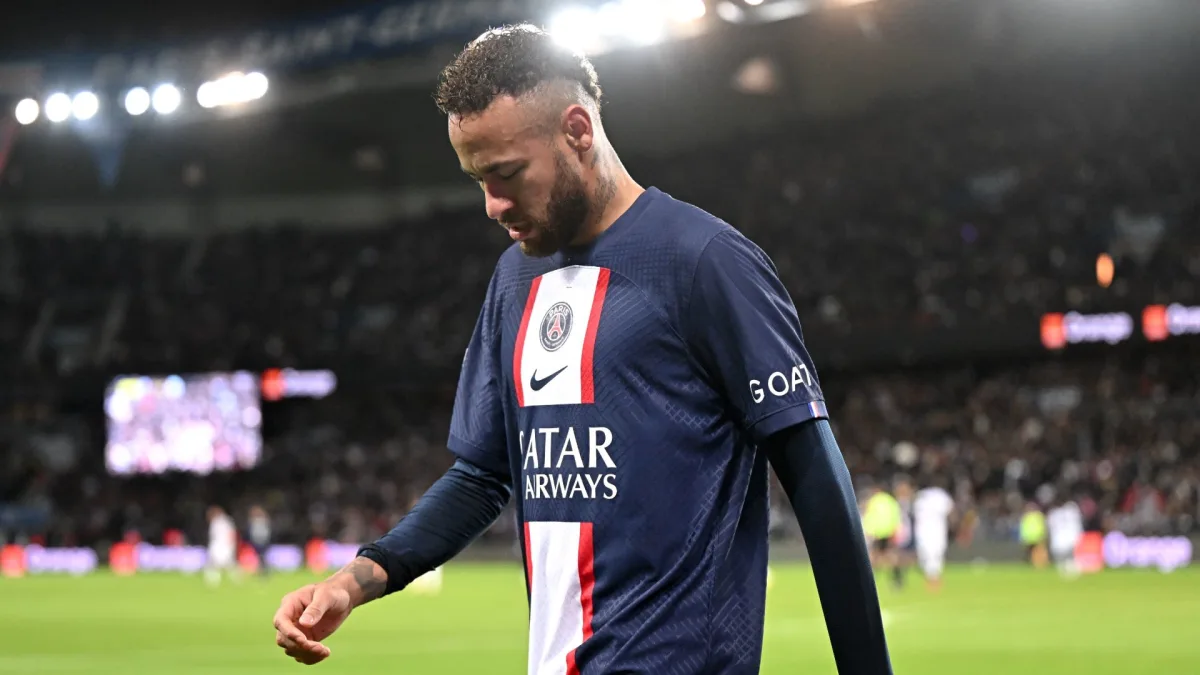 Neymar's Paris Saint-Germain spell was nothing if not eventful.
He arrived in a blaze of glory from Barcelona in 2017 for a world-record €222 million fee, but would experience dramatic ups and down throughout his time in the French capital.
There were armfuls of trophies, plenty of goals and assists and even a Champions League final, yet there was also media scrutiny, red card controversy and plenty of injury heartache, which is widely credited with preventing him hitting his absolute best.
Following confirmation of his move Al-Hilal in Saudi Arabia, FootballTransfers looks at the 10 moments defined Neymar's time in Paris.
---
3rd August 2017: Neymar signs for PSG
A date that will go down in footballing history as one that saw transfer fees rocket to unprecedented levels.
PSG broke the bank to sign Neymar – the player they hoped would elevate them to a world-class status both on and off the field.
Neymar was greeted with hoards of fans outside Parc des Princes to mark his arrival in the most extraordinary circumstances. He was immediately handed the No.10 jersey, which was a "welcome gift" from Javier Pastore.
13th August 2017: Bright beginnings
Playing in PSG's yellow change kit, a nod to the great Brazilians both past and present at the club, Neymar made his debut at Guingamp's Stade du Roudourou.
It was an occasion that went perfectly to play as he scored one and created another in a comfortable 3-0 victory.
He would go on to play 30 times in his debut campaign, scoring 28 goals in all competitions and laying on 16 more – a formidable return. His standout display was contributing four goals and two assists in an 8-0 win over Dijon.
27th September 2017: Champions' mentality
It was not just domestically that Neymar would excel. In Europe he was proving to be the potent force that PSG had hoped.
Indeed, during the Champions League group stage, he scored in all of PSG's first five games and laid on another three goals to boot.
While he put Scottish champions Celtic to the sword impressively, arguably his high point arrived against Bayern Munich at Parc des Princes – his home European debut. He set up a fine 3-0 victory with a second-minute assist for Edinson Cavani then rounded off the success with a goal of his own shortly after the hour mark.
25th February 2018: Injury strikes
Neymar frequently complained about the rough treatment that he received from Ligue 1 defenders – and the lack of protection he was afforded by referees. Critics have used this as a stick to beat him with, but in truth he has a point.
His first major injury setback for PSG arrived in Le Classique – the big derby against Marseille. He was on the end of a robust challenge in that match which caused him to break a metatarsal in his right foot.
He would not play again that season, missing a critical Champions League return match against Real Madrid in a tie that PSG already trailed 3-1 in.
23rd January 2019: More injury woe
Neymar bounced back from the season-ending injury he sustained impressively and enjoyed another productive 2018/19 campaign. However, it too was to be defined by a physical complaint picked up at an unfortunate juncture.
During a Coupe de France match with Strasbourg, he limped off with a foot injury similar to the one he suffered almost a year previous. It deprived him of the opportunity to play Manchester United in the Champions League – a tie that PSG should have negotiated but contrived to miss countless chances and were made to pay via a soft late penalty.
After the match, he posted complaints over the match official on social media and received a two-match European ban as a consequence.
27th April 2019: Packing a punch
Neymar's season was not over, but that was not necessarily to his benefit. He returned in time to play the full 120 minutes of the Coupe de France final against Rennes only for his side to suffer a shock defeat on penalties.
Despite the defeat, Neymar had been in impressive form on the field, scoring one and laying on another as PSG moved into a 2-0 lead before being pegged back.
When going up to receive his runners-up medal, he was harassed by a supporter and responded by punching the fan.
The ensuing suspension ended his season and saw him miss out on the opening game of the next campaign.
8th July 2019: AWOL
The controversy continued with Neymar into the summer, when he was strongly linked with a move back to Barcelona. Indeed, former sporting director Eric Abidal has since revealed that he had travelled to Paris in order to talk business.
Neymar, meanwhile, tried to force PSG's hand by refusing to show for pre-season training. Ultimately the club won their arm wrestle, though Neymar was not fit to play until mid-September. He returned by scoring back-to-back game-winning goals in Ligue 1 against Strasbourg and Lyon.
23rd August 2020: Champions League final
While the Ligue 1 season was aborted due to the Covid-19 crisis, PSG finally made their breakthrough in the Champions League as they progressed to the Final 8 in Lisbon. A shaky performance against Atalanta was followed by a commanding one against RB Leipzig, leaving Bayern Munich between them and a first European title.
Ironically, former PSG academy player Kingsley Coman headed the only goal of the game to give the Germans victory in a tight contest.
Neymar and Kylian Mbappe, neither of whom were fully fit, were reduced to tears come full time.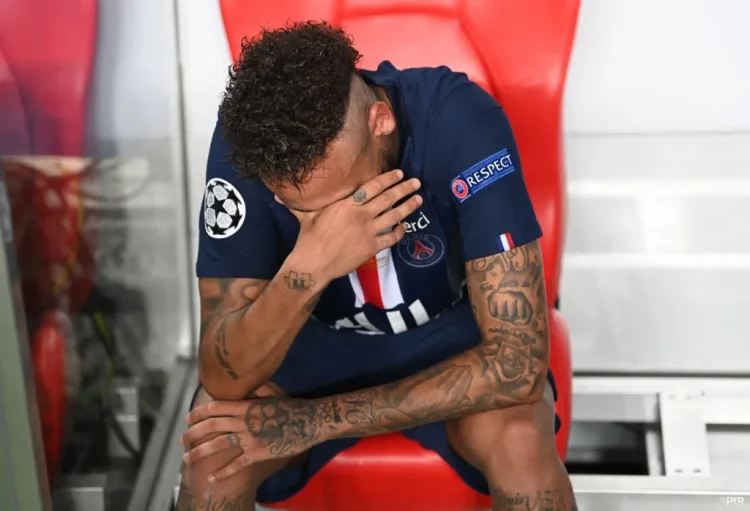 13th September 2020: Seeing red
The start of the 2020/21 campaign was difficult for PSG. Hampered by illness and mental fatigue, they lost their opening two games 1-0 against Lens and fierce rivals Marseille.
It was in that home clash against OM that Neymar became embroiled in an on-field battle with visiting defender Alvaro Gonzalez.
Following an incident deep in stoppage time at the end of the match, which saw five players dismissed in total, Neymar accused Alvaro of racism. The Spaniard dismissed the claims out of hand.
When the pair have met on the field since, sparks have flown.
2nd December 2020: Showing his class
PSG's hangover from that sluggish start saw them toil to progress in the Champions League. Indeed, they faced two must-win matches against Leipzig and Man Utd.
The first of these was negotiated with a 1-0 win in Paris – Neymar getting the goal – setting up a critical fixture at Old Trafford.
It was a game in which Neymar excelled, giving arguably his best performance against an elite opponent in that encounter. He scored twice in a 3-1 victory, including the opener and a brilliant third that saw him win possession in his own half to set up a flowing counter that resulted in a tap in.
8th May 2021: Neymar signs a new deal
Having been close to leaving for Barcelona only 18 months ago, Neymar settled in Paris and confirmed his happiness by committing himself long-term to the club until 2025. This would be his last contract at PSG.
2021-2023: Reunited with Lionel Messi
Neymar was reunited with his good friend and former Barcelona teammate Lionel Messi when the Argentine shocked the world by joining PSG on a free transfer in the summer of 2021.
This created a Dream Team forward line of Neymar, Messi and Mbappe. The intention was the superstar trident would take PSG to that long-awaited Champions League title.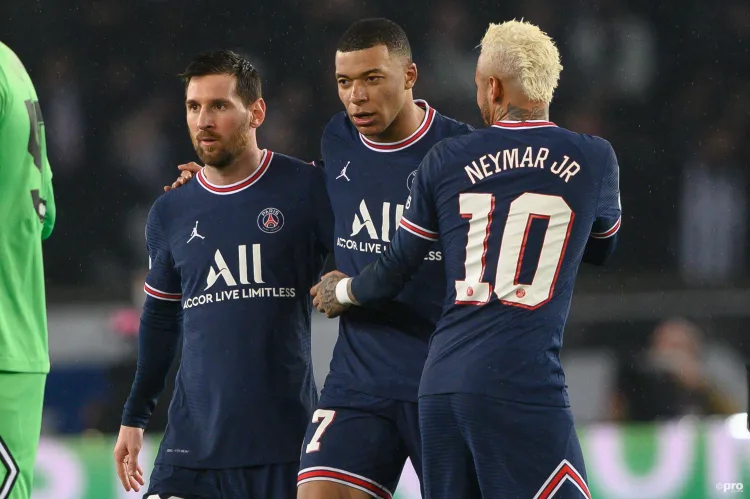 However, while there were moments of magic, PSG struggled to elevate their levels in the Champions League as they were knocked out of the last-16 in both 2021-22 and 2022-23. Two more Ligue 1 titles followed but by now Neymar's levels were starting to decline.
After Messi saw out his contract in the summer of 2023 to join Inter Miami, Neymar also opted to depart for the riches of Saudi Arabia with Al-Hilal.