Barcelona's 10 biggest sales of all time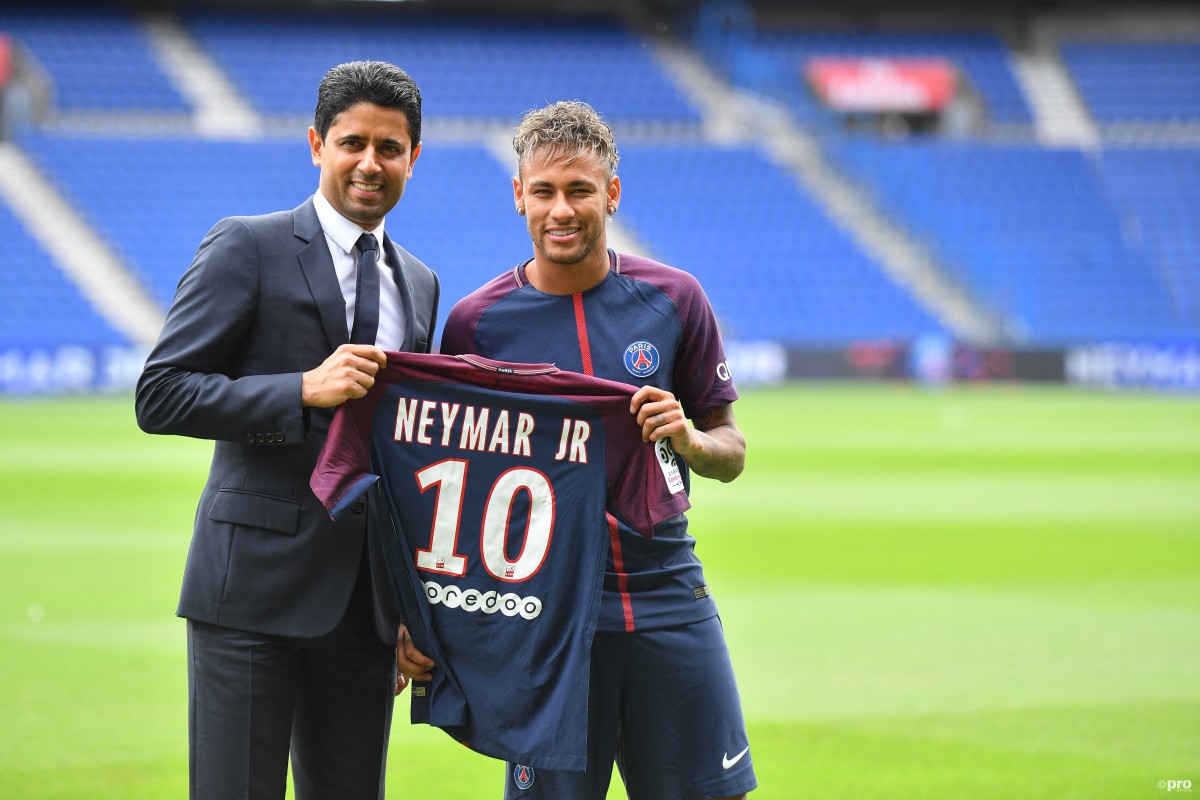 Barcelona is one of the most recognisable names in the world and one of the biggest destinations for any footballer.
Steeped in history, success and financial power, Barcelona have had some of the world's biggest stars on their books over a long period of time.
As well as spending big sums of money to bring players in, Barca have received some huge fees for player sales down the years.
Here are the top 10 sales Barcelona have made in their history.
10. Yaya Toure – €30m (Manchester City, 2010)
Rewinding to 2010, Manchester City has just finished fifth in the Premier League and brought in Yaya Toure from Barcelona for €30 million, one of the first major deals of the Sheikh Mansour era.
The Ivorian would go on to become a club legend, winning three Premier League titles and an FA Cup, and he gave Barcelona a huge transfer profit on his 2007 deal from Monaco.
When Yaya Toure scored this goal from centre-back in the 2009 Copa del Rey final 😍

Perhaps the moment Barcelona realised he probably shouldn't be playing centre-back 🤭pic.twitter.com/RF3mGXmm5W

— Goal (@goal) April 21, 2020
Toure had spent three years at Barcelona playing in a more defensive role, but developed into an excellent midfield scorer at City.
A deal that worked out for both parties, Toure went on to reach his full potential at City while Barcelona received a more than adequate transfer fee.
9. Yerry Mina – €31m (Everton, 2018)
Barcelona would receive another handsome profit for Yerry Mina, selling him to Everton in the summer of 2018.
The Colombian only played five La Liga games after joining in January the same year, and Barca exploited Mina's goal-rich World Cup campaign by shipping him straight off to Goodison Park.
As a centre half, Mina plundered in three headers throughout the tournament, including a 90th minute equaliser in the round of 16 against England.
The Toffees would spend €31m for him despite Mina failing to consistently break into the starting XI.
8. Cesc Fabregas – €33m (Chelsea, 2014)
Cesc Fabregas caused a stir in 2014, with the former Arsenal captain signing for bitter London rivals Chelsea from Barca.
The Spaniard had returned home to Barcelona in 2011 after leaving the club as a 16-year-old in 2003 where he would go on to captain Arsenal.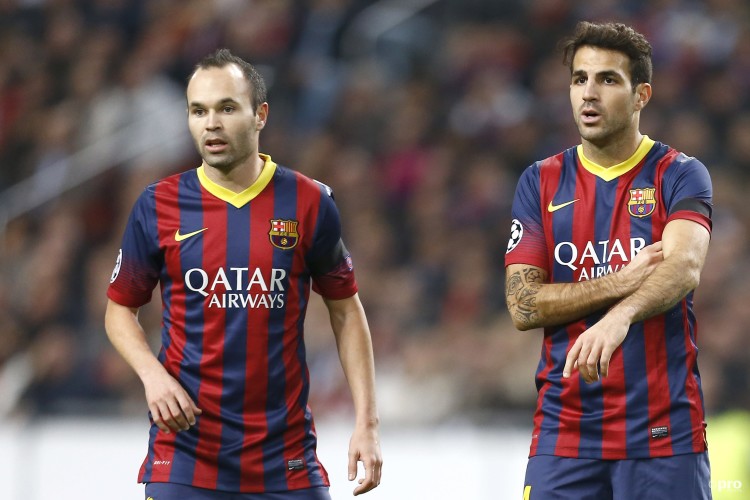 Fabregas only spent three seasons back at the Nou Camp before going to Stamford Bridge in a €33m move, around the same fee that was paid to Arsenal to sign him.
The Spaniard arguably had his best career spell at Chelsea, winning two Premier Leagues and two FA Cups before signing for Monaco, where he still plays, in 2019.
7. Jasper Cillessen – €35m (Valencia, 2019)
Another deal that saw great profit coming into the club, Barcelona's sale of Jasper Cillessen is one of the best on this list.
The Dutch goalkeeper had impressed at the 2014 World Cup in Brazil, but Barca didn't snap him up from Ajax until two years later.
Cillessen played second fiddle at Barca for three years, making five La Liga appearances in that time, and Barca somehow managed to get €35m out of Valencia for him.
His career hasn't necessarily progressed as a result of the move, with Cillessen making just 10 appearances in the league in 2020/21 and failing to make the Netherlands' Euro 2020 squad.
6. Malcom – €40m (Malcom, 2019)
Malcom was one of European football's biggest young talents when he arrived at Barca from Bordeaux, with the Blaugrana controversially hijacking a deal that Roma had previously had in place.
The Brazilian winger joined in 2018, but made just six starts all season in La Liga, managing one goal and two assists.
The club was in no position to wait around for him to come into form and discarded him almost immediately, with Zenit coming in for him just a year after he signed.
Despite the failure of the transfer itself, a €40m fee was again a great bit of business given the hit he would have taken to his reputation during that season.
5. Paulinho – €42m (Guangzhou Evergrande, 2019)
Paulinho openly admitted that he wanted to go to Barcelona for one season to prove he could cut it at a top level before going back to China.
The Brazilian was one of the seven players Spurs signed after selling Gareth Bale, and he never really lived up to expectations at White Hart Lane, moving to Guangzhou Evergrande after just two seasons.
Barcelona then picked the midfielder up from China in the summer of 2017 and he had a brilliant campaign, playing 34 games and scoring nine goals.
Barca then loaned him back to Guangzhou for six months the following summer, receiving a €5.5m loan fee, before making the sale permanent for €42m in January 2019. Quite the merry-go-round.
4. Alexis Sanchez – €43m (Arsenal, 2014)
After impressing in Serie A for Udinese, Alexis Sanchez earned himself a move to Barcelona in 2011.
Initially featuring more sporadically, the Chilean had an outstanding 2013/14 season with 19 goals and 11 assists in 34 La Liga games, by far his biggest totals in each of those stats during his time at the club.
That paved the way for a €43m move to Arsenal, where he continued to grow into a world-class attacker, with a 24-goal, 10-assist season in 2016/17 putting him front and centre in the shop window as he sought silverware elsewhere.
Both Manchester clubs squabbled over him, with United ultimately winning the battle. But Sanchez was woeful at Old Trafford, spending just a season and a half there before an initial loan and then free transfer to Inter, where he has become a Serie A champion.
3. Luis Figo – €60m (Real Madrid, 2000)
By far the most controversial transfer on the list, and one of the most controversial transfers of any club in the history of this game.
Luis Figo did the unthinkable in 2000, leaving Barcelona for bitter rivals Real Madrid in what was then a world-record €60m move.
Such was the hatred towards Figo from Barca fans, the first time he returned to the Nou Camp saw the game have to be suspended for 16 minutes with fans hurling objects at him while he attempted to take a corner on multiple occasions.
The Portuguese icon won the Champions League and two La Liga titles with Los Galacticos before moving to Inter for free in 2005, but that transfer will never be forgotten. No senior player has transferred directly between the two clubs since then.
2. Arthur – €72m (Juventus, 2020)
Despite Miralem Pjanic coming back the other way, a transfer fee was still exchanged for Arthur's move to Juventus in the summer of 2020, and a hefty one at that.
The Brazilian midfielder signed from Gremio ahead of the 2018/19 season, playing a sporadic but useful role for two seasons.
Barcelona got the better of the deal financially, bringing Pjanic in for around €12m cheaper, but Juventus won the exchange itself, with Arthur being six years Pjanic's junior and having a much better opening season out of the pair.
1. Neymar – €222m (PSG, 2017)
The obvious one, Neymar's ludicrous transfer from Barcelona to PSG in 2017 remains the highest transfer fee ever paid for a footballer.
The Brazilian was signed from Santos in 2013 and quickly rose to the top of the footballing pyramid, becoming one part of the Messi-Suarez-Neymar act that terrorised European football over four seasons.
Neymar has continued his development in France, but a spate of consistent injury issues have stopped him from really surpassing Lionel Messi and Cristiano Ronaldo as football's showpiece.
Despite persistent speculation throughout his stint in Paris, Neymar looks set to play most of the rest of his career in France, with a new contract signed in May 2021 keeping him at the club until 2025.