Out for four months! Why Dembele's injury is a catastrophe for Barcelona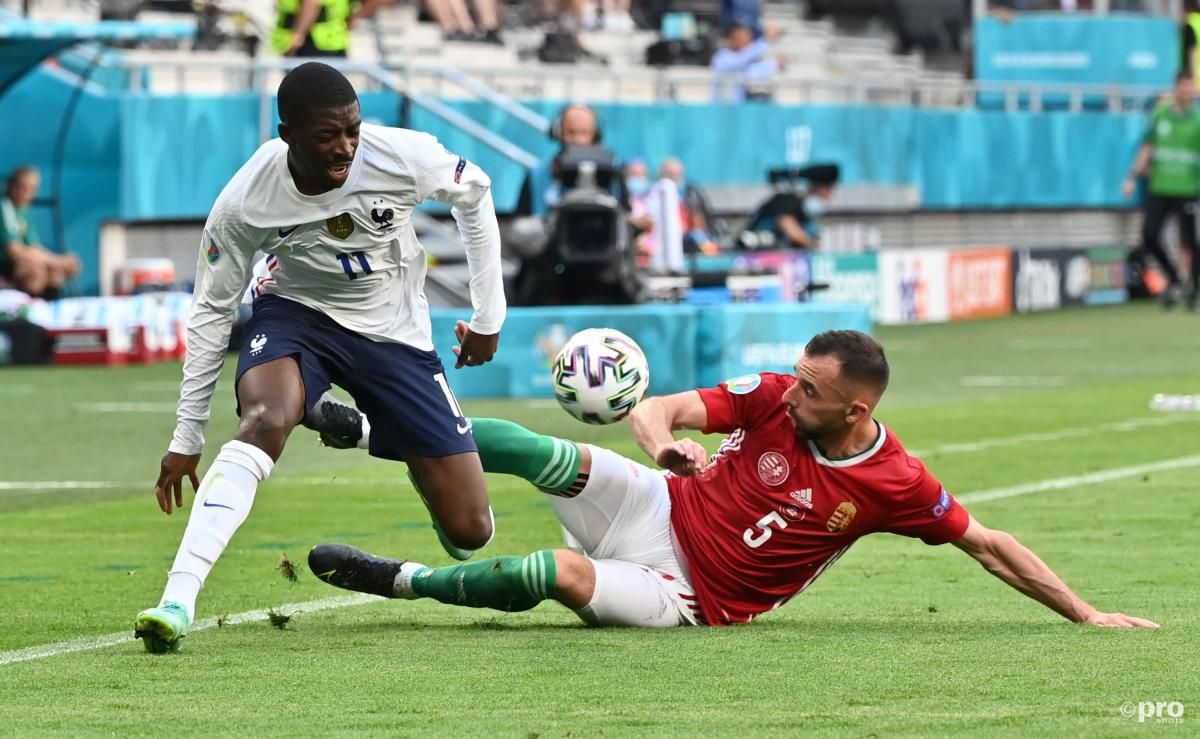 Barcelona have confirmed that Ousmane Dembele faces four months on the sidelines for an injury sustained in France's Euro 2020 encounter with Hungary.
The French national team were quick to confess that Dembele's injury was too severe for him to continue at the European Championship, while reports hinted that it could be another significant setback for a player whose career has been beset by problems.
These fears were confirmed on Monday, when the player underwent a successful hamstring operation in Turku, Finland, with the caveat that he will be missing until the end of October.
Personally, it represents another huge blow to Dembele - a player who has not rarely enjoyed streaks of fitness since a bumper move from Borussia Dortmund in 2017 - and for Barca, this is desperate news as they seek to rebuild their squad.
Dembele injury hits Barcelona's transfer plans
Barcelona's financial position is well known. They are over €1 billion in debt, and while a loan has been agreed over the last 48 hours to restructure around half of that figure, their accounts are in a dreadful state.
President Joan Laporta admitted the situation is worse than he realised when he took office earlier this year. La Liga president Javier Tebas has warned the club that they must continue to take action to slash their wage bill – even threatening a ban on Lionel Messi's registration if their salary problems are not brought under control.
Dembele, meanwhile, was one of their most marketable assets, a player who could have been used to alleviate some of their problems
-
Dembele, meanwhile, was one of their most marketable assets, a player who could have been used to alleviate some of their problems. Not only could they have shifted his €250,000-per-week wage, but they might also have been able to raise a sizeable transfer fee – especially if he had shone with France.
Having hurt his knee in the 1-1 draw with Hungary, Ousmane Dembélé is out for the rest of the Euro. We wish Ousmane a speedy recovery! 🇫🇷👊#FiersdetreBleus pic.twitter.com/978pWE9UCp

— French Team ⭐⭐ (@FrenchTeam) June 21, 2021
Those prospects, though, are gone.
Dembele is set to be injured through the summer transfer deadline, and while this does not rule out a sale, it severely decreases the chances of one. Moreover, with a lengthy history of injury problems, it would be a huge gamble for any club to take to sign him.
Even if Barcelona can, somehow, secure a loan deal for the 24-year-old, they are still likely to be left to foot a sizeable bill for a portion of his wages – the very reason they would look to offload him in the first place.
With Messi's contract up on 30 June, Barcelona already have plenty of headaches to cope with – and Dembele's latest injury is one they could ill afford.