Jamal Musiala: Why a superstar will be born at World Cup 2022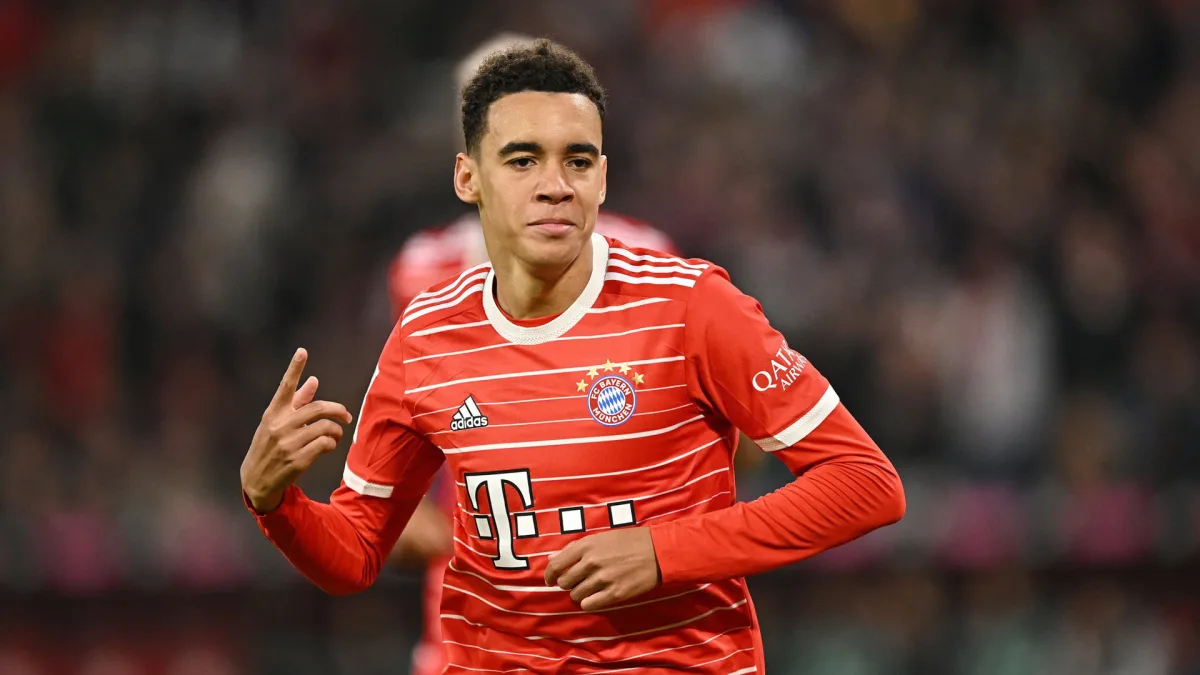 Bayern Munich and Germany prodigy Jamal Musiala stands poised to follow in the footsteps of Kylian Mbappe to become the World Cup's breakout star.
Born in Stuttgart in 2003, Musiala moved to England aged seven, where he spent much of his youth career at Chelsea. At the same time, he was also playing for the English national youth teams.
But there was a twist in the tale in the summer of 2019. Musiala left Chelsea for Bayern Munich, where he spent a year or so with the second team. In June 2020, he made his Bundesliga debut, becoming the youngest-ever player to feature in the competition for FCB.
The records continued to tumble in the 2020/21 season, and just a couple of days before he turned 18, Musiala announced that he had made the decision to represent Germany on the senior international stage. He received his first call-up in the subsequent international break and has not looked back since.
For club and country, Musiala was seen as the heir to Thomas Muller's throne since they both play in the same position. He initially had to play second fiddle to the World Cup-winning veteran. This season, though, Mueller has had injury issues and Musiala has made great use of the opportunities he has been given as a result.
Having played just under 1000 minutes in the Bundesliga so far this season, Musiala already has nine goals and six assists, which equates to 1.36 goal involvements per 90. That is the second-best figure in the league, every so slightly behind Eric Maxim Choupo-Moting.
But how has he risen so rapidly to these heights?
Understanding of space and close control
Musiala was not just touted as Muller's successor because he too is an attacking midfielder, but moreso since he has similar qualities to the 32-year-old Germany international. Muller is, of course, known best for his vision and understanding of the game, calling himself a 'Raumdeuter' – a German word that loosely translates to 'interpreter of space'.
Musiala is also exceptional at identifying spaces all over the pitch on the pitch and moving into them as quietly as possible. His heatmap for the season shows just that, as he likes to get involved all over the pitch but is very frequently found in the coveted Zone 14 – the area just outside the box that defences look to protect the most.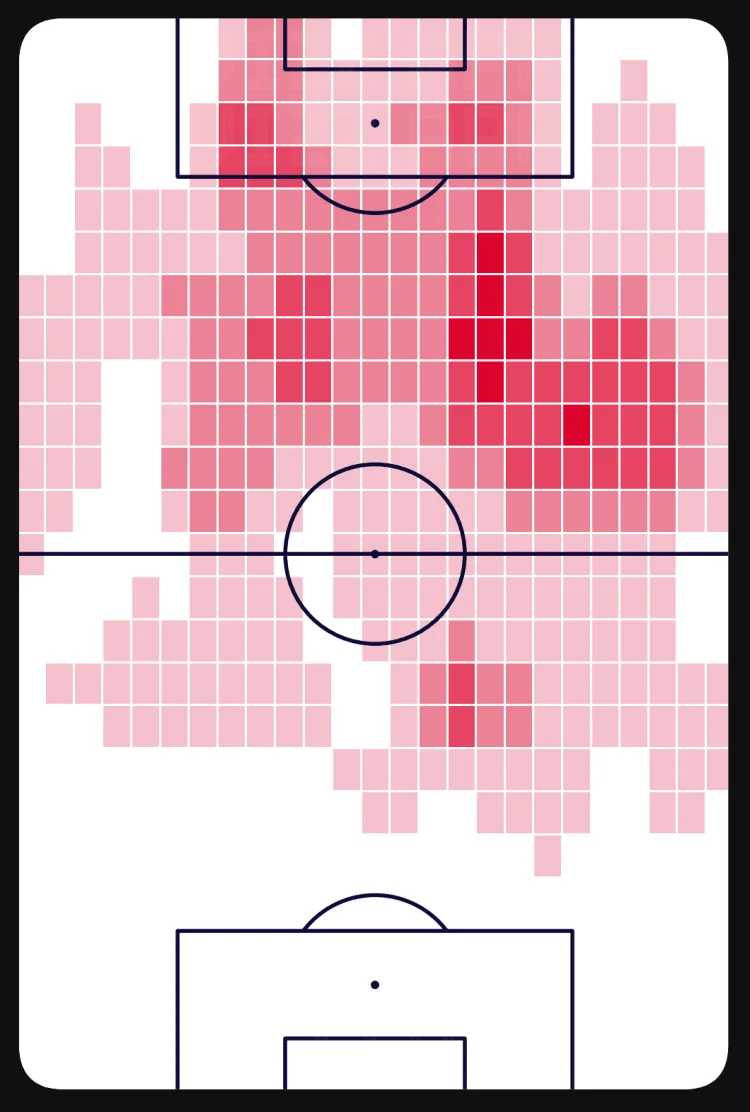 This heatmap also suggests that Musiala likes to drift out to the right side more, but that is partly a product of one of Bayern's common set-ups in possession which sees the left-back advance a lot more than the right-back, and the entire front line has to slightly shift towards the right to accommodate that.
On the whole, though, there is a lot more positional freedom in Bayern's front line this season after the departure of Robert Lewandowski, which has been a sort of blessing in disguise for Musiala. Nagelsmann names his line-ups in a 4-2-3-1 formation, but with the ball the front four is extremely fluid. The wingers will often be spotted in central areas, the striker may drop deep, and the attacking midfielder, in particular, has the license to roam all over the place, which Musiala makes full use of.
Getting into dangerous positions between opposition lines is one thing, but receiving the ball is often risky in such spots because there is a real danger of losing it. Therefore, another crucial quality that Musiala possess is incredible ball control, especially in tight spaces.
The 19-year-old can wiggle his way out of almost any position, as the ball is seemingly glued to his feet once it gets to him.
Musiala has completed 22 of the 48 take-ons he has attempted in the Bundesliga this season, which gives him a high completion rate of 45.8% – the fourth-best among players who have made over 20 take-ons in the league.
In addition to his incredible ball control, the German international's body feints also play a key role in his dribbling, as well as in creating space for himself to run into or get shots away. Here is an example of him drifting out to the right and doing just that.
Bayern Munich 4-0 Bayer Leverkusen highlights.

Leroy Sane ⚽ Jamal Musiala ⚽
Sadio Mane ⚽ Thomas Muller ⚽

Bayer keeper Lukas Hradecky had a match he would not want to remember at all. pic.twitter.com/XwtcZVb05V

— ⚽ (@Elijahkyama) October 1, 2022
Musiala's frame is pretty lean, but he is deceptively strong and uses his body very well to protect the ball, as Wolfsburg found out.
Bayern Munich 2-0 Wolfsburg highlights.

Jamal Musiala became Bayern's outright Bundesliga top scorer under 20 years.

Thomas Müller has now scored in 14 different Bundesliga seasons. pic.twitter.com/CwG8PSeWcL

— ⚽ (@Elijahkyama) August 15, 2022
His excellence in tight space also mean he is great at playing quick one-touch passes with his teammates in the final third.
Come for the finish, stay for the @JamalMusiala celebration. 🙌#Bundesliga #MD12 pic.twitter.com/HzYuHMF4MW

— Bundesliga English (@Bundesliga_EN) November 1, 2022
All-round excellence
As the above clips show, Musiala is not only great at getting into the final third, but he is also very deadly once there. In fact, he can pretty much do it all, as his pizza chart suggests.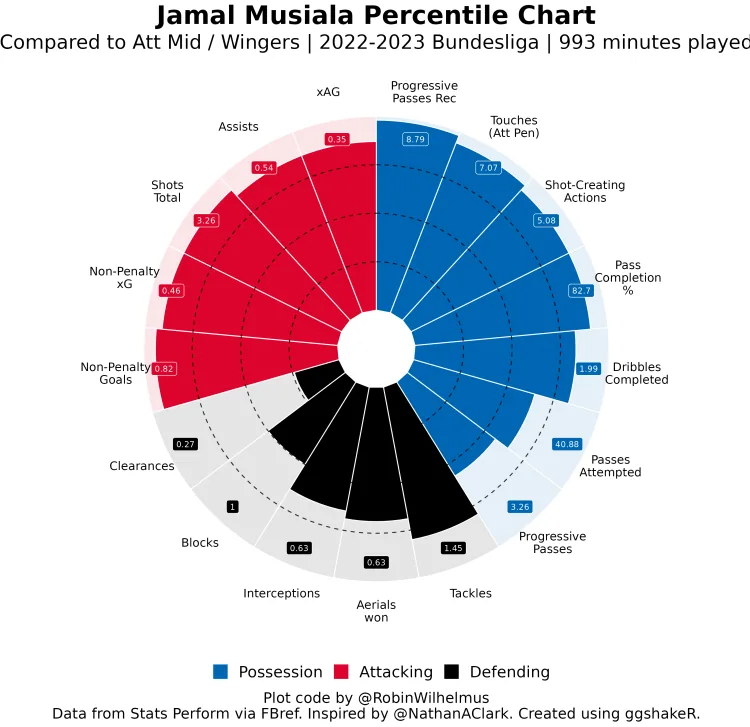 In addition to his on-ball qualities, he also works very hard off the ball to support Bayern's intense press, which shows up in his defensive numbers. He helps with ball progression too, although his biggest strengths lie in the final third.
Musiala does not drop deep into midfield to pick up the ball often, but when he does get it in slightly deeper areas, he tends to drive as directly forward as possible. Therefore, while he may not be a very proficient carrier, he certainly is a very dangerous one. This is clear in his progressive carries map from the 2022/23 Bundesliga so far.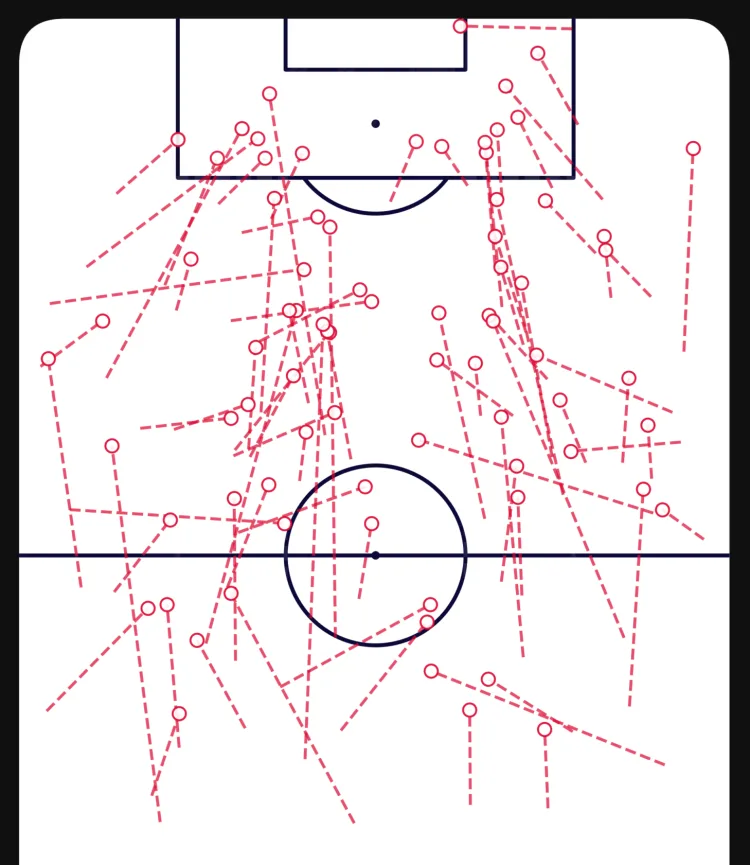 In fact, he has the fifth-most chance creating carries in the Bundesliga this season, 21 to be exact.
Chance creation indeed is one of Musiala's best skills, and his average of 2.25 open play chances created per 90 in the league is the highest so far. This is where his ability to access zone 14 proves crucial. As his key passes map from the league this season shows, Musiala sets most of his teammates up from that region, where he almost always has a number of dangerous passing options on either side.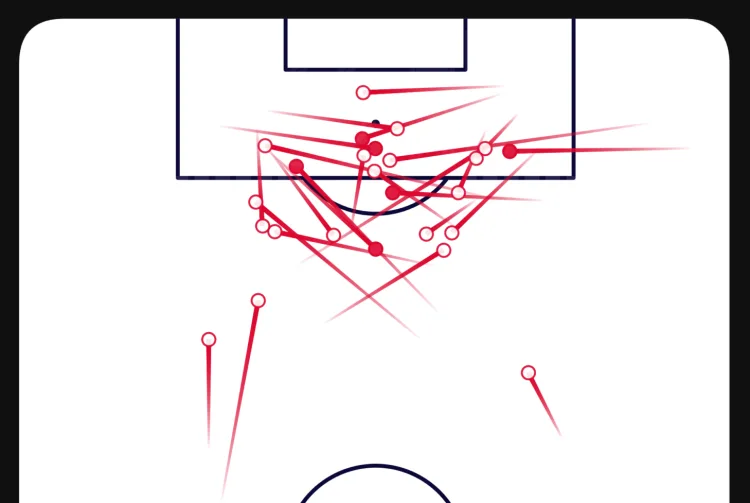 Of course, in addition to that, his incredible vision is quite helpful too.
Stop that, @JamalMusiala 😱🪄#MiaSanMia #S04FCB pic.twitter.com/jHRtxFrzqN

— FC Bayern Munich (@FCBayernEN) November 15, 2022
Musiala does not just create, though, he converts chances himself too. His nine league goals are a testament to that fact, and his shotmap shows that he likes to get into dangerous positions inside the box before pulling the trigger.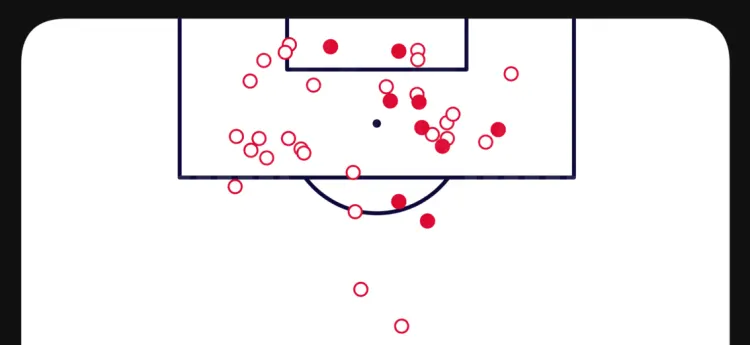 He is significantly overperforming his xG tally of 5.1, but his xGOT tally of 6.2 proves that he is not just lucky but also a quality finisher. He almost always prefers placement over power, which is why this overperformance might be sustainable.
Another quality that has helped the German international score so many goals this season is his unreal composure. He never rushes his decision-making in front of goal, which is an exceptionally rare characteristic for a young player, and almost seems to slow down time before deciding his next action. Therefore, fake shots are one of his favourite tricks in front of goal.
Bayern Munich 6-1 Werder Bremen highlights.

Serge Gnabry with a hat-trick

Jamal Musiala scored his 20th Bundesliga goal. He is now the youngest player to score 20 since Horst Köppel in the 1960s.

| #FCBSVW | pic.twitter.com/qEn8aInz9o

— ⚽ (@Elijahkyama) November 8, 2022
All in all, Musiala quite clearly is one of the most complete young players around in world football at the moment. Ever since his Bayern debut, he has always been displaying these invaluable characteristics of composure, close control and understanding of space, but initially lacked a little consistency as he was not on the pitch so frequently.
That has changed this season, and Musiala has taken full advantage of it, already establishing himself as one of the best players not just for his club, but in the Bundesliga as a whole. His attack contribution, which is the sum of his non-penalty shots and open-play chances created, ranks in the 98th percentile in the league, which is truly exceptional for a 19-year-old.
There can be no doubt now – Musiala will easily be one of the best players of the upcoming generation.
Role for Germany
In spite of all of his brilliance this season, Musiala's odds of starting for Germany at the World Cup are far from certain. This is the case in spite of the fact that Hansi Flick also uses a 4-2-3-1 system that affords a lot of freedom to the attacking midfielder. His main competition, once again, comes from Thomas Mueller, whose greater experience at this level and at such a big stage might give him the edge.
Still, if his league performances are anything to go by, Musiala is sure to be a very dangerous impact substitute and will certainly stay calm under pressure, so he will undoubtedly have some part to play in Germany's World Cup campaign. If he can really impress in one of the group matches and help Germany get to the knockouts, there is a very good chance of him starring in one of the big games and properly capturing the world's attention.
A new star may well be born in Qatar.