Ferdinand urges Man Utd to sign Rice instead of Camavinga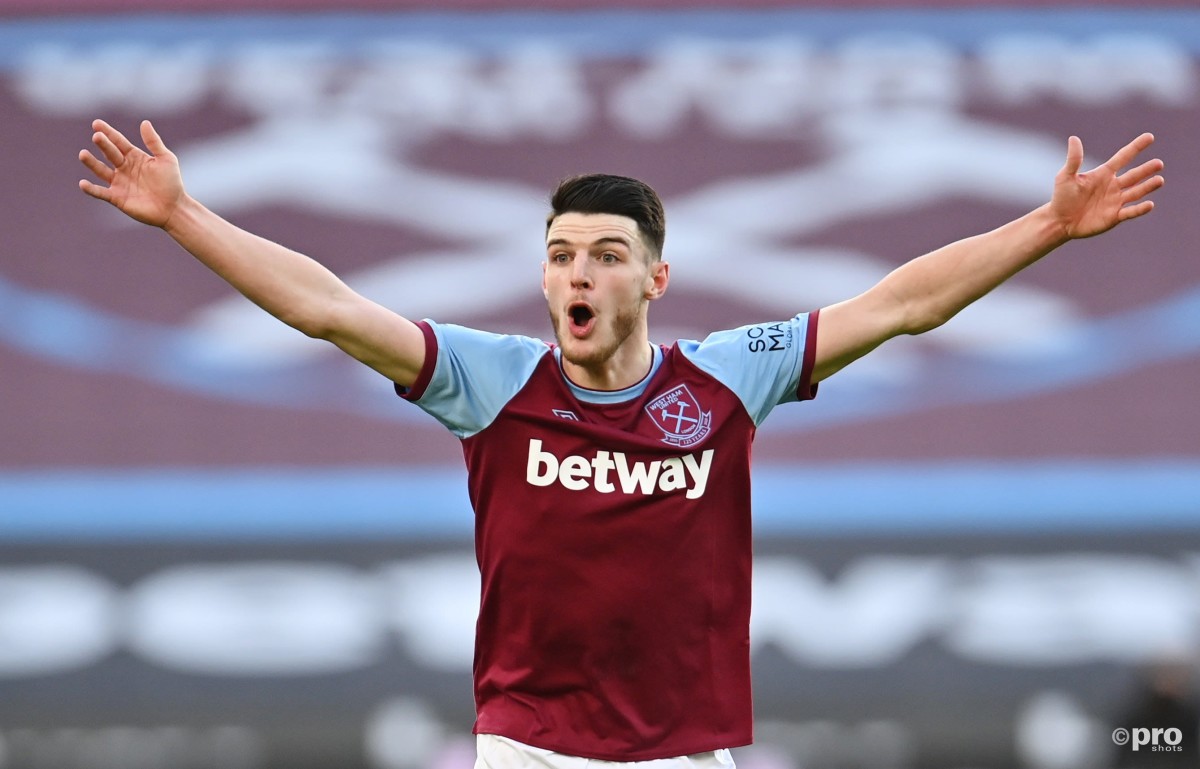 Manchester United legend Rio Ferdinand has argued that Declan Rice would be a better summer acquisition for his former club than Rennes' star Eduardo Camavinga.
Man Utd have been linked with both players for some time, and it's understood that the club are looking at strengthening their defensive midfield roster with one of them.
It's been reported that Camavinga could be the cheaper option due to his contract expiring next summer, but Ferdinand still believes that Rice may be the better signing.
West Ham are understood to be wanting around £90 million for Rice, whilst Camavinga could be available for a bargain £25m as they don't want to lose him for free next year.
That would be a steal for one of the best young midfielders in the world, but Ferdinand is worried that if he signs, he may not get the game time needed next year.
What has Ferdinand said?
Speaking on his official YouTube show 'Vibe with Five', Ferdinand explained his reasoning.
"I've not seen enough of him if I'm honest. I've seen a bit of him, his debut against PSG where he got man of the match, unreal.
"Talent? Obviously. Is he going to come in and effect the team right now and become a star, or is he going to come in and be a bit like an Amad, who comes in for £40m but is nowhere near the starting 11?
"Is that what we [United] need? Or do we need someone like Declan Rice who is flying at the moment? In an England shirt, he's taken it to other levels now.
"We all knew he was a good player at West Ham but what Declan Rice is doing in the England team right now, for his age, is a madness."
What Ferdinand is referring to is the fact that Rice has started every game for England so far at the European Championship, helping them reach the semi-finals without conceding a goal.
He also helped West Ham's resurgence this season, guiding them into the Europa League after finishing sixth.
Camavinga on the other hand helped Rennes finish sixth in Ligue 1 and he impressed again, making 4.5 tackles and interceptions per 90, more than Rice's 3.6, and completing 1.5 dribbles per 90, in comparison to Rice's 1.0.
Ferdinand continued to say: "Then it comes down to have Man United got the funds to go and get him [Rice] from West Ham? What are they going to ask for, West Ham?
"For me, I've got to be honest, football ability Camavinga, Rice are fantastic players. You can see the potential a mile off. But Rice brings you character.
"He brings you a character that's probably not in the game as much now as it was in my generation. Someone who is a sponge to information and wants to get better. Wants to get into an environment of winning constantly. He's envious of his mates who are winning things. He reminds me a bit of myself, when I was his age.
"You want to get there and get into an environment where you want to win, and have a chance to win.
"Whether that's Man United or not, I think he probably thinks that at West Ham at the moment [that] he's done there and as much as he loves the club and the people there, especially after the Euros — I did it after a World Cup with Leeds, I've smelt and tasted that chance of being around world class players — 'I need that every week. I need that now.'"