From Makelele to Hazard: Seven players who played for both Chelsea and Real Madrid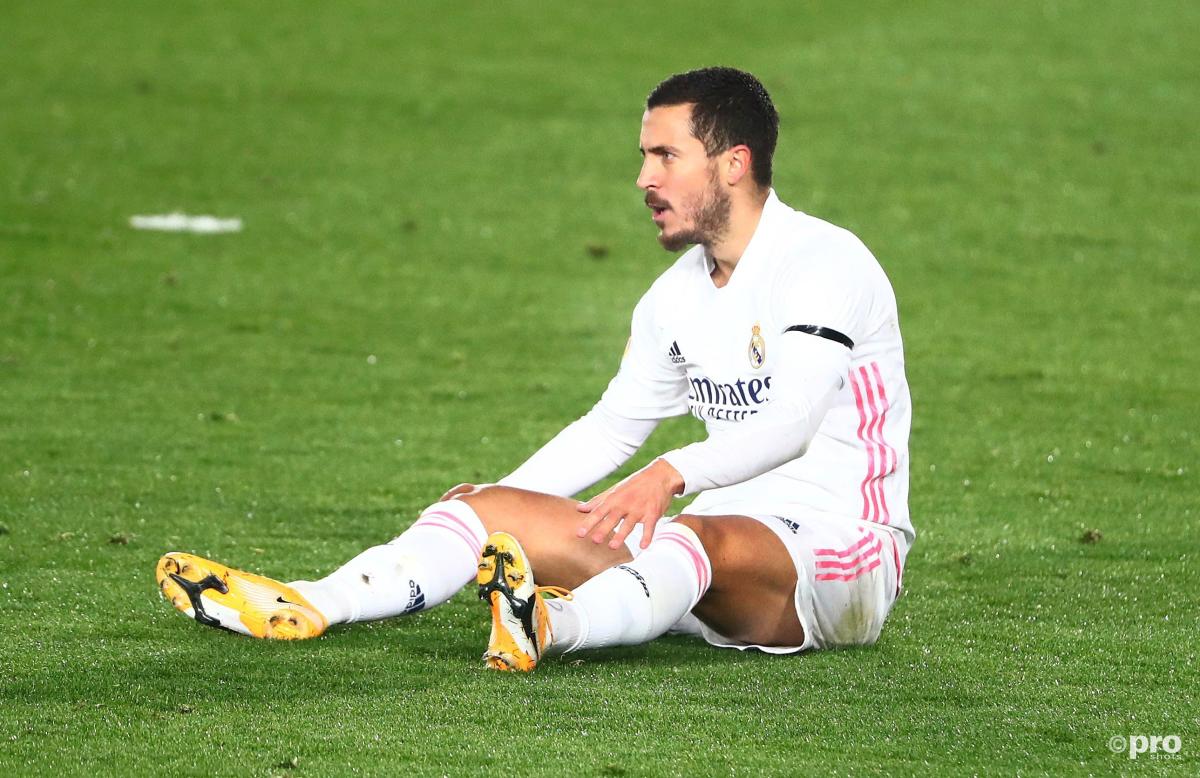 Chelsea and Real Madrid go head-to-head in the Champions League semi finals, with the first leg taking place at the Estadio Alfredo Di Stefano on Tuesday night. It is the first competitive meeting between the two sides since 1998 and just the second since the early 1970s.
A lot has changed for the Blues in that time; Roman Abramovich has bankrolled an incredible rise since 2003, and Chelsea have since turned from plucky cup team to genuine contenders at elite level. While Madrid have been there much longer, this clash promises to be mouthwatering.
Read more: How Eintracht Frankfurt pulled off a masterstroke by selling Luka Jovic to Real Madrid
Managers like Jose Mourinho and Carlo Ancelotti have managed both, and of course there have been a few players who have worn both white and blue over the years. Here's the rundown.
Eden Hazard
The most relevant player on this list is definitely the 30-year-old Belgian, who swapped West London for Madrid in the summer of 2019 for a fee rising above €100millon. He was key to Chelsea's success in the 2010s, joining the summer after their solitary Champions League success in 2012 and helping them to Premier League crowns in 2015 and 2017. He departed after helping Chelsea win the Europa League under Maurizio Sarri.
He hasn't enjoyed the same form or responsibility in Spain, and things haven't yet gone to plan for Hazard, who has scored just three goals for Los Blancos. Injuries have ravaged him, though, and he arrived marred by criticism over his weight. His latest issue seems to have cleared and he should be fit to face his former club.
Thibaut Courtois
A far less popular former Blue in the eyes of supporters, Courtois is Hazard's international teammate who played with him at Stamford Bridge before leaving a year earlier. The 28-year-old moved to Chelsea from Genk in 2011 and was instantly sent out on loan for three years to Madrid's city rivals Atletico. He won La Liga in 2014 before losing the Champions League final to his current employers.
That summer, he returned to the Bridge as one of the best goalkeepers in the world. But in 2018, he made it clear he wanted to return to Spain for family reasons. It has taken time for Courtois to find his form, but he looks as good as ever right now.
Claude Makelele
Arguably this list's most important player and the only man to have a position on the pitch named after him, Makelele moved from Madrid to Chelsea in Abramovich's first summer.
It wasn't a deal wanted by anybody at Madrid, who felt the club were prioritising style over substance when he departed and David Beckham arrived. Makelele anchored the midfield superbly, allowing the likes of Zinedine Zidane, Luis Figo, Raul and Ronaldo to play with freedom. Los Blancos won the Champions League in 2002 and La Liga in the Frenchman's final year, before enduring a baron spell.
At Chelsea, Makelele became a vital member of the team which Mourinho led to successive Premier League titles in 2005 and 2006.
Arjen Robben
Another Mourinho success story at Chelsea, the Dutchman was a star in Chelsea's early success of the current ownership. He arrived a precocious young left-winger and grew into one of the most feared players in his position in Europe.
He left Stamford Bridge in the summer of 2007, which saw a number of changes at the club that ultimately led to the end of Mourinho's first spell in charge at the club. Madrid signed him for £24million, and while he helped the club win La Liga in his debut season, he was on the move again a year later after the arrival of Cristiano Ronaldo, joining Bayern Munich. It was in Bavaria where his career went from strength to strength.
Ricardo Carvalho
The secret to Mourinho's success at Chelsea originally lay in his signings; he brought what he knew from FC Porto, where he'd won the Champions League in 2004. Carvalho was among his first recruits, so it wasn't a shock to see him take him to Madrid in 2010.
During his time with the Blues, the Portuguese helped them to a Champions League final in 2008 and a first post-Mourinho league title two years later. He then joined his former boss, helping them topple Barcelona in 2012.
Michael Essien
Essien's arrival at Madrid was a symbol of two things: his dwindling impact at Chelsea and growing issues in Spain for Mourinho, whom he once called his "father". The pair first worked together when Mourinho signed the Ghanaian from Lyon in the summer of 2005; Essien became a crucial player in that team as Makelele's role was becoming more sporadic, and he continued to be a huge presence after Mourinho left in 2007.
He joined Madrid on loan in January 2013, in order to help Mourinho restore balance to a fraught dressing room. Sergio Ramos and Iker Casillas were two big characters far from happy with Mourinho's methods at the time. Essien played 21 league games in the second half of that season before returning to Chelsea, where Mourinho took charge again.
Alvaro Morata
The latest player to represent both is Spanish striker Alvaro Morata. Given his debut as a Real Madrid prodigy by Mourinho, he left for Juventus in 2014 before returning two years later. He then joined Antonio Conte, the man who took him to Turin, at Chelsea as a replacement for Diego Costa, but struggled to have a positive impact, either under the Italian, his replacement Maurizio Sarri or Frank Lampard.
A move to Atletico Madrid came in 2020 before a loan back to Juve, where he mainly plays second fiddle to Cristiano Ronaldo.