The Best Premier League Transfers Ever: Eric Cantona to Manchester United (1992/93)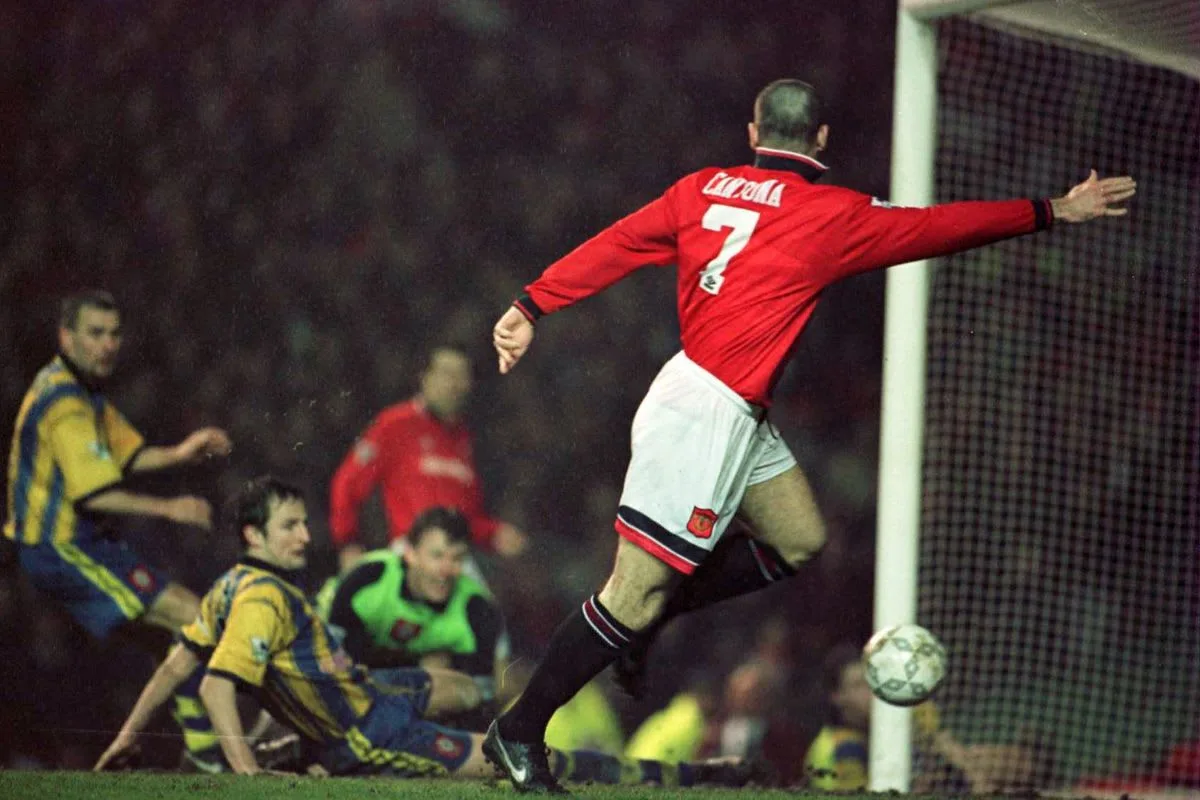 Eric Cantona remains one of the most iconic players to have graced the Premier League.
"If ever there was one player, anywhere in the word, that was made for Manchester United, it was Cantona," said Sir Alex Ferguson.
The nomadic striker found a home at Old Trafford, the perfect stage to fully express his remarkable talent, and a manager who would give way to the Frenchman's individuality. With his collar up, Cantona would stride onto the pitch at a time when English football played an old-fashioned 4-4-2, with two burly strikers up front. The Frenchman bucked this trend, drifting between the lines, and suddenly it all clicked for Ferguson's team.
Indeed, there have been better, and more consistent players, but the majestic forward was a unique talent unlike any player before him in the English top flight.
This article is part of Football Transfers' greatest-ever Premier League deals. We have selected just one standout transfer from every season of the Premier League, including two honorable mentions. This list will then be gathered to provide a definitive list of the best pieces of business in the Premier League era.
Eric Cantona, Leeds to Manchester United, £1.2m
Manchester United needed a striker after new signing Dion Dublin suffered a terrible injury and Alan Shearer turned down the club in favour of a move to Blackburn Rovers. Then, an unsuspected phone call led them to one Eric Cantona. Little did they know he would go on become a club legend and spark an era of dominance.
According to Sir Alex Ferguson, Leeds' chairman Bill Fotherby rang Martin Edwards, the United chairman, inquiring about the availability of Denis Irwin. Ferguson rebuffed any idea of selling the Irish full-back, and subsequently the topic of Cantona came up. The French forward and Howard Wilkinson, the Leeds manager, had fallen out and Leeds wouldn't stand in the player's way if a transfer could be arranged.
The league champions agreed on a fee, worth a reported £1.6m, and the player soon arrived at the 'Theatre of Dreams'. However, the former United chairman says he kept the actual deal for Cantona, made around the £1.2m mark, secret as Leeds wanted to appease their fans with a more respectable fee.
United fans had waited two decades for a maverick capable of restoring the club to the summit of English football. Well, up stepped King Eric. The forward's combination of technique and power made him a formidable threat to opposition of any kind.
Eric Cantona Premier League statistics at Man Utd
| | |
| --- | --- |
| Appearances | 143 |
| Goals | 64 |
| Assists | 50 |
| Contribution Per Game | 0.80 |
Premier League Statistics
The critics can question his record, especially in European competition, but a goal every other game and an assist every three stands up against the very best. That being said, it's almost criminal to define Cantona's contribution by numbers. United fans remember the moments, the good and the bad, that set him apart from his peers.
The retreating shot from the edge of the box to win the 1996 FA Cup final against Liverpool and, even better, the lob in a gale at Sheffield United serve to embody Cantona's magic.
In terms of technique, he was the best Old Trafford had seen for some time, and in terms of charisma, perhaps the greatest ever. Unfortunately, there is now a generation of supporters who missed out on the spectacle of watching Cantona first-hand, and no amount of video highlights can make them feel what Eric made United fans feel in the 1990s. Ooh, Aah Cantona!
READ MORE:
Runner-Up: Alan Shearer, Southampton to Blackburn, £3.6m
Alan Shearer joined Blackburn Rovers from Southampton in a move that helped him become the best English striker of his generation. Already capped at international level, Shearer completed a then record £3.6m deal despite a return of just 23 goals in 118 league appearances for the Saints.
The Newcastle-born forward was already subject to interest from Manchester United but moved to Blackburn, opting for Kenny Dalglish's revolution, backed by Jack Walker's millions, at Ewood Park. He scored twice on his Rovers debut in a 3-3 draw with Crystal Palace and added a further 20 goals in all competitions before his first season was ended by a cruciate ligament injury in December 1992. In the three seasons that followed, he scored 34, 37 and 37 goals respectively.
In all, Shearer made more than 150 appearances for Blackburn, scoring 131 goals and most notably inspired the club to the Premier League title in 1995. The prolific goal scorer is unlucky to miss out on the top spot but is undoubtedly more of a Newcastle icon and therefore isn't revered in Blackburn to the same extent as Cantona in Manchester.
Runner-Up: Martin Keown, Everton to Arsenal, £2m
Martin Keown returned to Arsenal from Everton for £2m in February 1993 but did not feature in their historic FA Cup and League Cup double that season due to being cup-tied. However, he did manage 16 Premier League appearances, mostly at the expense of Steve Bould, forming an intense battle of centre-backs at the club. He and Andy Linighan competed alongside Bould and captain Tony Adams, proving to be one of the best English league defences of the 1990s.
Keown later became an integral part of Arsene Wenger's double winning sides of 1998 and 2002, remaining a first-team regular until the end of the 2002–03 season, when the Gunners won their ninth FA Cup trophy.
Of course, the English defender cannot be compared to the likes of Eric Cantona and Alan Shearer in terms of footballing ability, but the influence on his respective club was also undoubtedly instrumental.