Bayern Munich's Alphonso Davies the world's most valuable youngster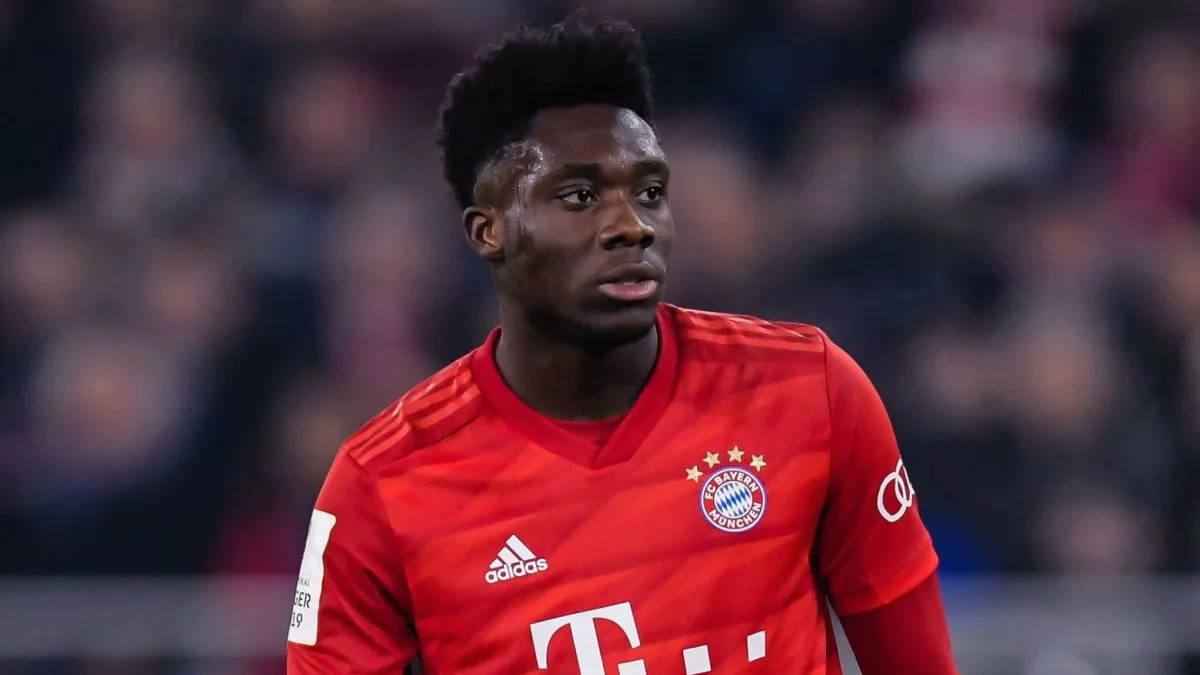 Bayern Munich full-back Alphonso Davies is the most valuable player in elite European football born after 2000, according to a study conducted by the CIES Football Observatory.
The algorithm used puts the Canada international's worth at €180.4 million. If he were sold for such a sum, that would make him the second most expensive player of all time, behind Neymar, who joined Paris Saint-Germain from Barcelona for €222m in 2017.
Davies eclipses Borussia Dortmund winger Jadon Sancho, who was the subject of the summer's most prominent transfer story as he was persistently linked to Manchester United. The Englishman is valued at £125.6m, although his contract expires in 2022, making him relatively more affordable option compared to Davies, whose deal is up in 2025.
| | | |
| --- | --- | --- |
| Name | Club | Value (€m) |
| Alphonso Davies | Bayern Munich | 180.4 |
| Jadon Sancho | Borussia Dortmund | 125.6 |
| Ansu Fati | Barcelona | 122.7 |
| Erling Haaland | Borussia Dortmund | 120.3 |
| Mason Greenwood | Manchester United | 115.3 |
| Ferran Torres | Manchester City | 106 |
| Bukayo Saka | Arsenal | 95.8 |
| Dejan Kulusevski | Juventus | 75.1 |
| Phil Foden | Manchester City | 70.3 |
| Rodrygo Goes | Real Madrid | 69.9 |
| Eduardo Camavinga | Rennes | 61.5 |
| Vinicius Junior | Real Madrid | 58.5 |
| Takefusa Kubo | Real Madrid (on loan at Villarreal) | 48.5 |
| Callum Hudson-Odoi | Chelsea | 47.1 |
| Jude Bellingham | Borussia Dortmund | 44.5 |
All of players born in the year 2000 or after in Europe's 'Big Five' leagues – England, Spain, Germany, Italy and France – were examined, with 12 posting estimated values of above €50m.
It is the Bundesliga that dominates the top of the table, posting three of the four players estimated to carry the most value. As well as Davies and Sancho, Dortmund's Erling Haaland is reckoned to be worth €120.3m.
Spoiling the monopoly of Germany's top flight in the top four is Barcelona attacker Ansu Fati. Tipped as a potential heir to Lionel Messi at Camp Nou, he is priced at an estimated €122.7m. He is also one of only two players born in 2002 in the leading 15, with Dortmund's Jude Bellingham the only born in 2003.
Although they do not have a player of the standing on Ansu, Real Madrid post a couple of youngsters high up the ranking in the form of Rodrygo (€69.9m) and Vinicius Junior (€58.5m).
Meanwhile, striker Mason Greenwood of Manchester United is the first Premier League player on the list, rated at €115.3m in fifth. He is followed swiftly by Manchester City's Ferran Torres (€106m) and Arsenal's Bukayo Saka (€95.8m). Phil Foden of City (€70.3m) is also among the elite group of players with a value in excess of €50m.
Serie A is represented in this clique by Juventus attacker Dejan Kulusevski (€75.1m) while Eduardo Camavinga of Rennes (€61.5m) is Ligue 1's sole player at this level.