Romain Faivre: From French fourth tier to Man Utd and PSG target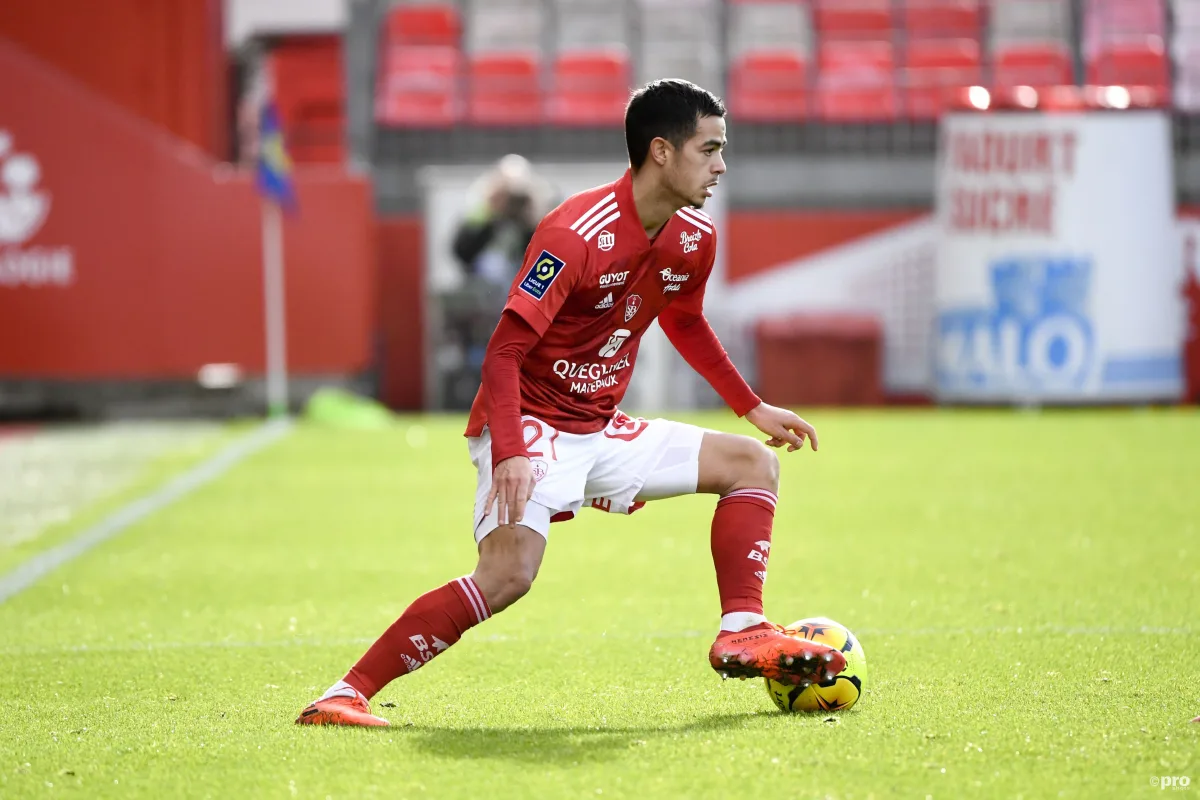 Romain Faivre may only be a name known by Ligue 1 supporters, yet the Brest midfielder finds himself on the radar of Manchester United and Paris Saint-Germain after a fine start to the season.
Remarkably, the 22-year-old had played only 90 minutes of league football prior to moving to Brittany in the summer for a piecemeal fee of around £450,000 (€500,000). The whole of the 2019/20 season, meanwhile, was spent among the reserves playing in the French fourth tier.
In a league where youngsters after often regulars in their teens, breaking through at 22 is distinctly late.
Indeed, the player admits that he arrived quietly – "on my tiptoes", he told Le Telegramme – with the club only having signed him as a rotation player.
The truth has been far from that. Faivre's long wait for recognition has been worthwhile.
Romain Faivre snapshot:
| STATISTIC | ROMAIN FAIVRE |
| --- | --- |
| AGE | 22 |
| CLUB | Brest |
| INTERNATIONAL TEAM | France |
| POSITION | Left midfielder |
| STYLE | Wide playmaker |
| CONTRACT EXPIRES | 2023 |
| BREST APPS | 19 |
| BREST GOALS | 4 |
A breakthrough campaign
He has played all of Brest's 19 matches this season and has been one of their most eye-catching figures to date. Four goals and three assists for a side that was expected to battle relegation tells only part of his story.
Supremely graceful on the ball, Faivre has already shown a capability to serve a multitude of purposes on his team. As a midfielder, he is a veritable Swiss Army knife, capable of solving different problems and plugging numerous gaps.
Indeed, his versatility and technical class is such that he has had no dominant position. Faivre has played an advanced role on both the left and right flanks, as well as more restrained ones. He has been used as a No.10 and against Paris Saint-Germain last weekend as a centre forward.
Regardless of the task he has been given, he has performed with graceful confidence, excelling in an attacking capacity.
He has fashioned six big chances – no midfielder in the league has more. His three assists stand up well to his rivals – only Jonathan Ikone, who is more of a traditional attacking winger, surpasses him. He is fourth in the league in terms of dribbles for a midfielder with 2.7 per 90 minutes, while 4.7 crosses per 90 put him 11th.
Any weaknesses? "In front of goal, he still has things to improve, especially with his shooting," Brest boss Olivier Dall'oglio recently explained.
READ MORE:
Could Faivre step up to Man Utd or PSG?
Clearly, there is a big difference between playing for a provincial club in France and one of the biggest teams in the world.
Given Faivre's technical qualities and versatility, it is readily apparent why the likes of Manchester United or Paris Saint-Germain might be interested.
Mentally, too, the France Under-21 man appears composed and prepared to work.
Faivre could be signed for a relatively cheap fee – no figure has been speculated – and would not arrive with any pretence of being a starting regular. Instead, he could be honed gently, offered the opportunity to integrate gradually into a leading club.
Of course, Faivre has other options open to him. Sevilla in Spain and Bayer Leverkusen in Germany are monitoring his progress while Lyon could also offer the opportunity of taking an intermediate step to the very top. Staying at Brest, where he has a contract until 2025, now seems unrealistic in the long term.
"It's true that everything has gone very, very quickly," he told Le Telegramme. "It's a climb, not a meteoric rise, that's not the word. But I wouldn't say it's unexpected. I knew I had the ability. And I don't want to stop here."
After a year playing reserve football in France among part-time players, he has earned the right to choose which path he takes next, with his elegant performances opening up a myriad of options.