Who is the oldest player to score in the Champions League?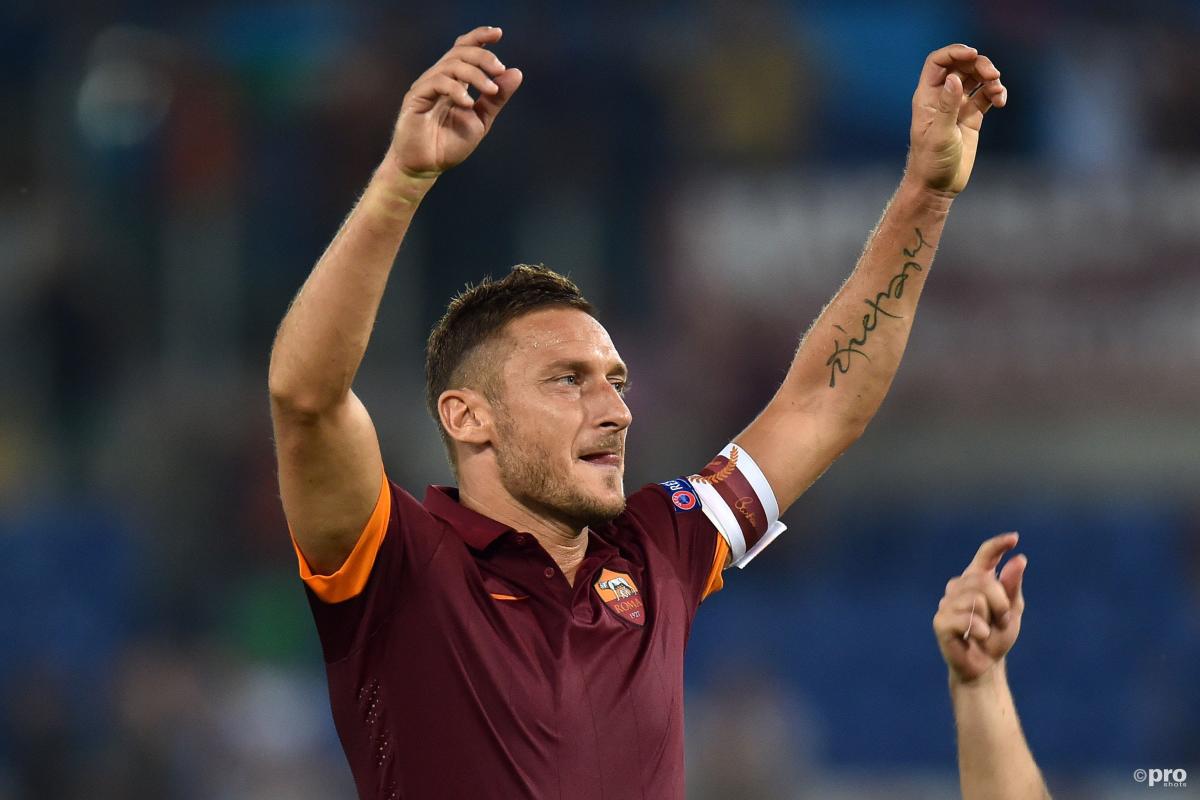 Francesco Totti is the oldest player to score in the history of the Champions League after finding the net for Roma against Manchester City at the age of 38 years, one month and 29 days.
The Roma legend found the net in a Champions League group game in Moscow against CSKA Moscow on November 25, 2014, opening the scoring in a 1-1 draw.
On Tuesday, ahead of #RomaReal, Francesco @Totti will be guest of honour at a special Hall of Fame ceremony. 🐺#OnThisDay in 2014, the 👑 scored against CSKA Moscow to extend his own record as the oldest goalscorer in #UCL history... ⭐️pic.twitter.com/AQWSPQ4zp0

— AS Roma English (@ASRomaEN) November 25, 2018
Zlatan Ibrahimovic, who turned 40 in October, has the chance to become the oldest scorer ever in the Champions League during this season's group stage for AC Milan.
Currently, the second oldest player to score in the Champions League since its rebrand in 1992/93 is Ryan Giggs for Man Utd against Benfica at the age of 37 years, nine months and 16 days.
Man Utd hero Giggs got on the scoresheet in a 1-1 draw with Benfica on September 14, 2011.
OTD 11 – Giggs scores a beauty as United draw at Benfica. pic.twitter.com/8MLk8UHaEU

— United Rewind (@unitedrewind) September 14, 2021
Completing the podium in list of the oldest Champions League goalscorers of all time is AC Milan goal machine Pippo Inzaghi.
Inzaghi was 37 years, two months and 25 days when he scored for Milan against Real Madrid on November 3, 2010.
Top 10 oldest scorers in Champions League history
| Player | Age |
| --- | --- |
| Francesco Totti (Cska Moscow v ROMA), 2014 | 38y, 1m, 29d |
| Ryan Giggs (Benfica v MAN UTD, 2011) | 37y, 9m, 16d |
| Pippo Inzaghi (AC MILAN v Real Madrid, 2010) | 37y, 9m, 16d |
| Javier Zanetti (INTER v Spurs, 2010) | 37y, 2m, 10d |
| Laurent Blanc (Olympiakos v MAN UTD, 2002) | 36y, 11m, 4d |
| Paolo Maldini (AC MILAN v Liverpool, 2005) | 36y, 10m, 29d |
| Bryan Robson (MAN UTD v Galatasaray, 1993) | 36y, 9m, 9d |
| Cristiano Ronaldo (Atalanta v MAN UTD, 2021) | 36y, 8m, 27d |
| Didier Drogba (Schalke v CHELSEA, 2014) | 36y, 8m, 14d |
| Lee Dixon (ARSENAL v Sparta Prague, 2000) | 36y, 7m, 8d |
The fourth oldest scorer in Champions League history is Inter legend Javier Zanetti.
The Argentine was 37 years, two months and 10 days when he swept the ball home in a classic 4-3 win over Tottenham on October 20, 2010. This is a game most famous for Gareth Bale hitting a hat-trick at San Siro for the away team.
The fifth oldest scorer in history is Laurent Blanc, who was 36 years, 11 months and four days when scoring for Man Utd against Olympiakos on October 23, 2002.
The other stars to feature in the top 10 Champions League scorers in history are Paolo Maldini, Bryan Robson, Didier Drogba, Cristiano Ronaldo and Lee Dixon.