Laporta on Barcelona referee scandal: There's a SMEAR campaign against us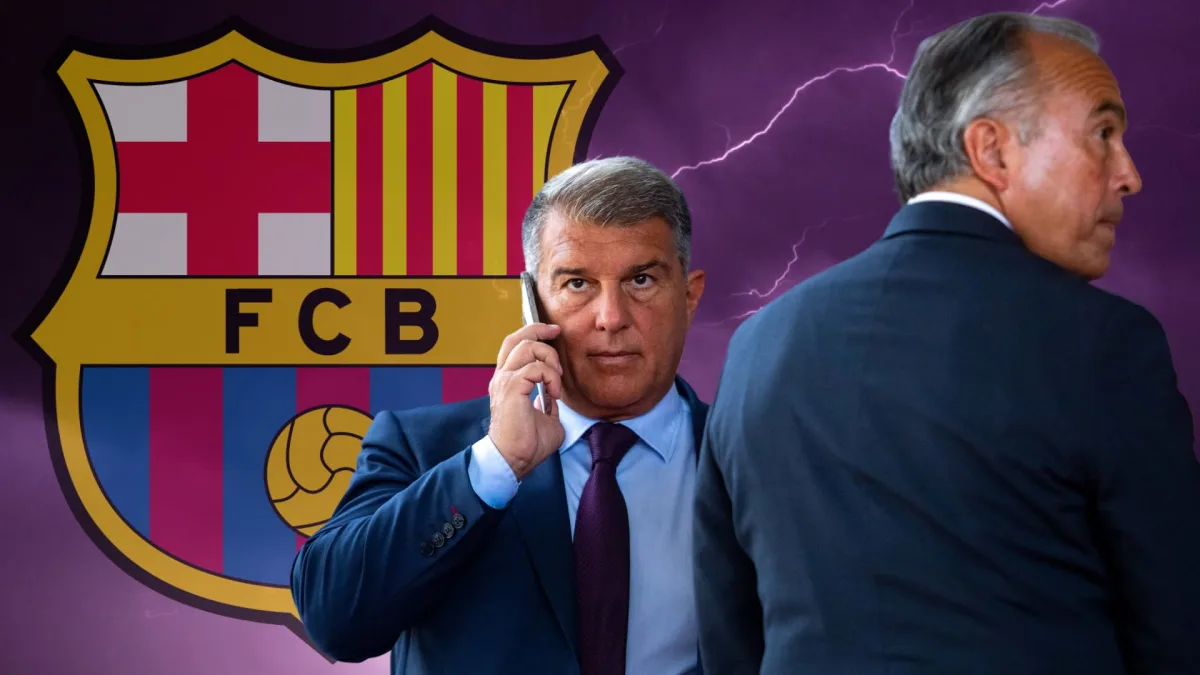 Joan Laporta says that that there is a smear campaign ongoing against Barcelona and insists that the club is innocent against accusations of refereeing corruption.
The Catalan side stand accused of having made payments totalling more than €8 million to former vice-president of Spain's referee committee, Jose Maria Enriquez Negreira.
On Friday, a court in Barcelona announced that the club has been indicted over the charges, including "corruption", "breach of trust" and "false business records".
READ MORE: Barcelona risk relegation as referee scandal erupts in Spain
"FC Barcelona obtained and maintained a strictly confidential verbal agreement with Jose Maria Enriquez Negreira so that, in his capacity as vice-president of the technical arbitral committee (CTA) and in exchange for money, the latter carries out actions tending to benefit FC Barcelona in decisions by the referees," said the public prosecutor's office.
There could be severe repercussions for the La Liga leaders, with the list of punishments including potential relegation.
Barcelona have denied the charges, while Enriquez Negreira has said that he was being paid in an advisory role to explain to players how best to handle different referees.
And on Sunday, Laporta tweeted that there was a smear campaign ongoing against Barcelona.
What did Laporta say?
"Barcelona fans, calm down. We are innocent," Laporta tweeted.
"We are the victims of a horrible smear campaign against us, in which now everyone is involved.
"But we are not surprised, we will prove our innocence and many will have to rectify."
Culers, you can be calm. Barça is innocent of the accusations made against it and is the victim of a campaign, that now involves everyone, to harm its honorability. It is no surprise, and we will defend Barça and prove that the Club is innocent. Many will be forced to rectify.

— Joan Laporta Estruch🎗 (@JoanLaportaFCB) March 12, 2023
Real Madrid held an emergency meeting on Sunday to discuss the charges against Barcelona.
They subsequently released a statement in which they said they will "defend legitimate interests" in the procedure as soon as they are allowed to by the judge.
Real Madrid's statement read: "The Board of Directors of Real Madrid CF, at its meeting held today, learned of the serious accusations made by the Barcelona Prosecutor's Office against FC Barcelona, two of its presidents, Josep María Bartomeu and Sandro Rosell, and the former directors Albert Soler and Óscar Grau, on the basis of potential crimes, among others, of corruption in the sports field, within the framework of the relations established by said club with the former vice president of the Technical Committee of Referees, José María Enríquez Negreira.
"Real Madrid expresses its deep concern about the seriousness of the facts and reiterates its full confidence in the action of justice and has agreed that, in defense of its legitimate interests, it will appear in the procedure as soon as the judge opens it to the parties harmed."