Antonio Rudiger BLASTED for mocking Japan star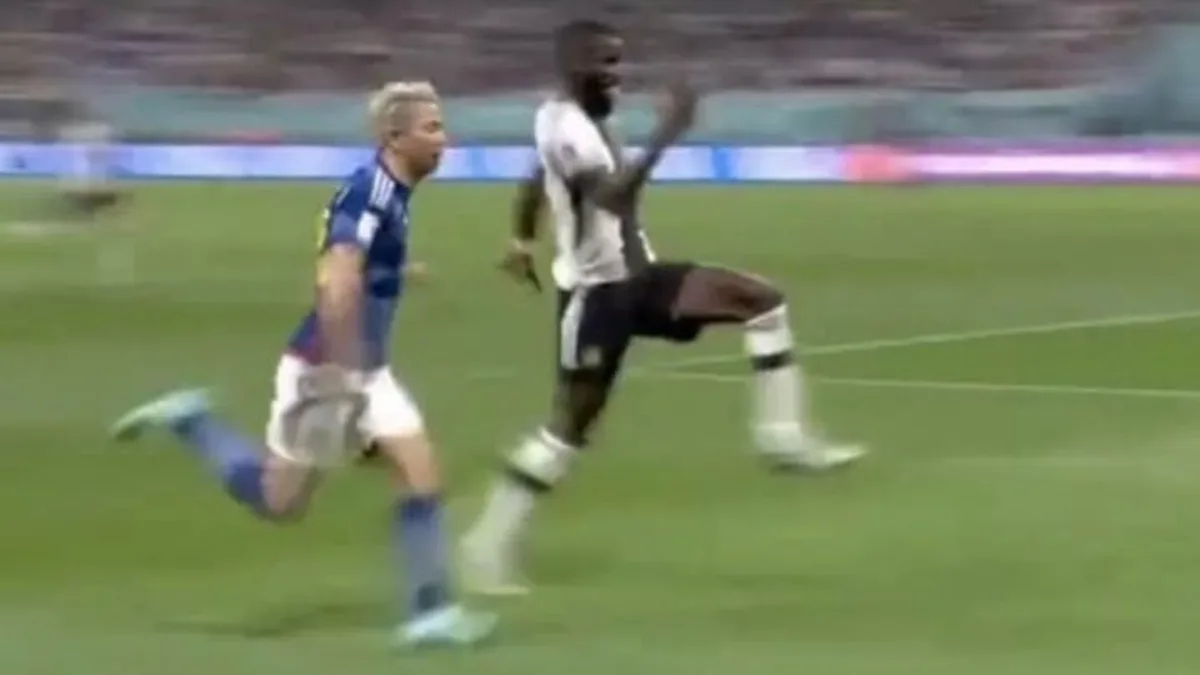 Germany defender Antonio Rudiger has been universally blasted after her mocked Japan star Takuma Asano during their World Cup clash on Wednesday.
The Germans were leading 1-0 through a first-half penalty from Ilkay Gundogan when Rudiger made the gesture in the second half.
He was shepherding the ball out of play over the by-line as he was chased by Japan winger Asano when Rudiger decided to mock his opponent.
World Cup 2022: Teams, fixtures, results, favourites
World Cup all-time top scorers
Ronaldo vs Messi at the World Cup: How their stats, goals, assists and performances compare
Rudiger altered his running style by lifting his knees high towards his chest in an exaggerated running motion.
The Real Madrid centre back was then seen laughing after seeing the ball out for a goal kick.
However, it was Asano and Japan who would have the last laugh.
Japan scored twice in the last 15 minutes to secure a shock 2-1 win in their Group E match.
And it was Asano himself who scored the winner as he raced in behind and fired into the roof of the net.
Rudiger was widely slammed for his disrespectful and unprofessional behaviour, both on social media and in the media itself.
Former Germany international Dietmar Hamaan was particularly scathing of Rudiger.
The Rüdiger we love has arrived at the World Cup pic.twitter.com/oWN4slCHcL

— Troll Football (@TrollFootball) November 23, 2022
What did Hamann say about Rudiger?
"Rudiger lifts up his legs. You don't belittle the opposition (like that) because it always comes back at some stage," Hamann said.
"I think it was very unprofessional. I think it was out of order. Arrogant. He was having a laugh, there's only one team having a laugh now.
"The spirit of the game is about respecting the opposition, respecting your opponent. And he didn't do it. I've got no explanation or excuse for it."
Rudiger signed for Real Madrid on a free transfer in the summer after deciding not to renew his contract at Chelsea.
He penned a four-year contract with the European and Spanish champions, with the transfer being announced in June.
There was numerous clubs interested in signing Rudiger, but it was Real Madrid and Barcelona who were the most desperate to take him away from Chelsea.
Rudiger has played 17 games for Real Madrid since arriving, scoring two goals.
But Rudiger's Germany team face a challenge to avoid going out in the group stages of the World Cup for a second successive tournament.
If they lose to Spain in their next game, they will very likely be eliminated from the tournament.