World Cup all-time top scorers: Mbappe, Messi and the greatest goal kings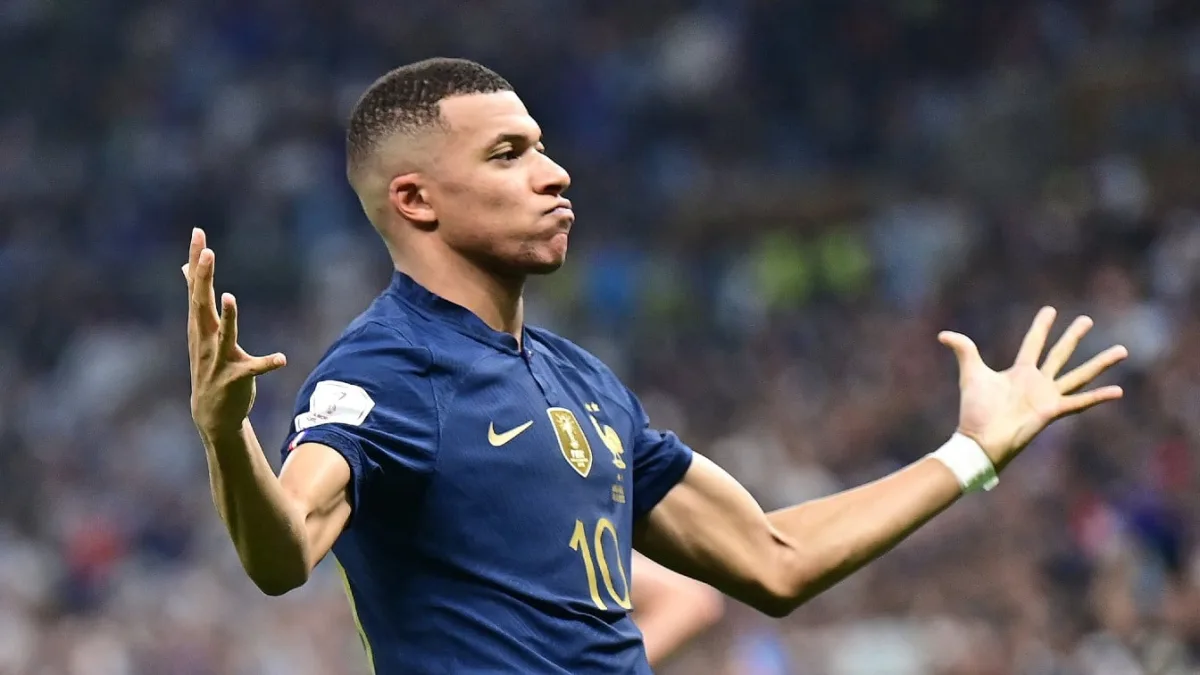 Argentina are 2022 World Cup winners, having overcome France on penalties after a brilliant 3-3 draw in which Lionel Messi and Kylian Mbappe showcased their abilities by scoring five goals between them.
Mbappe became just the second player ever to score a hat-trick in a World Cup final, but Messi's double was ultimately decisive as his side picked up their third title.
Article continues under the video
South American giants Brazil have won the World Cup a record five times, though they have not lifted the trophy since 2002.
Italy - who failed to qualify for the second successive tournament in 2022 - and Germany are the next most successful with four World Cup triumphs each.
World Cup 2022: Teams, fixtures, results, favourites
Ronaldo vs Messi at the World Cup: How their stats, goals, assists and performances compare
France and Uruguay hold two wins, putting them ahead of one-time winners Spain and England.
These nations have produced some of the greatest goalscorers ever, many of whom feature on the list of World Cup all-time top scorers.
So who makes the top 20 in the scoring charts for most World Cup goals? We take a look below.
Top 20 scorers in World Cup history
Germany legend Miroslav Klose is the World Cup all-time top scorer with 16 goals.
Several of the players directly below Klose in the rankings - Ronaldo, Gerd Muller, Just Fontaine, Pele and Kylian Mbappe - all have a better goals per game ratio, although Lionel Messi, who helped Argentina to victory in 2022, does not.
But Klose took full advantage of playing in four World Cups at a time when the tournament had expanded, with teams who reach the last four all playing in seven matches.
That advantage, combined with playing for a Germany team who consistently reached the latter stages, meant he played in 24 World Cup matches, more than anyone else in the top 20.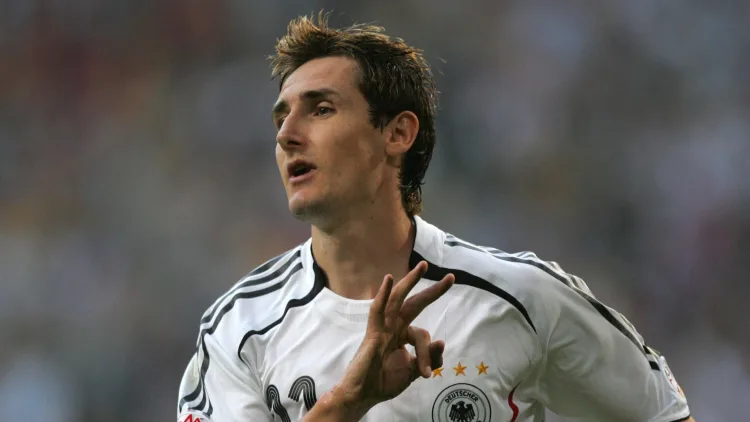 Take nothing away from Klose's performances, though. Never quite as prolific at club level, he was magnificent for his country and ended his career with 71 Germany goals.
Klose scored five goals at World Cup 2002 and another five in 2006 - the second tournament giving him the golden boot on home soil. He played the full seven matches on both occasions, making a flying start to his record pursuit.
He followed up with four goals from five matches in 2010, while two goals in five outings in 2014 saw him overtake Brazil great Ronaldo to become the greatest goalscorer at the World Cup.
Klose equalled the record in a 2-2 draw with Ghana and then claimed it outright in the famous 7-1 semi-final win over Brazil.
He did not score in the final but fittingly ended his international career with a winners' medal to go with his record after Germany beat Argentina 1-0.
Former Barcelona, Inter, Milan and Real Madrid star Ronaldo had 15 goals from 19 World Cup games, with all of his goals impressively coming in three tournaments from 1998 until 2006, having played but not scored in 1994.
He won the golden boot award for being the highest scorer in 2002 as Brazil won the trophy after previously lighting up the 1998 tournament until hosts France convincingly won the final amid controversy over Ronaldo's fitness to play.
Germany have a host of players in the top 10, including Gerd Muller (14), who was the record holder prior to Ronaldo, with Jurgen Klinsmann (11) also boasting a fine record.
Two stars of the 1950s, Sándor Kocsis (11) and Fontaine (13), have the best goals-per-game ratio, both averaging over two per match.
Pele (12) may not hold the record but will always have a prominent place in World Cup history.
Pelé's 1970 World Cup Best Moments - with commentary

Years past his prime yet still capable of producing one of the all time great World Cup performances. Genius pic.twitter.com/8CeWDs1FRh

— AllThingsSeleção ™ (@SelecaoTalk) January 29, 2021
Who has scored the most goals in World Cup qualification?
Former Guatemala forward Carlos Ruiz has the most World Cup qualification goals with a remarkable 39, though it was never enough to get his country to reach the tournament.
Guatemala's record cap holder and goalscorer, Ruiz played in five qualification campaigns and reached his total from 47 matches.
Cristiano Ronaldo is second with 36 goals in World Cup qualifying, the most of any European player.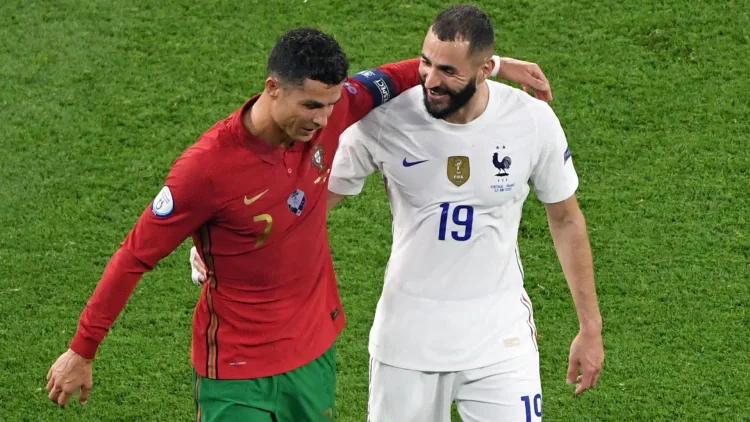 Ali Daei of Iran is third with 35 goals, followed by Poland's Robert Lewandowski on 30.
Uruguay star Luis Suarez has a formidable World Cup record, with 29 goals in qualifying and seven at the tournament itself.
Milan great Andriy Shevchenko scored 26 times in qualification campaigns plus twice in the full World Cup.
How did Klose and Ronaldo fare in qualifying?
Klose impressively had 13 goals in qualifying for a total of 29 World Cup goals, including qualifiers.
Brazil's Ronaldo netted 10 times, all scored in one tremendous qualifying campaign for the 2006 tournament. But featuring in just one meant those exploits were not enough to sit above Klose in this ranking either, with his total being 25.
And what about Lionel Messi? He has 22 qualifying goals and 13 at the full World Cup, elevating himself into the group of greatest scorers at the competition with a brilliant performance in 2022, when he scored six, finishing behind only Kylian Mbappe in the Golden Boot standings.
Who has scored the most World Cup goals in a single tournament?
All of the 13 World Cup goals scored by France forward Just Fontaine came at a single tournament in 1958, with him reaching that total by playing in six games.
Over 60 years on from his heroics, Fontaine remains the highest scorer in a single World Cup competition and has a record that may never be beaten.
He beat the mark of 11 recorded by one of the tournament's other greatest goaslcorers, Sándor Kocsis, who recorded his total in five matches during the previous 1954 tournament.
In third place for most goals in a single World Cup is Gerd Muller, who scored 10 times from six appearances in 1970.
No player has reached double figures at a World Cup in over 40 years since, with Brazil striker Ronaldo coming closest when he netted eight times in the 2002 Mundial.
For the 2014 and 2018 boot winners, James Rodriguez and Harry Kane, six goals were enough to win the honour.
In 2022, Kylian Mbappe scored seven times for France, who were runners up.
Who is the oldest scorer in a World Cup?
The oldest scorer in a World Cup is Cameroon striker Roger Milla.
Astonishingly, Milla was 42 years and 39 days old when he scored for Cameroon against Russia in group stages of the 1994 World Cup, which was held in the USA.
Milla actually broke his own record by doing that – he already held the title of the oldest World Cup scorer having netted four times at World Cup 1990 in Italy.
🇨🇲🇨🇲🇨🇲

Of @roger_milla_9's five #WorldCup goals, four came at Italy 1990#WorldCupAtHome | #Italy90 pic.twitter.com/RRgEGWewOt

— FIFA World Cup (@FIFAWorldCup) July 2, 2020
There is a huge gap between Milla and the rest who feature in this category.
In second place is Gunnar Gren, who was 37 years and 236 days old when he scored for hosts Sweden at the 1958 World Cup.
Cuauhtemoc Blanco is third having been 37 years and 151 days old at World Cup 2010 in South Africa when he netted for Mexico.
Mirsolav Klose had just turned 36 when he scored the last of his 16 World Cup goals in 2014. That puts him ninth overall.
Crisitano Ronaldo scored in Portugal's opening game of the 2022 World Cup at the age of 37, which also made him the first player ever to score at five tournaments.
Ronaldo is already the oldest player to score a World Cup hat-trick. He was 33 years and 130 days old when he scored a treble against Spain in 2018.
Who is the youngest goalscorer in a World Cup?
Pele is the youngest player to score a goal in a World Cup match.
He was 17 years and 239 days old when he netted against Wales in the 1958 competition in Sweden.
Five days later, Pele became the youngest player to score a World Cup hat-trick against France. That record also still stands today.
In a historic tournament, he later became the youngest to score in a World Cup final with the first of his two goals in the 5-2 win against hosts Sweden at the age of 17 years and 249 days. That is another record which is yet to be beaten.
When Pele became the youngest goalscorer in World Cup history, he took the record from Mexico player Manuel Rosas, who scored in the first World Cup in 1930.
Rosas remains the second-youngest scorer over 90 years on from his effort.
Former Liverpool, Real Madrid and Man Utd forward Michael Owen is third as he was 18 when he struck for England at the 1998 World Cup.
Lionel Messi was 18 years and 358 days old at the time he got his first World Cup goal in 2006.
That puts him sixth in the rankings and makes the Barcelona forward the youngest World Cup scorer in this century.