Klopp v Guardiola head-to-head: Who has the most wins?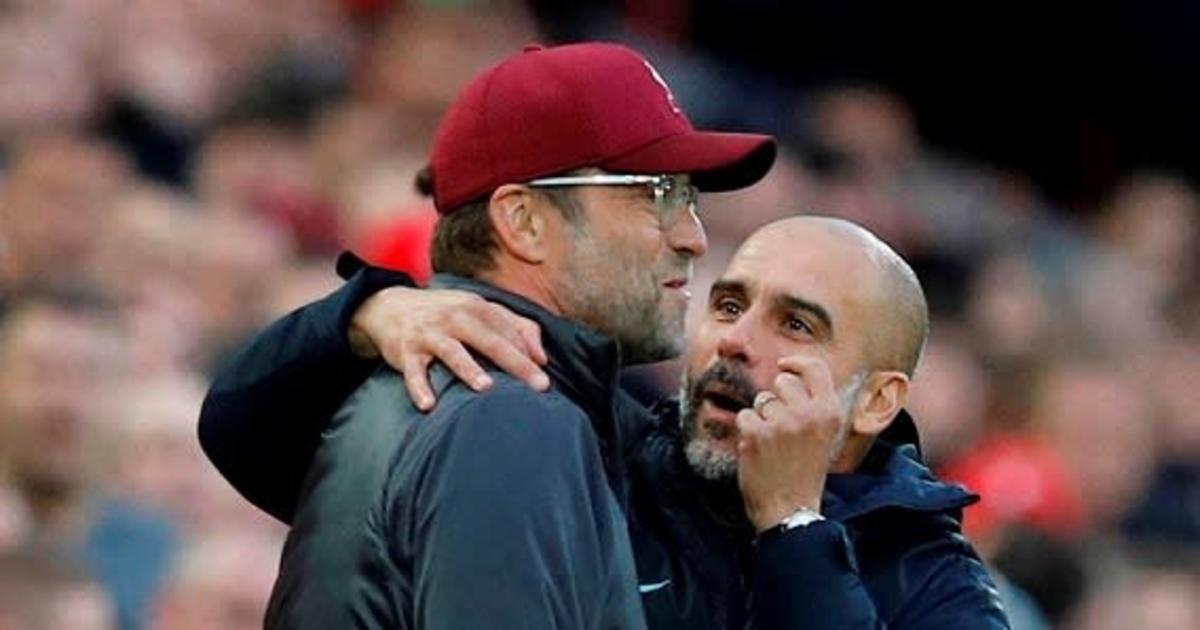 Liverpool and Manchester City will do battle in the Premier League this weekend as the current champions head to Anfield.
The game will see the last two Premier League champions face off, with Man City reclaiming their title from the Reds in the 2020/21 season.
It also features arguably the best two managers in the world at the moment in Jurgen Klopp and Pep Guardiola, both of whom have won a series of major trophies in their respective careers.
There is a healthy rivalry and a respect between the pair as highlighted by Guardiola's recent words, saying Klopp has made him a better manager.
FOOTBALLTRANSFERS' MOST VALUABLE PLAYERS IN THE WORLD
"He helped me, his teams helped me to be a better manager," the Spaniard explained.
"He gave me another level to think about it, prove myself, what I have to do to be a better manager with our teams to try and beat them. It's the reason why I'm still in this business.
"There are some managers, Jurgen is one, to challenge you to move a step forward … here we have many years, many competitions together.
"Every game was nice, both teams have the same idea, to score goals in different ways; quicker than us but in the same way to win the games."
They have been on the opposite dugout from each other plenty of times, so who has gotten the better of the rivalry so far?
Klopp v Guardiola
Head-to-head
| | Klopp | Guardiola |
| --- | --- | --- |
| Games Played | 21 | 21 |
| Win | 9 | 9 |
| Loss | 9 | 9 |
| Draw | 3 | 3 |
| Goals For | 35 | 39 |
| Goals Against | 39 | 35 |
| Major Trophies | 6 | 19 |
Unless there is a draw on Sunday, one manager will go as the outright leader in the rivalry in terms of games won as, at the moment, Klopp and Guardiola have nine wins each against each other, with three draws sandwiched in between.
Guardiola sides judge edge goals scored with 39 to 35.
The rivalry between Klopp and Guardiola spans two countries and various competitions.
In Germany, they often faced off as head coaches of Borussia Dortmund and Bayern Munich respectively before moving to Liverpool and Manchester City.
In 90-minute matches, Guardiola earned more victories in Germany as Bayern defeated Dortmund four times with him in charge.
However, in overall matches they are tied at 4-4 as Dortmund once knocked Bayern out of the DFB-Pokal on penalties.
As managers of Liverpool and Man City, they have met over two legs in the Champions League on one occasion.
In the 2017/18 campaign, the Reds were comprehensive winners in the quarter-final stage, winning 5-1 over two legs.
When it comes to major trophy wins, we are counting:
La Liga, Copa del Rey, Bundesliga, DFB-Pokal, Premier League, FA Cup, Champions League and the Club World Cup.
Taking each of those into account and Guardiola is way out in front with 19 trophy victories to six.