Fiorentina desperate to keep Tottenham and Liverpool target Vlahovic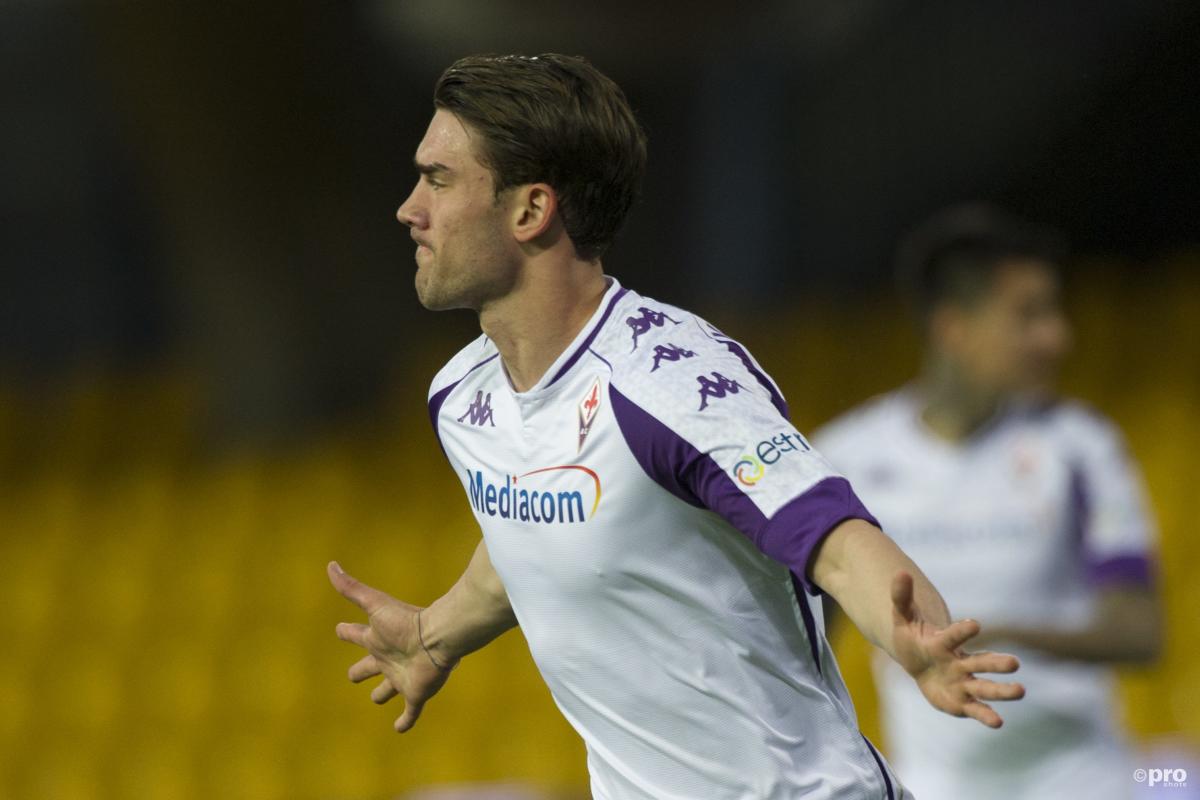 Fiorentina CEO Joe Barone said says the club hope to agree terms on a new deal for star striker Dusan Vlahovic.
A year after his Serie A debut, in September 2019, he scored his first goal in Italian football. Since then, he has shown himself to be developing as a top-level centre-forward.
Last season proved to be a breakout year for Vlahovic as he scored 21 goals in 34 starts in Serie A and also provided three assists.
As well as goals, he effectively averages one in two when it comes to shots on target, typically taking 2.8 per game, 1.3 of which are successful.
His physique, build and new-found proficiency could make him an ideal import to the Premier League.
Crucially, he doesn't just score goals, but he has a healthy knack of scoring at key times, too. Of his 21 Serie A strikes this season, nine have been decisive, with six equalisers.
It looks like he is going to continue his form into the new campaign in Italy, too, as he recently scored seven goals in a friendly as Fiorentina defeated Polisportiva C4 10-0.
Before Cesare Prandelli resigned as Fiorentina boss, he said of Vlahovic:
"This is the most delicate moment of Dusan's career, because people expect things from him now.
"He has to keep it simple and focus on the basics.
"He's certainly motivated, I practically have to push him off the pitch, as he would like to stay there for hours. I think it's the kind of pressure he can deal with."
What is Vlahovic's current situation?
It is looking increasingly likely that Tottenham will be on the lookout for a new centre-forward this summer as the club are bracing themselves for a £160 million bid from Manchester City for Harry Kane.
Should Kane be sold, Spurs fans will demand a replacement is brought in quickly, and Vlahovic has emerged as a primary target.
They could actually look to bring in Vlahovic anyway as a potential team-mate of Kane or to ease the goalscoring burden up top.
For Liverpool, they are in the market for a striker too after Roberto Firmino had a poor season last year.
Diogo Jota can play in that role but Jurgen Klopp is keen to acquire a number nine and Vlahovic certainly fits that mould.
But, both sides have their work cut out as if Barone's words are to go by, Fiorentina will play hard ball in negotiations as they hope to retain Vlahovic on a new deal.
"Vlahovic is a Fiorentina player, a very important player," Barone told TGR Rai Toscana.
"We are continuing to communicate every day and we obviously hope to reach an agreement with him as soon as possible.
"We are aware that we are starting from scratch," Barone added. "We have a new coach in [Vincenzo] Italiano, a new system.
"We are all based on results, we have to do well. It was an important signal for everyone, even for the staff. We play for the people of Viola."
Vlahovic currently has a FootballTransfers valuation of €27.4m.