Who is Germany machine Robin Gosens? The most under-paid player in football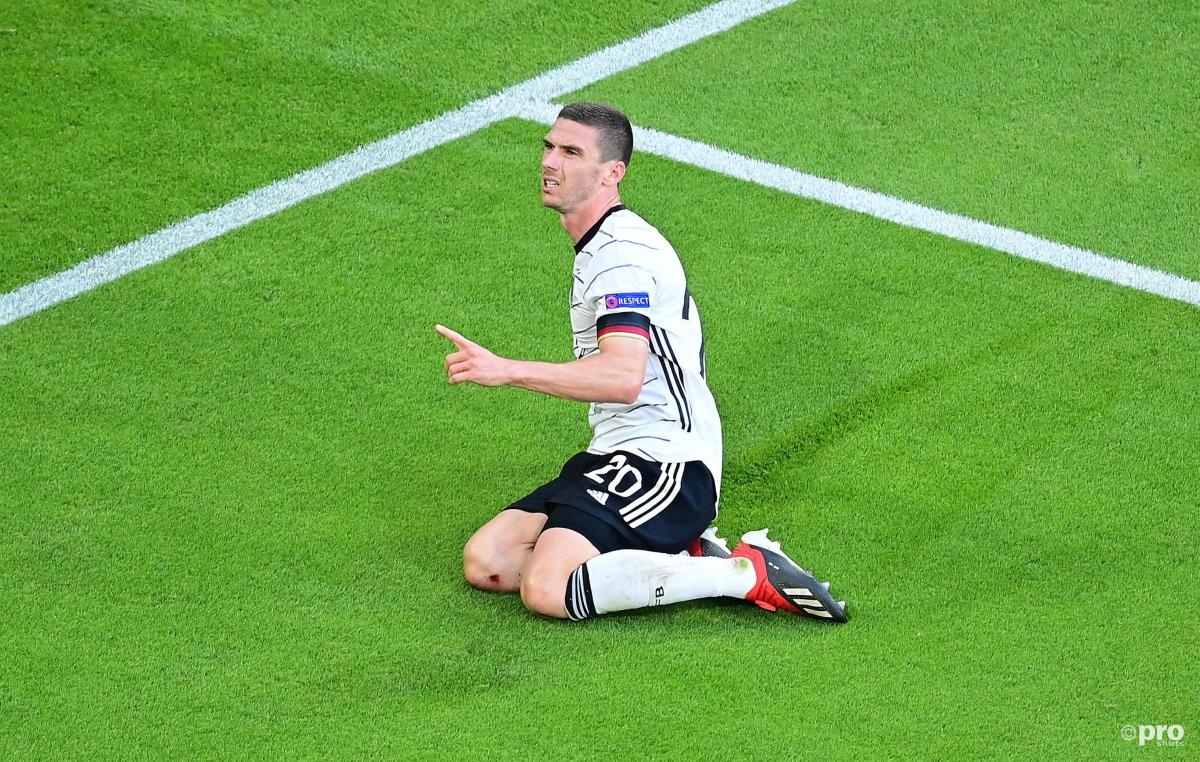 Germany wing-back Robin Gosens has emerged as one of the stars of Euro 2020 and his record over the past two seasons is simply sensational given his modest salary.
Gosens hit the headlines on Saturday evening as he inspired his nation to a crucial 4-2 win over Portugal in Euro 2020 Group F.
Germany, who lost their opening game 1-0 to France, were staring into the barrel of elimination after Cristiano Ronaldo gave Portugal the lead in Munich.
But Gosens was then involved in all of Germany's goals as they put four past their shellshocked visitors.
He grabbed a goal, two assists and also had another stunning, acrobatic strike ruled out.
Robin Gosens. What a performance 👏👏👏#DieMannschaft #GER #EURO2020 #PORGER pic.twitter.com/iKREDWhmSn

— Germany (@DFB_Team_EN) June 19, 2021
This performance crowned what has been a magnificent past two seasons for the left-sided player.
What position does Robin Gosens play in?
Gosens' natural position is as a left wing-back.
He is deployed as a left wing-back for Atalanta in Gian Piero Gasperini's 3-4-2-1 formation.
For Germany, he plays in exactly the same position – although Jogi Low fields more of a 3-4-3 system.
Gosens has occasionally played as a full-back in a four-man defence, but he is more naturally suited to a wing-back role given his attacking nature.
How good is Robin Gosens?
Gosens has emerged into one of the best wing-backs in Europe over the past two seasons, although only after his performance against Portugal at Euro 2020 did he become known to an international audience.
The German has incredible levels of fitness and stamina and bombs up and down the left flank from the first minute to the last.
He is a physical and muscular player – with veins bursting out of his arms – and is very difficult to shrug off the ball.
Gosens is left-footed and has a powerful shot and accurate cross. He regularly gets into the box and is one of the most prolific scorers and creators in Europe for his position.
The 26-year-old's goal and assist record over the past two seasons is remarkable.
He scored 22 goals for Atalanta in the 2019/20 and 2020/21 seasons combined, as well as registering 15 assists.
He has now taken that form over to the national side since making his Germany debut last year.
Gosens has already scored twice in nine appearances for Die Mannschaft.
The wing-back is also excellent in the air and is fiercely competitive.
What clubs are interested in Robin Gosens?
The only club to have made a concrete bid for Gosens in 2021 is understood to be Leicester City.
Leicester signed Timothy Castagne, who was Gosens' former Atalanta team-mate, in the summer of 2020 and would like to recreate the dynamic of the pair playing on opposite flanks.
Other big clubs who have been linked to Gosens are Juventus and Barcelona, but it is likely many more of Europe's big boys will have finally woken up to the German's talents now.
When does Robin Gosens' contract expire?
Gosens is especially attractive to potential buyers because his contract at Atalanta expires in 2022.
Incredibly, his salary is just €800,000 a year.
This makes his arguably the most under-paid footballer in Europe, given his ability.
What is Robin Gosens' Instagram?
Gosens' Instagram account has 261,000 followers.
Who is Robin Gosens' girlfriend?
Gosens is dating a physiotherapist called Rabea and they live together in Bergamo.