Man City's 10 most expensive transfers of all time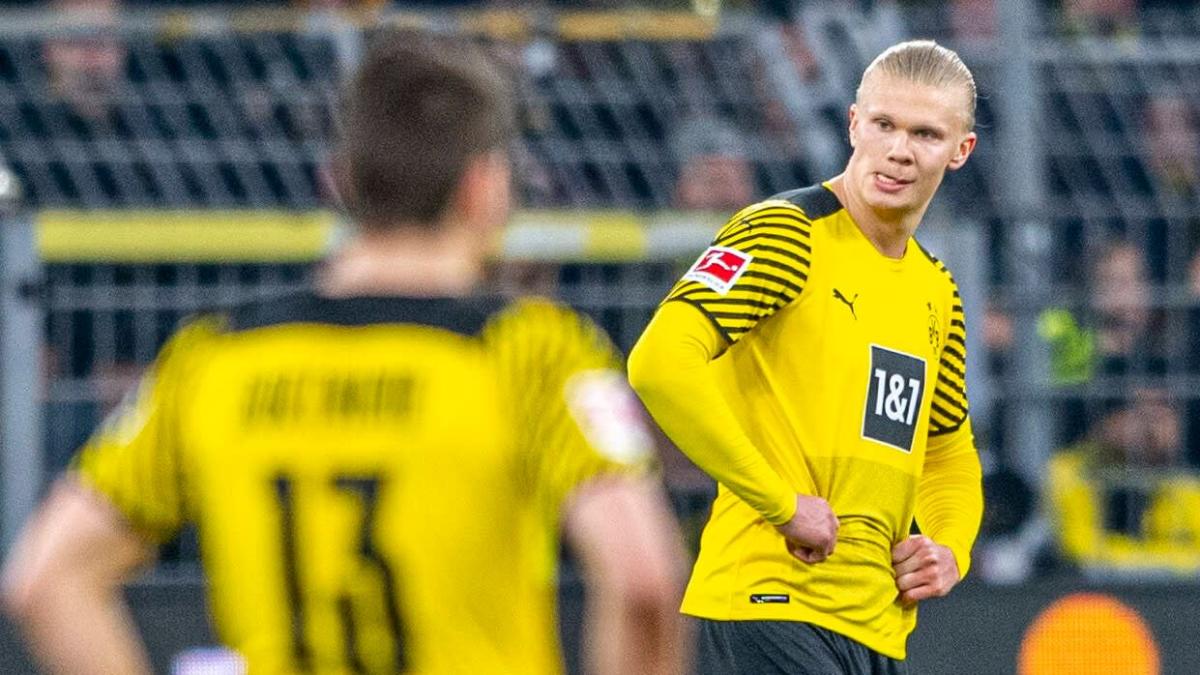 Erling Haaland's transfer from Borussia Dortmund to Man City has been officially confirmed and it unsurprisingly enters the club's list of their top 10 highest ever transfer fees.
After Sheikh Mansour purchased the club in August 2008, Manchester City's fortunes were changed forever, with the influx of money ensuring they were able to attract a higher calibre of players than ever before.
The £38 million signing of Robinho just days into Mansour's reign set things in motion, and since then he spent well over £1 billion investing into the club.
With five Premier League triumphs, six League Cup wins, and two FA Cup victories since 2008, it's fair to say that Mansour's money has brought immense success to Man City, but who are their 10 most expensive signings of all time?
10. Erling Haaland - £52m (from Borussia Dortmund, 2022)
Borussia Dortmund superstar Haaland has been added into Pep Guardiola's midst to finally fill the hole left by Sergio Aguero's departure.
The Norwegian international's move from the Bundesliga to Manchester was confirmed on 10 May 2022 following two-and-a-half impressive years at Borussia Dortmund. With 108 goal contributions in just 88 games for BVB, Haaland arrives at Man City as a truly elite star.
Haaland is one of the most talented players of his generation and his signing provides Man City with the goal-scorer they've so desperately craved.
9. Benjamin Mendy - £52m (from Monaco, 2017
Signed in the same summer as Kyle Walker, Benjamin Mendy arrived with great expectations having helped Monaco to Ligue 1 glory in the previous season.
However, despite a promising first few games, Mendy has been plagued with injuries during his time in Manchester, missing over 120 games through injury since the transfer.
Even when fit, he's often been named on the bench, with Joao Cancelo and Oleksandr Zinchenko the current rotation options at left-back, whilst Fabian Delph filled that role during Mendy's first big injury.
It's one of the few transfers on this list that hasn't worked out, both on and off the pitch.
He is currently on bail and facing charges of rape.
It's hard to think that £68m can be a bargain, but Kevin De Bruyne has proven that it's possible
-
8. Rodri - £56m (from Atletico Madrid, 2019)
A tall defensive midfielder with an eye for a pass, Rodri was the player selected by Man City to replace the ageing Fernandinho. After a sluggish first year in which he adjusted to English football, Rodri came into his own in 2020/21, helping the side to yet another Premier League triumph.
Having never dropped below a 90% pass accuracy, Rodri is the perfect Guardiola defensive midfielder, akin to Sergio Busquets.
7. Raheem Sterling - £57m (from Liverpool, 2015)
Sterling was just 20 when this move happened, and it represented a huge gamble from City's hierarchy. He had displayed his talent at Liverpool, but he was far from consistent, which was shown by his tally of six goals and two assists in his first Premier League season for City; for someone who cost so much, that wasn't good.
However, once Guardiola began to work with Sterling, he became far more clinical in front of goal, and his 18 strikes in the 2017/18 season, and 17 the following year helped the side to back-to-back titles.
It was a risky move at the time, but it's certainly paid off. Now 27, it seems as though Sterling has been around forever, but he still has years left at the top level.
6. Aymeric Laporte - £58.5m (from Athletic Bilbao, 2018)
As expected when it comes to buying from Athletic Bilbao, Aymeric Laporte cost a fortune when City signed him in January 2018. His reinforcement helped the side to the title that year, and although Stones and Ruben Dias have formed a formidable partnership in their own right, he's still a vital member of the squad.
His second full season at the club was hampered by injury, and his absence saw the title slip from City's grasp; his presence at the back was sorely missed as Liverpool strode to glory.
Still only 27, Laporte still has several years of top performance left in him.
5. Joao Cancelo - £58.5m (from Juventus, 2019)
Part of a swap deal that involved Danilo going the other way, Joao Cancelo has been an excellent addition to this Man City squad. After having an adaption year in 2019/20, much like Rodri, Cancelo came into his own last season, and is the epitome of a Guardiola player.
His tactical versatility is immense, with the Portuguese international starting from either full-back role, and moving inside as a central midfielder when City have the ball.
He was an integral part of the title win in 2020/21, and his importance to the team can't be understated, with his performances improving again in 2021/22.
4. Riyad Mahrez - £61m (from Leicester, 2018)
It took a few years after Leicester's shock Premier League win before Riyad Mahrez was granted his wish to move away, and when it happened, it didn't come cheap.
However, City knew the talent he possessed, and with arguably the best first touch in football, Mahrez is a joy to watch.
He can be unplayable on his day, but is having to contend with major competition for places at the moment.
3. Ruben Dias - £61m (from Benfica, 2020)
Now, this was a risk. Ruben Dias was seen as an immense talent in Portugal, but his slight weakness in defending big spaces caused many to worry about his big money move to Man City. However, he has eased those concerns since he arrived in England, and having guided City to Premier League glory, and winning the FWA Player of the Year award, was a stellar first season.
The aforementioned partnership with Stones has been crucial to City's success, and at just 24, Dias has a big future at the Etihad ahead of him.
2. Kevin De Bruyne - £68.4m (from Wolfsburg, 2015)
Signed the year before Guardiola arrived, Kevin De Bruyne joined Man City with the weight of the English press' criticism on his shoulders. After an underwhelming spell at Chelsea in which he was never really given a fair shot, he then lit up the Bundesliga and since signing for City, the rest is history.
He's won 11 trophies at the club, made over 250 appearances, and contributed to over 170 goals. De Bruyne is a Manchester City legend, and one of the their greatest ever signings.
It's hard to think that £68m can be a bargain, but De Bruyne has proven that it's possible.
1. Jack Grealish - £100m (from Aston Villa, 2021)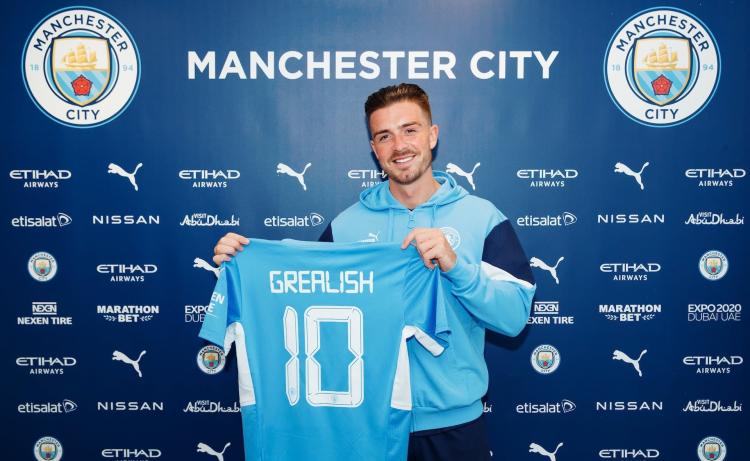 Jack Grealish overtook Kevin De Bruyne as Manchester City's most expensive transfer of all time in the summer of 2021.
His £100m (€118m) move from Aston Villa made him the most expensive English and British transfer in history.
Over the previous couple of seasons he had emerged as one of the Premier League's most exciting and creative players.
Guardiola immediately became a big fan of the player and pushed his club to move for the Euro 2020 star.
This came much to the annoyance of Aston Villa fans, who were heartbroken to see their hometown player leave.