Ruben Dias has surpassed even Van Dijk with award-winning season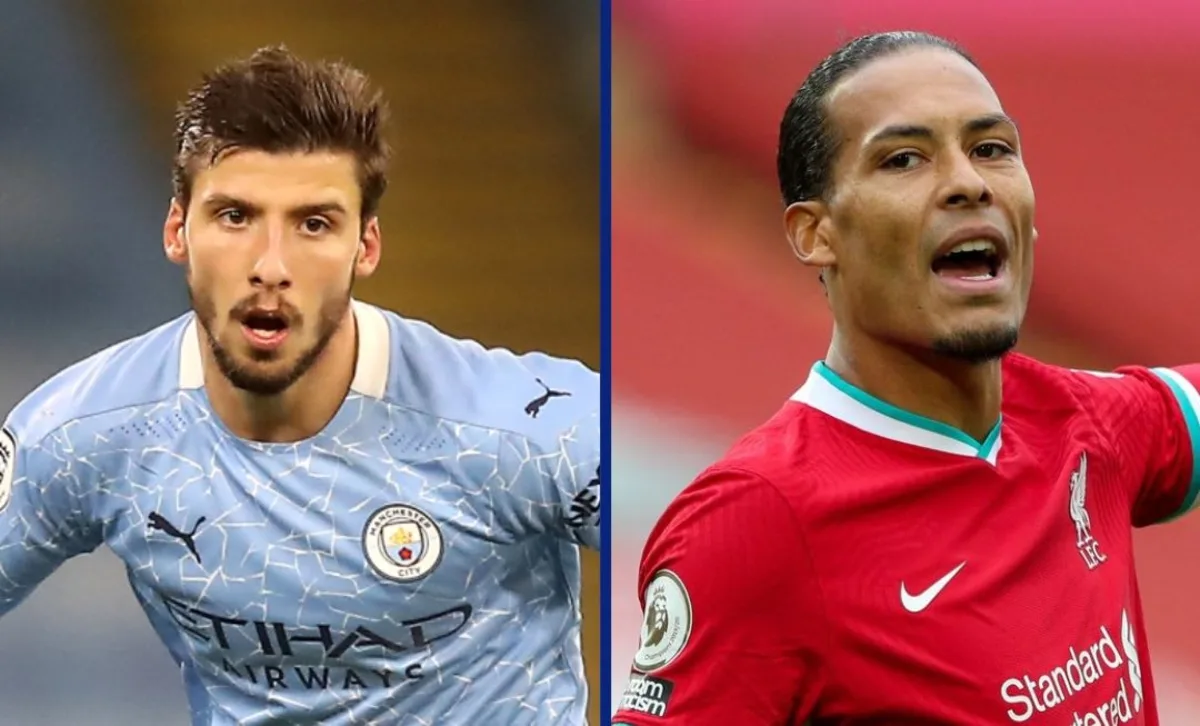 Even though he was certainly an expensive acquisition for Manchester City, Ruben Dias has proved to be one of the best signings made by a Premier League side in recent memory.
The newly-crowned Premier League champions have spent lavishly on centre-backs over the last decade, initially hoping to find a partner and then a replacement for the talismanic Vincent Kompany.
READ MORE: Ruben Dias saved Pep Guardiola at Man City – Carragher
Big money was spent on the likes of Eliaquim Mangala, Nicolas Otamendi and John Stones, and although the Englishman has now come good, he was written off by many before his exploits this season.
Part of the reason for Stones' resurgence is the fact he has been beside the best defender in the world this season in Dias.
Signed for £61.64 million from Benfica, the Portuguese defender has taken to the Premier League like a duck to water, and on Thursday was named Football Writers' Association's Player of the Year for 2020/21.
Pep Guardiola's sides have always been outstanding going forward, but this season he has put together one of the best defences in Europe, mostly due to the presence of Dias.
He has made 31 appearances in the Premier League so far, and helped City to 14 clean sheets.
Dias has had a miraculous impact on the Man City team, so much so that they have eventually won back the Premier League from Liverpool after no real competitors matched their results after Christmas.
His affect on his team is much like that which Liverpool enjoyed when they signed Virgil van Dijk.
Ruben Dias v Virgil van Dijk
It is difficult to actively compare the talents of Dias and Van Dijk, but what we can do is compare the impact they had on their respective sides.
In the 2018/19 campaign, Van Dijk won the PFA Player of the Year award despite not winning the Premier League, while Dias has done so while becoming a champion.
| Stat | 2020/21 Dias | 2018/19 Van Dijk |
| --- | --- | --- |
| Starts | 31 | 38 |
| Tackles Won P90 | 0.4 | 0.8 |
| Duels Won P90 | 3.5 | 6.5 |
| Aerial Duels Won P90 | 3.0 | 4.8 |
| Pass Completion | 93% | 90% |
| Interceptions | 1.1 | 1.1 |
| Ball Recoveries | 4.3 | 5.1 |
| Touches P90 | 93.8 | 92.3 |
In their respective Player of the Year winning seasons in the Premier League, Van Dijk gets the better of Dias in the defensive metrics, while Dias has performed better on the ball, recording more touches per game as well as a better pass completion.
Even though stats do highlight just how well the pair have performed, there are some factors which are intangible.
Though Van Dijk has undoubtedly made the likes of Joe Gomez better, that is nothing compared to the impact that Dias has had on Stones.
The Englishman's future was uncertain at the Etihad heading into this season, as he was certain to play backup to the pairing of Dias and Aymeric Laporte.
However, Stones' performances have left Laporte sidelined and it now seems more likely that he will leave.
Stones' cool persona has been criticised at times for being lackadaisical, but Dias doesn't stand for this aloofness, with Stones' head now majorly screwed on at the back.
Furthermore, Van Dijk has had the luxury of playing alongside probably the two best full-backs of the last couple of years in Andy Robertson and Trent Alexander-Arnold, while Dias has had to contend with the likes of Kyle Walker, Benjamin Mendy, and Joao Cancelo.
Walker and Cancelo have become infinitely better since Dias came into the team.
What is arguably the most impressive thing about Dias' season, and perhaps what gives him the edge over Van Dijk, is that he has managed to do this in his very first campaign in English football.
Van Dijk may be the towering behemoth at the back we all know now, but he had time to adapt to the league at Southampton for a couple of seasons before making the step-up from Liverpool.
The Dutchman knew the game in this country, Dias didn't.
Van Dijk of course would go on to win the Champions League and the Premier League with Liverpool over two seasons, while Dias has the opportunity to make it a double in the same season if Man City can defeat Chelsea on Saturday.