Who is Sven Botman? Ligue 1 winner attracting interest from Man Utd and Liverpool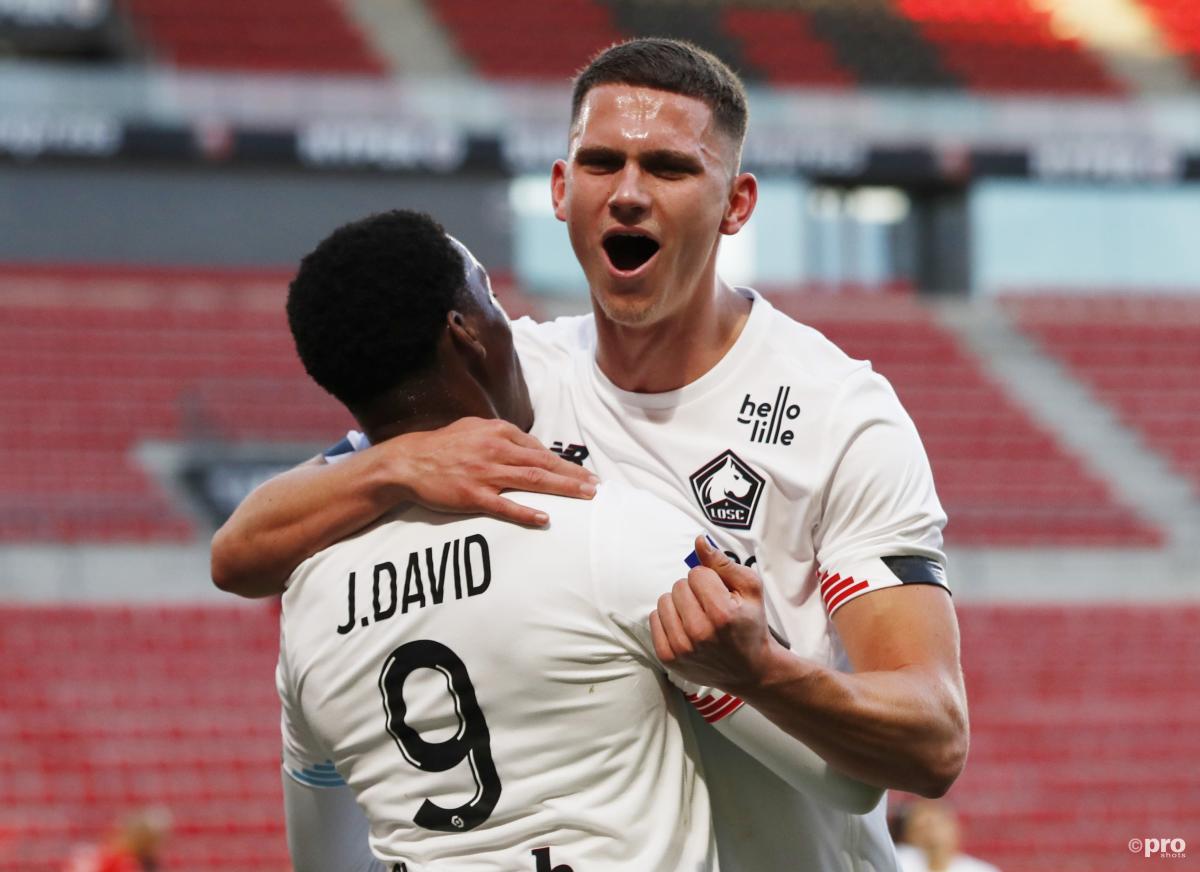 One of the most impressive young central defenders in Europe at the moment is Lille's Sven Botman.
With star central defender Gabriel signing for Arsenal ahead of the 2020/21 season, Lille identified Botman as his replacement and subsequently paid Ajax €9.2 million to bring him to Ligue 1.
It was seen as a coup of sorts at the time as Botman had previously been linked with both Liverpool and Tottenham.
It has worked out for both player and club, though, as Botman helped Lille to an unlikely Ligue 1 victory.
What kind of player is he, though?
What position does Sven Botman play?
Botman plays as a central defender.
How good is Sven Botman?
Botman emerged through the Ajax youth system to eventually make his debut for the Dutch giants in a friendly in 2018.
Though his development was impressive, he was still slightly down the pecking order in Amsterdam and made the brave decision to move to France, where he has flourished since.
Botman stands at over 6ft 3in tall and is such is a powerful presence in the backline.
In the 2021/22 Ligue 1 campaign, he averages 2.2 aerial duels won per match.
He is a modern defender, though, in that he can play out from the back and holds a calm demeanour when in possession.
Team-mate Jose Fonte waxed lyrical about Botman to talkSPORT, saying:
"He is a top player.
"I must say I was surprised when he first arrived. I wasn't expecting this level of quality, I was expecting a youngster with potential, but the guy is very composed; he's mature for his age.
"He's a defender, and by that I mean he likes to defend; he likes to play simple, he's strong, he's tall, he wins his duels, he doesn't overcomplicate the game, he's good on the ball, left-footed.
"He's been doing extremely well since he arrived so yeah, no wonder there's interest in him. It doesn't surprise me [the links to Liverpool], not at all.
"If you analyse his performances this year, especially against the top teams we've played, you can be sure he can play at the highest level.
"He just needs to keep going, keep improving, keep adding experience to his arsenal and I'm sure he'll have a great career, he's been doing really, really well.
"His personality, his character, he is quiet but he understands the game and he wants to learn. He's one of the first to arrive at the training ground, he's a good professional, he likes to do his work and he's hungry."
What clubs are interested in Sven Botman?
Manchester United, Liverpool, Tottenham and now Wolves have all been credited with an interest in Botman, with the Red Devils thought to be leading the race currently.
One thing is for sure, it appears the Premier League will be in his future, as he told the Athletic last season:
"The Premier League is something special. It's the football I really like and that fits me. The style of play, the emotion; I really like to see the fans with such big emotions in the stands.
"It is a beautiful competition I really like to watch and did for pretty much all my life."
How old is Sven Botman?
Botman was born on 12 January, 2000. He is 21.
What is Sven Botman's height?
Botman is 193cm, or 6ft 3in.
What is Sven Botman's weight?
Botman is 81 kilograms, or 12 1/2 stone.
When does Sven Botman's contract expire?
Botman has a contract with Lille until 2025.
Who is Sven Botman's girlfriend?
Botman is not currently dating anyone publicly.
What football boots does Sven Botman wear?
Botman wears Nike Phantom GT 2 Elite DF soccer cleats.
What is Sven Botman's Instagram?
Botman's Instagram has 53k followers as of November 2021.