Bodo Glimt and the Norwegian revolution: The next stars to come through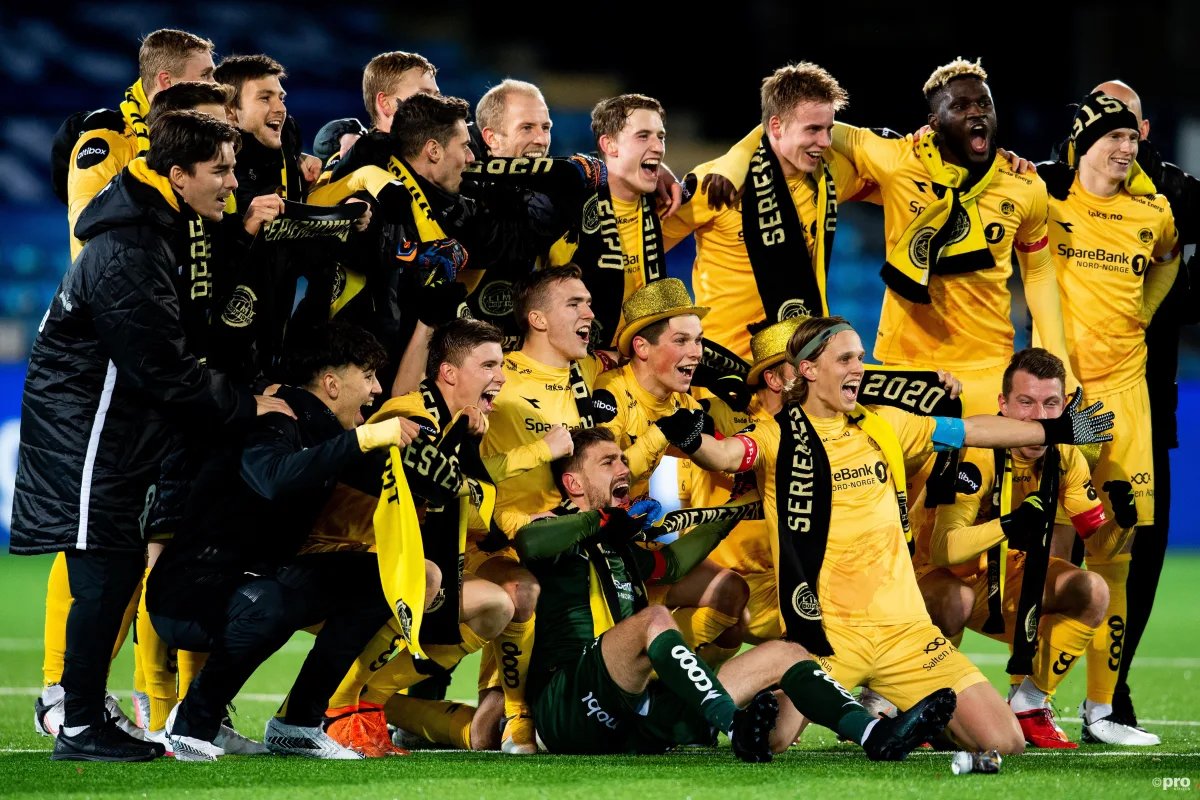 Bodo Glimt made headlines early in the season when they faced Milan in Europa League qualifying, just falling to the Italian giants 3-2.
The story to come out of that game, though, was Jens Petter Hauge. Then 20 years old, the winger scored Bodo Glimt's second goal of the game, and Milan were so impressed that they brought him back to San Siro just days later as a new signing.
And this was no token signing. Hauge has scored his first Serie A goal having played 91 minutes across five substitute appearances, and has also registered two goals and an assist in four games in the Europa League group stages.
With Hauge alongside Martin Odegaard and Erling Haaland, the future of Norwegian football appears in safe hands. But it doesn't stop there.
Even without star man Hauge, Bodo Glimt have well won the Norwegian Eliteserien, sitting on 75 points with two games to go, some 19 points ahead of second-placed Molde who dealt Glimt their only defeat of the season so far.
Managed by 52-year-old Kjetil Knutsen in just his third senior management job, they have scored an eye-watering 96 goals – Molde are again closest to them in that respect, with just 67.
Incredibly, the club does not have a single player in their squad above the age of 29. Overall, there are six teenagers in the squad, five of which play in attacking positions with the sixth being a goalkeeper.
So with Hauge destined for great things for the foreseeable and long-term future, there are a host of names that could be next in line to make the leap across the continent.
The first of those is Hauge's brother, Runar. At 19 years of age, Runar plays as a right winger and has two goals to his name in 10 league appearances – though just two of those are starts.
Much like his brother, he is proving a handful for opposition defenders to deal with as he averages 2.3 dribbles per 90 minutes, while his Expected Assists per 90 minutes (xA90) of 0.48 ranks third in the team, though brother Jens is still in second despite having moved on.
The team's top scorer is Kasper Junker, a 26-year-old currently on a remarkable run of seven consecutive games with a goal, registering 10 goals and three assists in that period.
According to InStat, Junker has an xG90 of 0.81 that far exceeds any of his teammates. This is the first time Junker has even surpassed six goals in a season, and he has taken the Eliteserien by storm.
The second top scorer is 25-year-old Philip Zinckernagel, with 18 goals to go along with 18 assists. Predominantly a right winger but occasionally used centrally, he creates 2.8 chances P90, plays three Key Passes P90 (KP90) and has an xA90 of 0.84.
The star duo up front for Bodo Glimt
| | | |
| --- | --- | --- |
| Statistic | Junker | Zinckernagel |
| Goals | 22 | 18 |
| Assists | 7 | 18 |
| Chances created P90 | 1.03 | 2.8 |
| KP90 | 1.13 | 3 |
Going even younger than that, Elias Hagen is a big talent in midfield. Playing predominantly as a deep-lying playmaker, Hagen has recorded two assists in barely 180 minutes of league football across seven appearances, averaging 2.4 chances created P90 and 61.8 passes P90.
Yet out of all of these talents, the three that appear the most exciting are still to come. Hugo Vetlesen is the side's creative midfielder, racking up 25 appearances at just 20 years of age, scoring five times and laying four assists.
For Vetlesen, it is 1.94 chances created P90, 1.97 successful dribbles P90 and 2.8 touches in the opposition penalty area, from midfield.
He has been supported by Sebastian Tounekti, an 18-year-old who scored his first goal for the club in October in the top of the table clash against Molde.
Tounekti also netted in his only appearance throughout Europa League qualifying, needing just 13 minutes to bag a goal off the bench.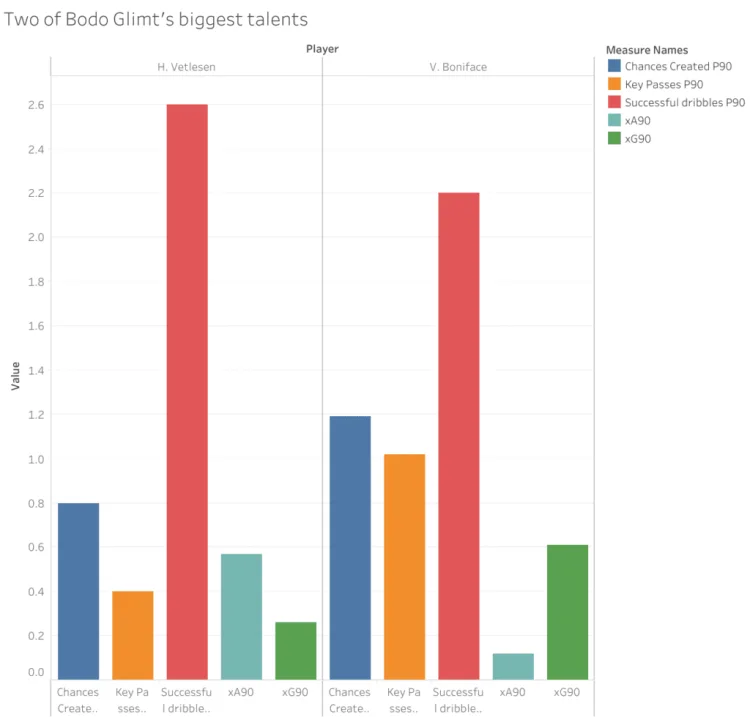 Albeit with a small sample size of 175 minutes, Tounekti touches the ball around 63 times per game, averages 4.5 KP90 and an 86% passing accuracy, all while having just turned 18 in July.
And up front, 19-year-old Victor Boniface has broken into the first team and backed up Junker and Zinckernagel to great effect, with six goals and two assists in 24 appearances, with just seven starts.
He averages a staggering 6.8 touches in the penalty area, 3.2 shots P90 with a 0.61 xG90 and also involves himself in the build up with 1.19 chances created P90, 1.02 KP90 and 2.2 successful dribbles P90.
Not only is this squad full of supremely talented young prospects, but they are just about all home grown. Only six players in the entire squad are not Norwegian, with Nigerian Boniface the only one from outside of Eastern Europe.
This incredible squad and club is continuing to grow in stature and reputation, and as we have seen the likes of Ajax and RB Salzburg produce a conveyor belt of young talent in recent years, Bodo Glimt could be the next club to do so and Norway could be back on the football map in a big way.