Gabriel Batistuta to Roma in 2000 – Did it work?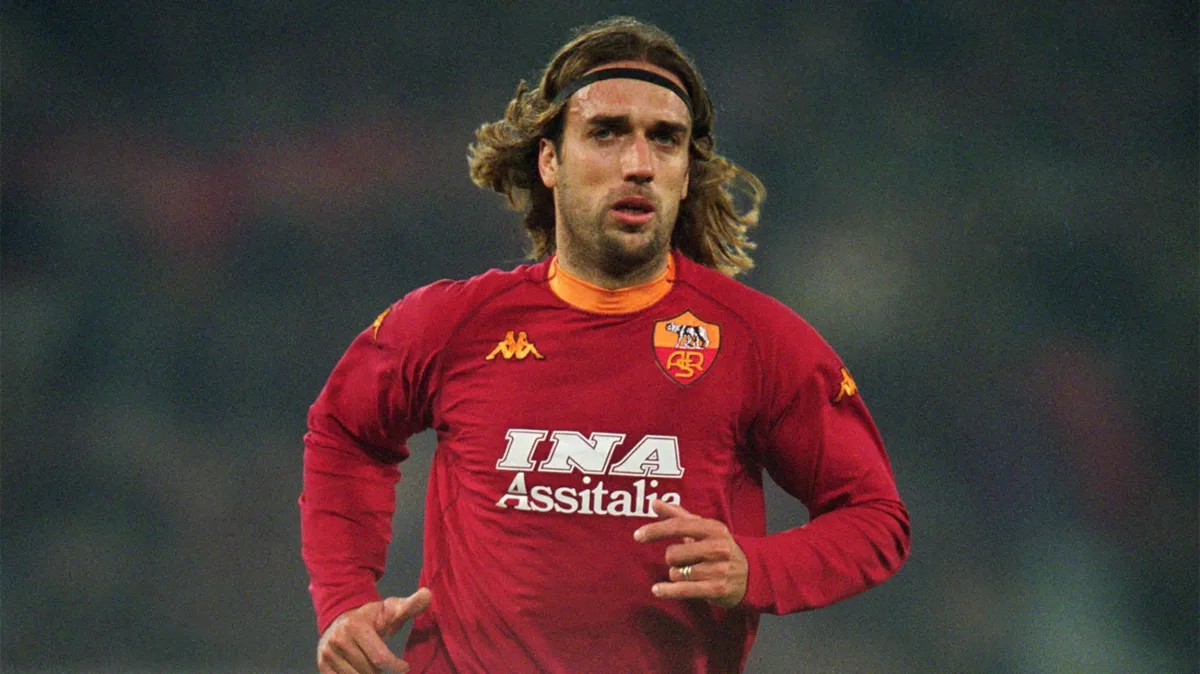 In the summer of 2000 Gabriel Batistuta, arguably the most devastating striker of the 1990s, finally left his kingdom in Florence. The Argentine had been heavily linked to Europe's most elite clubs for years, but Batistuta surprised many by moving 275km southwards to Rome, and to Fabio Capello's Roma.
Two decades on, can we consider this move, a seismic transfer in Italy at the time, a success?
Article continues under the video
WHY ROMA SIGNED BATISTUTA
Goals, goals, and more goals. Batistuta struck genuine fear into the hearts of even the most ardent defenders. His name was a four-syllable byword for complete devastation.
He joined La Viola in 1991, and never stopped scoring until he left. 203 goals in 331 games in all competitions was an incredible record for someone who didn't play for one of the traditional giants of the Italian game. In the 1994/95 season he won the Capocannoniere award as top scorer, netting 26 times.
All Batistuta had to show for his consistent excellence at Fiorentina was one lonely Coppa Italia, won in the 1995/96 season. The club was even relegated in his time, but Batistuta remained loyal, and played in Serie B in 1993/94.
HOW IT HAPPENED
In the years since the move, Capello has told the story of how the Batistuta deal came to be. Sitting in a restaurant with Roma sporting director Franco Baldini, Capello knew the squad needed a top-level striker. City rivals – and reigning champions -Lazio had just signed Hernan Crespo for a world record fee, and had also nabbed Claudio Lopez from Valencia. Capello realised that if Roma were going to have any chance of winning their first league title since 1983, they needed someone special.
Between the pair of them, they gloriously concocted a story about club president Stefano Sensi opening talks with Fiorentina over Batistuta, and with the aid of the editor of Il Corriere dello Sport, leaked the story to the public. The applause from the Roman public appealed to Sensi's ego. Now seemingly in a corner, he had to produce the player.
THE DEAL
The plan worked, and Batistuta, after trying for so many years to bring the Scudetto to Florence, accepted that it would never happen. Fiorentina accepted a £23.5m fee and the Argentine signed a three-year contract with the Giallorossi. Cue delirium from the trophy-starved Roma fans.
READ MORE:
Batistuta was 31 years old at the time of his transfer to Roma. In fact, the fee paid for his services was the most expensive ever paid for a player over the age of 30, and Roma would hold that record for 17 years, until Milan signed Leonardo Bonucci from Juventus for £37m in 2017. It was a slight gamble, but given Batigol's Serie A record until that point, Capello reassured that it would all work out.
BATISTUTA AT ROMA
Want to take a guess? Goals, goals, and more goals. Well, at least for one season. That glorious first year, Batistuta picked up where he had left off with Fiorentina. He scored nine times in his first seven games, including a stunning volley against his former side in November 2000 that broke his heart:
"I played the whole match with these conflicting thoughts in my head – I am sorry for Fiorentina," he said. "It was important, though, because I want to win for Roma so I was trying hard but I can not forget my past. Certainly I cannot say that I am happy to have scored against my former team-mates, but Roma wanted the win."
Batistuta scored 20 goals in Serie A, forming a fearsome trio with Vincenzo Montella and Francesco Totti. In an ultra-competitive league, Capello finally delivered another title for the city of Rome, secured in May 2001 when they beat Parma 3-1 at the Stadio Olimpico, with Batistuta getting on the score sheet, of course.
Now 32, Batigol's physical condition declined rapidly due to years of playing through the pain in his ankles, a result of overzealous defenders. His final two seasons at Roma brought diminished returns. In his last season he joined Inter on loan as a replacement for an injured Crespo.
Batistuta left Serie A for good in the summer of 2003 aged 34, but with his legacy secured.
£23.5M FOR BATIGOL – WAS IT WORTH IT?
Depends on how you look at it, really. On the one hand, one would surmise that due to Batistuta playing a pivotal role in securing Roma their first Scudetto for 18 years, the deal was unquestionably worth it. In this respect it can be considered similar to the Robin van Persie deal to Man Utd in 2012. The Dutchman effectively single-handedly won United the league but his efficacy was significantly less afterwards.
On the other, the club borrowed money it didn't have to buy a 31-year-old with no re-sale value. The purchase of Batistuta left the club in financial difficulty long after he'd departed Roma. It could be argued that they still suffer today. You'd have to ask the Roma faithful if they felt it was worth that precious title.