Kylian Mbappe at PSG: Goals, assists, results & fixtures in 2022-23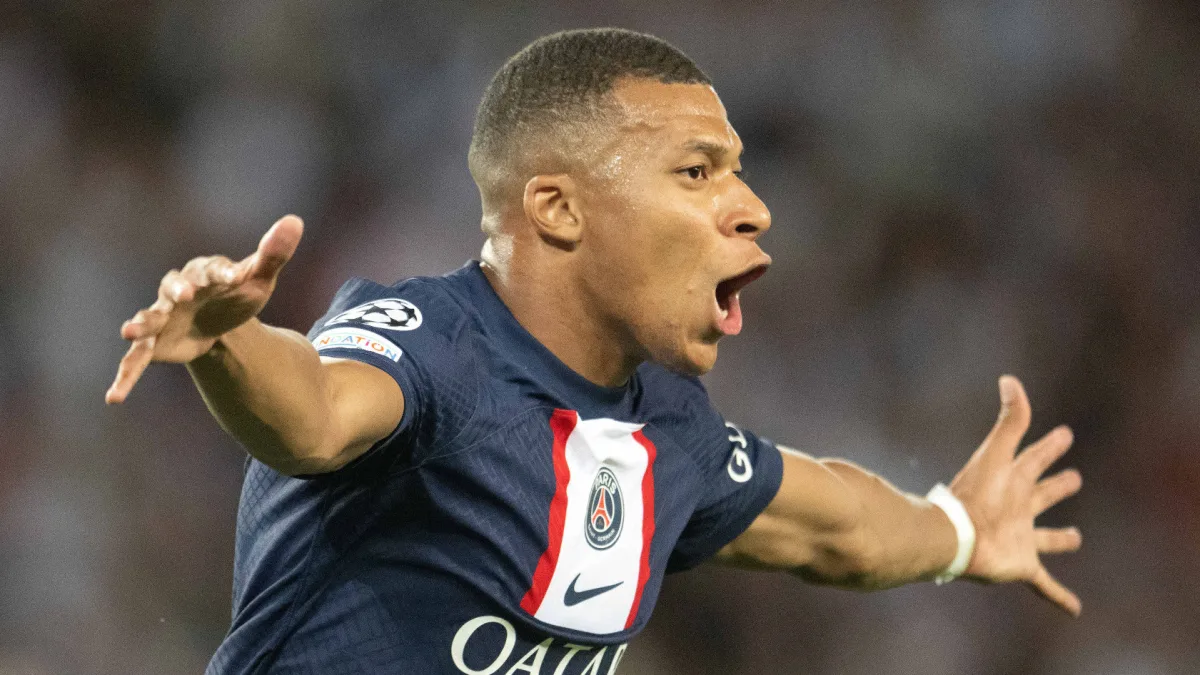 Lionel Messi may have been the star transfer arrival at Paris Saint-Germain last season, but there was no doubt over who their top performer was, with Kylian Mbappe impressing throughout.
PSG were crowned French champions in 2021/22, with some fantastic performances from Mbappe helping them coast to the domestic title.
But they fell short of achieving the Champions League glory they crave, costing head coach Mauricio Pochettino his job.
While the season was unfolding, World Cup winner Mbappe was the subject of a huge transfer saga.
He appeared destined to join Real Madrid as the campaign drew to a close, but eventually signed a lucrative new three-year contract in May to stay with the Ligue 1 club until 2025.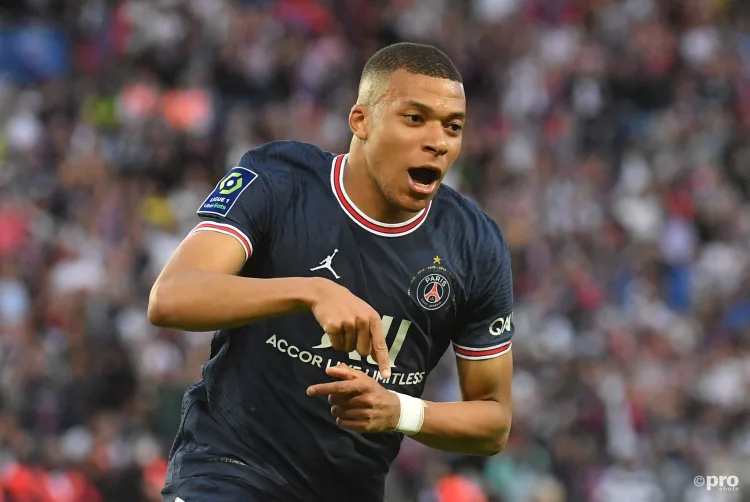 Likely to be a candidate for European Golden Shoe and Ballon d'Or glory, Mbappe's performances will be closely watched this year.
He missed the first game of the season, the Trophee des Champions, due to suspension and also sat out the 5-0 Ligue 1 win against Clermont on matchday one due to injury.
His first appearance of the season came a week later in a 5-2 success over Montpellier. It wasn't the strongest display Mbappe will put together, and indeed he missed a first-half penalty, but he was on the scoresheet on the second. It was clear, however, that he was lacking match sharpness and he was replaced with four minutes remaining.
Mbappe came back with a bang the following weekend in Lille, a match that PSG won 7-1. It took him only eight seconds to open the scoring - the fasted Ligue 1 goal since records began - and he would go on to complete a hat-trick. It was a devastating display from both Mbappe and his PSG team-mates, and one that put an end to any suggestion of a major rift between him and Neymar.
The following week was more of a slog against Monaco, his former club and one that he has had a good deal of success against in the past. But despite several good efforts on goal, the best he could manage was a shot against the post when he should have scored.
Mbappe was back on the scoresheet a few days later, though, as he scored PSG's second goalf from a Messi assist in the 3-0 win over Toulouse.
The duo continued to combine effectively during a 3-0 win in Nantes on the opening weekend of September. Mbappe scored the opening two goals of the game before being replaced, with the Argentine assisting both. His opener was a particularly memorable shot above Alban Lafont and into the net after a sweeping counterattack.
Mbappe's first Champions League game of the season saw him produce one of the greatest performances of his career so far. He struck twice in the 2-1 win, which included a sensational volley from a Neymar scooped pass and another clinical finish.
His next match was less high-profile as he failed to score or assist in a 1-0 win over Brest, before being subbed in the 78th minute of the game.
But he was back on the scoresheet in Champions League matchday two, scoring PSG's second in a 3-1 win over Maccabi Haifa.
He was shutout in PSG's subsequent Ligue 1 game against Lyon, which ended in a 1-0 victory for the Parisians. Nevertheless, he completed the 90 minutes, with Neymar taken off before him.
Mbappe started on the bench as PSG beat Nice 2-1 last Saturday, with Hugo Ekitike getting the nod up front, but he scored after replacing the Reims-owned man to seal the victory.
This page will be regularly updated to showcase Mbappe's individual club statistics for PSG throughout the season.
Kylian Mbappe: 2022-23 stats
Appearances: 10
Starts: 9
Goals: 11
Assists: 0
Mbappe: Matches played
PSG 4-0 Nantes, July 31 – Trophee des Champions
Minutes played: 0
Goals: 0
Assists: 0
Clermont Foot 0-5 PSG, August 7 – Ligue 1
Minutes played: 0
Goals: 0
Assists: 0
PSG 5-2 Montpellier, August 14 - Ligue 1
Minutes played: 86
Goals: 1
Assists: 0
Lille 1-7 PSG, August 21 - Ligue 1
Minutes played: 90
Goals: 3
Assists: 0
📺 The highlights and all the goals from the Parisian win in Lille (1-7)! 🔴🔵#LOSCPSG pic.twitter.com/FPkqfweqXa

— Paris Saint-Germain (@PSG_English) August 21, 2022
PSG 1-1 Monaco, August 28 - Ligue 1
Minutes played: 90
Goals: 0
Assists: 0
Toulouse 0-3 PSG, August 31 - Ligue 1
Minutes played: 90
Goals: 1
Assists: 0
Nantes 0-3 PSG, September 4 - Ligue 1
Minutes played: 63
Goals: 2
Assists: 0
PSG 2-1 Juventus, September 7 - Champions League
Minutes played: 90
Goals: 2
Assists: 0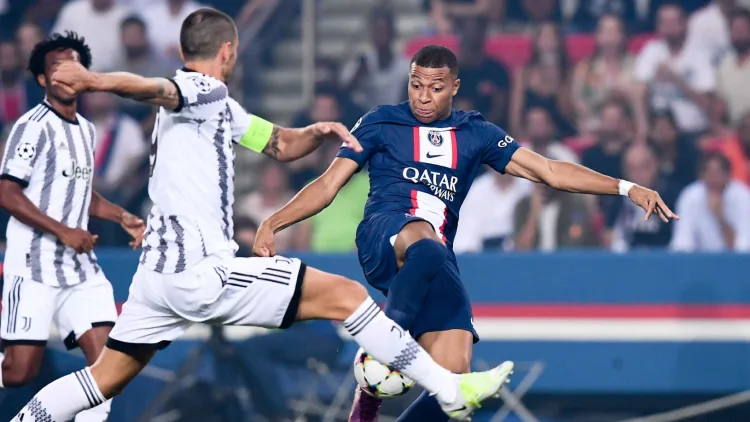 PSG 1-0 Brest, September 11 - Ligue 1
Minutes played: 78
Goals: 0
Assists: 0
Maccabi Haifa 1-3 PSG, September 14 - Champions League
Minutes played: 90
Goals: 1
Assists: 0
Lyon 0-1 PSG, September 18 - Ligue 1
Minutes played: 90
Goals: 0
Assists: 0
PSG 2-1 Nice, October 1 - Ligue 1
Minutes played: 31
Goals: 1
Assists: 0
Mbappe: PSG's remaining fixtures
Reims v PSG, October 9 - Ligue 1
PSG v Marseille, October 16 - Ligue 1
Ajaccio v PSG, October 23 - Ligue 1
PSG v Troyes, October 30 - Ligue 1
Lorient v PSG, November 6 - Ligue 1
PSG v Auxerre, November 13 - Ligue 1
PSG v Strasbourg, December 28 - Ligue 1
Lens v PSG, January 1 - Ligue 1
PSG v Angers, January 11 - Ligue 1
Rennes v PSG, January 15 - Ligue 1
PSG v Reims, January 29 - Ligue 1
Montpellier v PSG, February 1 - Ligue 1
PSG v Toulouse, February 5 - Ligue 1
Monaco v PSG, February 12 - Ligue 1
PSG v Lille, February 19 - Ligue 1
Marseille v PSG, February 26 - Ligue 1
PSG v Nantes, March 5 - Ligue 1
Brest v PSG, March 12 - Ligue 1
PSG v Rennes, March 19 - Ligue 1
PSG v Lyon, April 2 - Ligue 1
Nice v PSG, April 9 - Ligue 1
PSG v Lyon, April 16 - Ligue 1
Angers v PSG, April 23 - Ligue 1
PSG v Lorient, April 30 - Ligue 1
Troyes v PSG, May 7 - Ligue 1
PSG v Ajaccio, May 14 - Ligue 1
Troyes v PSG, May 21 - Ligue 1
Strasbourg v PSG, May 27 - Ligue 1
PSG v Clermont Foot, June 3 - Ligue 1
Kylian Mbappe 2021-22 stats
Mbappe produced a remarkable season for PSG in 2021-22.
He made a total of 46 appearances across all competitions, 44 of which were starts, and racked up some astonishing numbers.
Mbappe scored 39 times in those matches and, perhaps even more impressively, added 22 assists, totalling 61 goal involvements.
In league action only, Mbappe had 35 outings (34 starts) and scored 28 times while creating 18 goals for his team-mates.
It was the best-ever assists total in his young career and his second-best Ligue 1 goal tally since 2018-19, when he netted 33 times.
In December 2021 he scored twice against former club Monaco to reach 100 league goals for PSG, making him the youngest player to achieve that feat for a single French club in the modern era.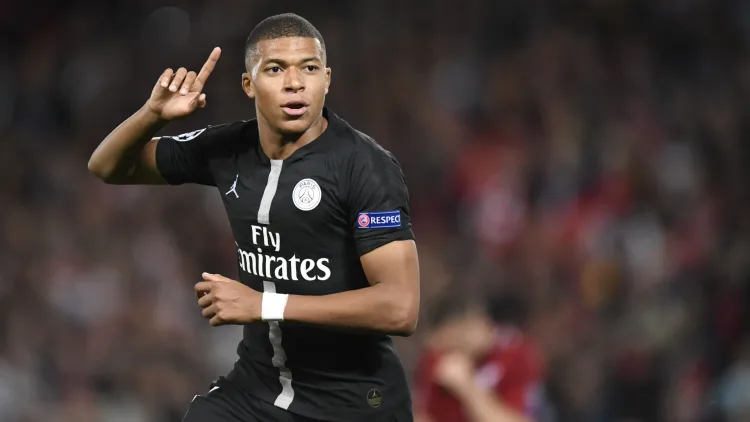 While PSG suffered huge disappointment against Real Madrid in the Champions League last 16, Mbappe did score in the 1-0 win in the home leg.
He then netted again at Santiago Bernabeu to put them 2-0 up on aggregate, though that lead was surrendered due to Karim Benzema's last-gasp heroics for Madrid.
As part of an electric second half of the season, the striker scored twice and added three assists to have a hand in all five goals as PSG thrashed Lorient 5-1 on April 3, adding a hat-trick in a 6-1 win at Clermont Foot six days later en route to the Ligue 1 title.
Mbappe scored another hat-trick against Metz as part of a 5-0 win for PSG on May 21, hours after he had signed his new contract, finishing the season with a bang.
His huge goal tally meant he was named the Ligue 1 top scorer for a fourth straight season.
Kylian Mbappe 2020-21 stats
In the 2020-21 season, Mbappe scored 27 times from just 27 starts (31 total appearances) in Ligue 1, also contributing seven assists.
Once all competitions are taken into account, his figures look even better.
Mbappe played in a total of 47 games for PSG, with 41 of those being starts.
He netted an incredible 42 goals and added 11 assists.
Eight of those strikes came in the Champions League, which included a famous hat-trick against Messi and Barcelona in the last 16 of the competition.
PSG recorded a stunning 4-1 win at Camp Nou in February 2021, with Mbappe producing that memorable performance.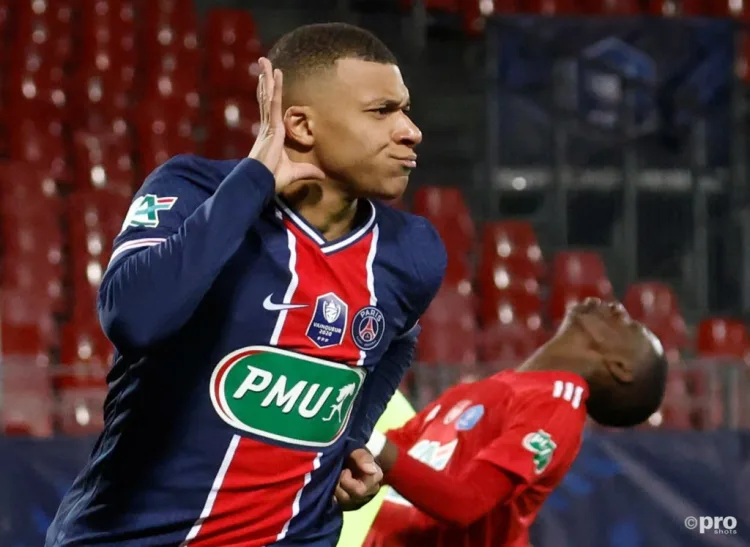 He also netted in the second leg as PSG progressed 5-2 on aggregate.
Two further crucial Mbappe goals came in the quarter-final win over Bayern Munich, but Manchester City ended PSG's hopes of league glory, with injury limiting the forward's availability in that tie.
There was disappointment for PSG as they missed out on the Ligue 1 title to Lille after Mauricio Pochettino had taken charge of the team.
But Mbappe did not end the season empty handed as he scored once and set up the other goal as PSG defeated Monaco 2-0 in in the Coupe de France final.