The five most famous England v Germany matches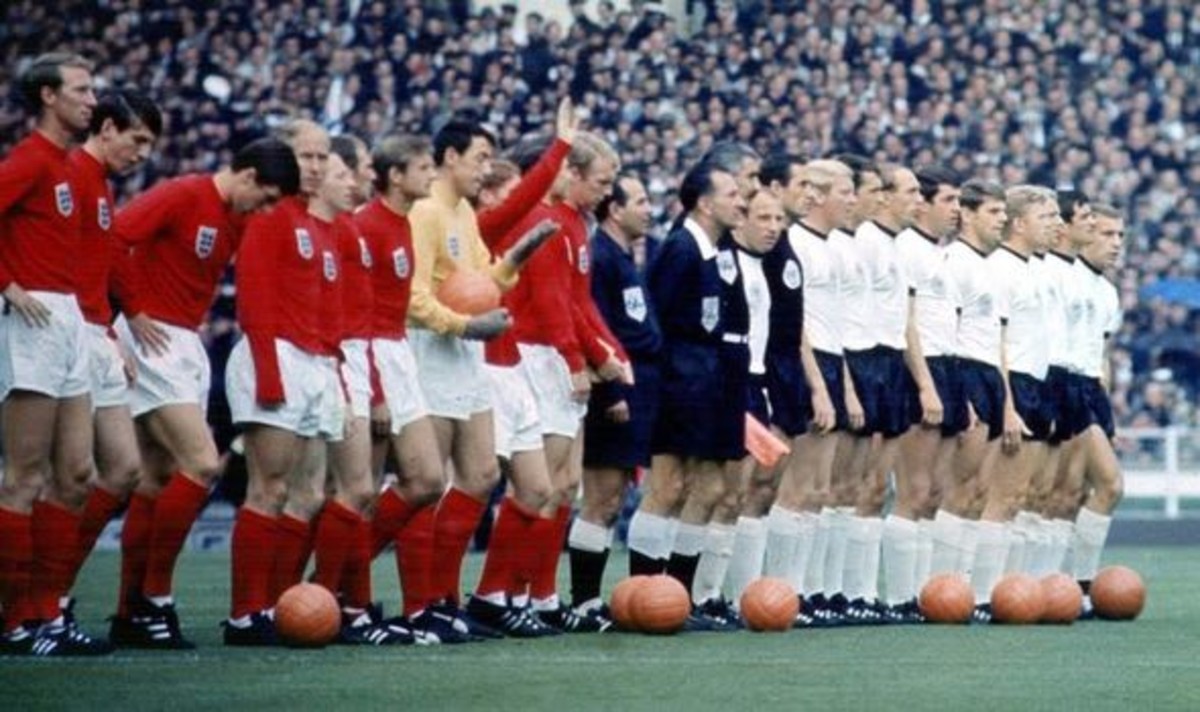 From Geoff Hurst's hat-trick, to Gareth Southgate's missed penalty, England against Germany almost always delivers moments to remember, and whilst a last-16 European Championship clash may not have the appeal as others famous games, both teams will be desperate to win.
England v Germany may not be the biggest rivalry in the world, but stemming back to World War I and World War II, the pair of nations have always had a dislike of one another, even if it comes more from the English side.
In fact, Dietmar Hamann backed this point up when he told The Telegraph: "I would never describe England as Germany's biggest rivals.
"Our big rivals have always been seen as the most likely to challenge us. That would be France, or over many years it has been Argentina, who we have played in finals, semi-finals and quarter-finals at the World Cup.
"Then we would be looking at games against Spain. Obviously there is a history to the England games, and we all remember Euro 96 as being special.
"I understand this is the game everyone was looking at the draw and waiting for. But for England it's one of the biggest games rather than the biggest game for Germany."
However, the rivalry does exist. For England, it's the most fierce along with Scotland. For Germany, less so. But, either way, tensions are bound to boil over, and they're a pair of nations that have provided classic moments aplenty over the years.
But what are the five most famous games between the pair?
1966 World Cup Final: England 4-2 West Germany (aet)
In the most memorable game in English football history, and the most important match held between the two, it was England who were victorious.
It was the first time the nations had ever met in a competitive game, and it was controversial to say the least.
West Germany had taken the lead through Helmut Haller, before Geoff Hurst equalised for the Bobby Moore-led side. England then took the lead with just over 10 minutes to play when Martin Peters scored from close range.
The game wasn't done yet, however, as Wolfgang Weber scored a scrappy equaliser with just minutes remaining.
Extra-time commenced and then came the most controversial moment of all, England's third goal. Hurst swivelled and shot from inside the box, and the ball bounced off the crossbar and hit the line. The ball was cleared away, but after consulting with linesman Tofiq Bahramov, the referee awarded the goal.
Hurst then added a fourth goal for England late on in extra-time, and remains the only player in history to score a hat-trick in a World Cup Final
1970 World Cup Quarter-Final: West Germany 3-2 England (aet)
Four years on from England's one and only World Cup triumph, the nations met once more in the tournament, this time in the last eight.
England went 2-0 up thanks to goals from Alan Mullery and Martin Peters, but the Germans came back late on. Franz Beckenbauer pulled one back after 68 minutes before Uwe Seeler netted the equaliser with eight minutes of normal time remaining.
The game went to extra-time once more, but this time it was Germany who were victorious. Hurst had a goal rule out for offside early on and then the momentum swung. First choice goalkeeper Gordon Banks had been ruled out through illness, and back-up Peter Bonetti was unable to stop Gerd Muller's winner in the 108th minute.
1990 World Cup Semi-Final: Germany 1-1 England (Germany won 4-3 on penalties)
At World Cup Italia 90, England found themselves again against a familiar foe as they took on Germany in the semi-final at the Stadio San Paolo in Naples.
After a fairly tense opening 45 minutes, the match burst into life in the second half as Germany were fortunate to take the lead after a deflected shot from Andreas Brehme bounced off Paul Parker into the back of the net.
England rallied and equalised 10 minutes later through Gary Lineker to take the match to extra-time.
Both Germany and England hit the post in extra-time, with Jurgen Klinsmann also missing two glorious chances and David Platt having a goal disallowed.
In the end, two awful penalties from Stuart Pearce and Chris Waddle allowed the Germans to win the shootout 4-3.
1996 European Championship Semi-Final: England 1-1 Germany (Germany won 6-5 on penalties)
Six years later at Euro 96 in England, the host nation, had the opportunity to get revenge on Germany for the loss in Italy, again in the semi-final.
Things got off to a great start for England at Wembley as Alan Shearer headed them into a lead just three minutes in, but in the 15th minute, Germany equalised through Stefan Kuntz.
Both sides had opportunities to take the lead, with Paul Gascoigne famously coming within centimetres of reaching a cross from a couple of yards out.
It went to penalties, and current England manager Gareth Southgate missed the decisive spot-kick as Germany won 6-5.
2002 World Cup Qualifying: Germany 1-5 England
The pair were drawn in the same 2002 World Cup qualifying group, and faced off for a second time in 2001. After losing the reverse fixture 1-0, England appointed Sven-Goran Eriksson as manager, who became their first ever foreign coach.
Expectations were low, but Eriksson was able to guide his side to a memorable victory. Carsten Jancker opened the scoring for the hosts in Munich, before Michael Owen equalised soon after.
Steven Gerrard put England into the lead on the stroke of half-time, before Owen bagged two more to complete his hat-trick.
Their Liverpool teammate Emile Heskey rounded off the scoring with 15 minutes left, and England eventually qualified for the World Cup top of the group.