Who is Agustin Alvarez? The Uruguayan hotshot wanted by Barca and Madrid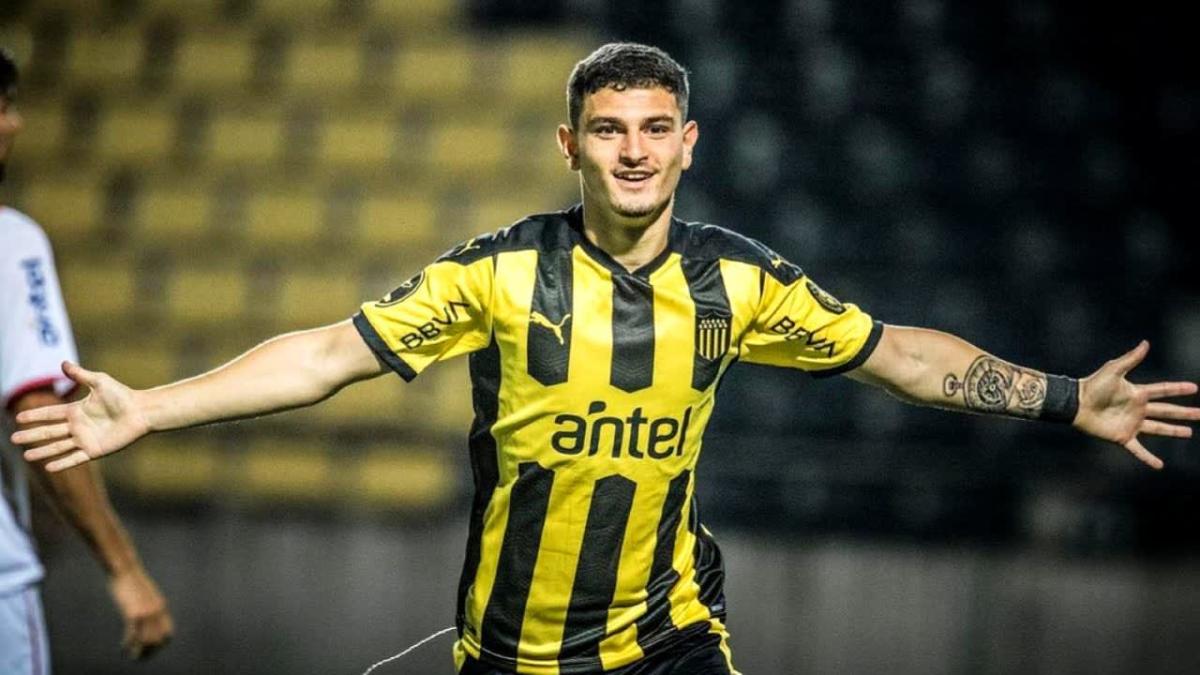 Penarol star Agustin Alvarez is earning a reputation as the new golden boy of Uruguayan football.
The young forward has already made his debut for the senior Uruguay national team and even found the back of the net against Bolivia.
At club level, he continues to impress for Penarol.
But, with elite sides around Europe starting to take notice, it may not be long before we see the wonderkid change continents.
FOOTBALLTRANSFERS' MOST VALUABLE PLAYERS IN THE WORLD
What position does Agustin Alvarez play in?
Alvarez plays as a centre-forward.
How good is Agustin Alvarez?
With Luis Suarez and Edinson Cavani getting on in years, there were worries that Uruguay may have a bit of a transition period in the attack when those two superstars eventually hang up their boots.
However, Alvarez has helped to allay those fears with his performances, alongside the likes of Darwin Nunez.
In the 2021 Uruguay Primera Division, he scored 13 goals in 26 matches but his performances in the Copa Sudamericana have been even better, with a tally of 10 goals in 14 games.
Alvarez's best attribute is undoubtedly his finishing ability and his composure in front of goal, but his determination makes him an ideal candidate to be deployed in a pressing system.
He is also good in the air and loves getting on the end of crosses.
His playing style has been compared to Luis Suarez, but that is likely due to his nationality more than any genuine likeness.
What clubs are interested in Agustin Alvarez?
There are a raft of clubs who have been linked with Alvarez, including:
Barcelona, Real Madrid, Atletico Madrid, Leeds, Newcastle, Milan, Fiorentina and Inter.
The Blaugrana represent an interesting option and as they are desperate for reinforcements up front they may try and pursue Alvarez as he would be a cheaper option than some of their other reported targets.
Reports in Italy have indicated that Alvarez's agent has been spotted speaking with Milan and Inter, though no deal was struck at the time.
When does Agustin Alvarez's contract expire?
Alvarez's contract at Penarol lasts until 2024.
How old is Agustin Alvarez?
Alvarez was born on 19 May 2001. He is 20.
What is Agustin Alvarez's height?
Alvarez is 180cm, or 5ft 11in.
What is Agustin Alvarez's weight?
Alvarez is 71 kilograms, or 11 stone.
What is Agustin Alvarez's Instagram?
Alvarez's Instagram has 123k followers as of December 2021.
Who is Agustin Alvarez's girlfriend?
Alvarez is married to Thalia Rodriguez. The couple have at least one child.