Who is Randal Kolo Muani? France's World Cup final star compared to Mbappe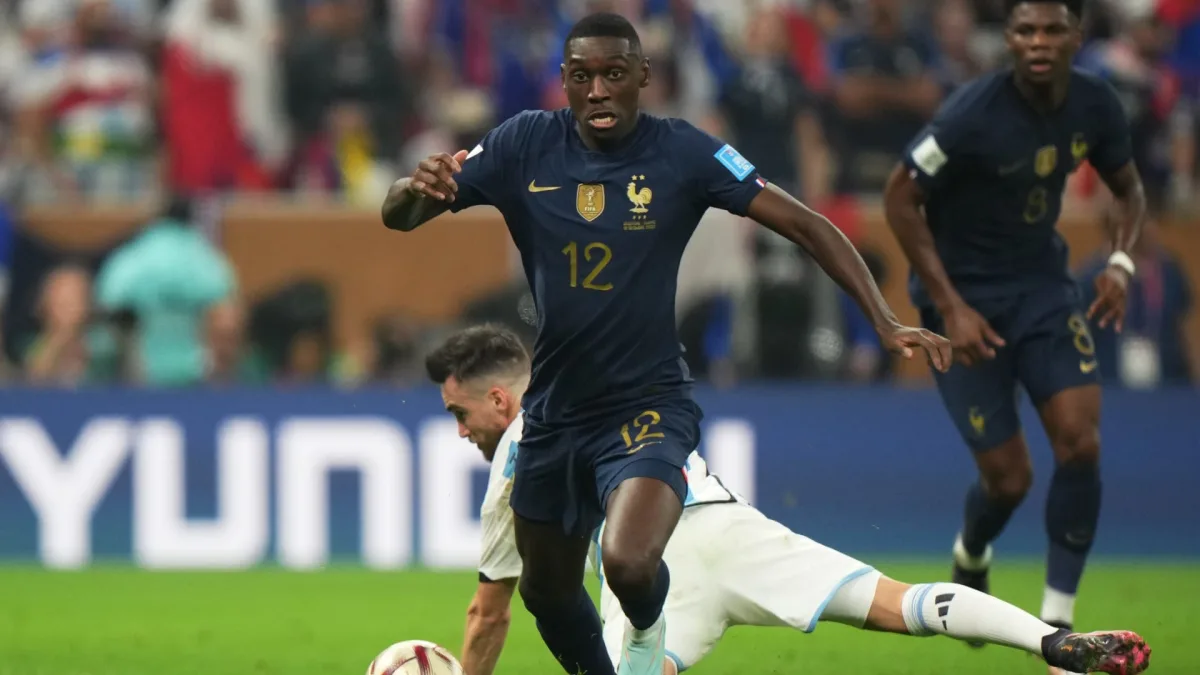 Randal Kolo Muani is the newest attacking sensation to come out of France, with the Eintracht Frankfurt forward having drawn comparisons to Kylian Mbappe in the past.
Kolo Muani, who's recently been linked with a switch to Manchester United in the upcoming window, moved to Frankfurt in the summer of 2022 on a free transfer from Nantes, yet the 24-year-old striker is valued at €50 million by FootballTransfers – testimony to his offensive qualities.
Article continues under the video
Although a relatively unknown quantity at the top level, he struck 12 goals for Nantes in Ligue 1 during 2021/22 and helped them to win the Coupe de France.
His big break, however, really arrived at the World Cup. He scored in the semi-final win over Morocco and was introduced at 2-0 down in the final to Argentina, helping France recover the game.
Kolo Muani has 16 goals so far this season for Frankfurt in all competitions as well as 14 assists. All of these coming in 34 games this season at Die Adler.
What position does Randal Kolo Muani play in?
Kolo Muani typically played as a centre-forward for Nantes during his final season in Ligue 1, but he is also capable of featuring in the wide areas as a winger. He plays with high energy and has a strong defensive work rate.
How good is Randal Kolo Muani?
First called up to the France national team in September 2022 after a strong start to the season with Eintracht Frankfurt, Kolo Muani has since impressed at the 2022 World Cup. He scored with his first touch as a substitute in the 2-0 semi-final win over Morocco and helped change the game in the final against Argentina.
He is a player who has qualities now but also space to improve his game. He links play well but is not necessarily the most clinical of finishers for playing in a centre-forward role.
He's been compared to Kylian Mbappe, but in truth the PSG man is a level above Kolo Muani, who possesses great speed but is less of a finisher and more of a creator.
When he grew up, he had a reputation for being nonchalant, but a spell on loan in the third tier with Boulogne changed that.
"During my year there, I understood I had to work more," he told Ouest France in 2021. "When I was young, I was just a normal player. I could produce a few strokes of genius then disappear. I was told by my parents and coaches that I had to be decisive. I had to work on my consistency and my cardio. I couldn't finish a match and I lacked volume of play. I worked at it and it's better."
He has since exploded in terms of his quality, as his involvement with the France squad is testimony to.
"Signing such a player on a free transfer is an achievement," Germany legend Lothar Matthaus said. "He's a very valuable player for Frankfurt. He's fast, even with the ball."
Meanwhile, Frankfurt are pleased with the player they have signed.
"Young players who didn't come through an academy are instinctive," sporting director Markus Krosche told Sky. "That he's been able to get to such a level already is surprising. But we saw during pre-season that he was able to do what the coach was asking him very quickly and implement it with great intensity."
What clubs are interested in Kolo Muani?
He signed a long-term deal with Frankfurt late last year and has form has seen his stock rise. Indeed, Bild have reported that Man Utd are preparing a €120m bid for the attacker, while there is also reported interest from Liverpool.
When does Randal Kolo Muani's contract expire?
He signed a five-year deal with Frankfurt in the summer of 2022. It expires in 2027.
How old is Randal Kolo Muani?
Kolo Muani's birthday is 5 December, 1998 – the same month and year as Kylian Mbappe. He is 24 years old.
What is Randal Kolo Muani's Instagram?
His Instagram page is here. He has 60.2k followers as of September, 2022.