Why Odegaard could be the WORST person to try and convince Haaland to move to Madrid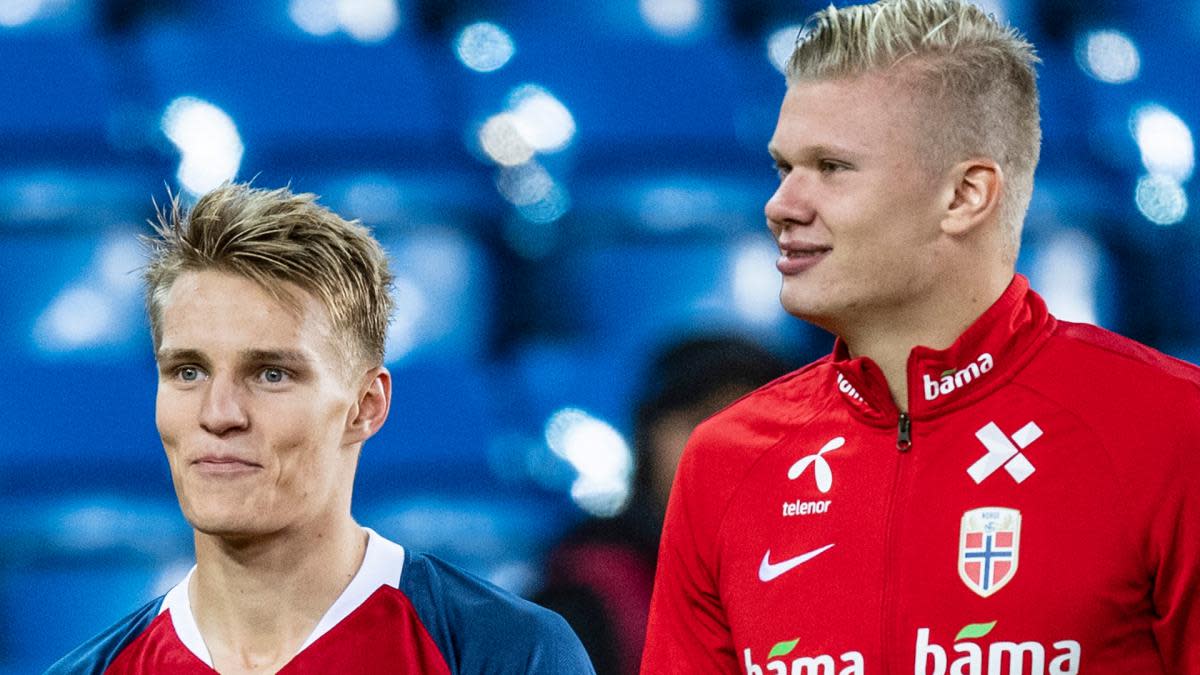 This week Erling Haaland put in another sensational Champions League performance for Borussia Dortmund, bagging two goals as the Bundesliga side defeated Sevilla 3-2 in the first leg of the opening knockout round.
The goals were the Norwegian's 17th and 18th in the competition, and if he scores one more before July, he will equal Kylian Mbappe's record of 19 goals in the Champions League before the age of 21.
With Dortmund still to play Sevilla at home and looking good for the last eight, you wouldn't put it past Haaland becoming the history maker.
His striking prowess was so impressive on the grandest club stage, that it once again catalysed conversations about his future and what elite club will be his next destination.
Dortmund, as big a club as they are, will simply not hold on to Haaland for long.
Real Madrid have been linked with Haaland more and more over the past 12 months, especially following his move from RB Salzburg to Dortmund as it proved he could find the back of the net just as easily in Germany as he had in Austria.
He will, undoubtedly, become one of the best centre-forwards in the world, if he isn't already.
Los Blancos have a look at all players who have the potential to be a 'Galactico' and no doubt face a tough decision as to whether making Haaland or Mbappe their priority acquisition moving forward.
Haaland is also wanted by a host of elite clubs including Manchester United and Manchester City, but Real Madrid believe they have an ace up their sleeve in Martin Odegaard.
Odegaard and Haaland play for Norway together and are believed to be close friends, with them acting as room-mates when on international duty with the Scandinavian outfit.
Mundo Deportivo reports that Real Madrid are hoping to use the presence of Odegaard at the club to convince Haaland to ignore the Premier League and move to the Santiago Bernabeu.
But, is Odegaard the best person to sell Real Madrid to someone else at the moment?
Odegaard's situation at Real Madrid
After starring with Stromsgodset as a youngster and in his mid teens, Odegaard was eventually signed by Real Madrid in 2015 to much fanfare, with him already having achieved wonderkid status as one of the best players in the world within his age group.
It would be a long time before he would be a permanent member of the first team as he would go out on loan to Heerenveen, Vitesse, and Real Sociedad.
It was his time with the Basque side which allowed him to come into his own and start to make good on the potential he showed at a young age.
In 2019/20, he made 34 appearances for Real Sociedad, scoring seven goals and laying on nine assists. He was undoubtedly one of the breakthrough players of the season in La Liga.
His performances were so impressive that Real Madrid cut short his two-year loan in order for him to return to their first-team squad for 2020/21.
Things started well, as he was named in the starting XI for Madrid's first two matches of the season under Zidane, but thereafter he fell out of favour with his French boss.
Odegaard would go on to make just one other start in the league before the January transfer window when he requested to leave for more game time, eventually joining Arsenal until the end of the season.
Under Zidane, Madrid usually play in a 4-3-3 formation, but had changed to a 4-2-3-1 to accommodate Odegaard in the number 10 spot.
Even though the entire team didn't impress in those two opening games, including Odegaard, he was the one to drop out, with Madrid subsequently reverting to the 4-3-3 again, thus leaving him having to settle for a place on the bench.
It would be fair to say that Odegaard has been treated harshly in the Spanish capital, ostracised from the side after just two starts, and left with just a handful of appearances thereafter.
Though Haaland would undoubtedly be treated as the new star man at Real Madrid, should he ask his compatriot for advice on the move, the report from Odegaard might not be so kind.
Is Odegaard the man to sell Haaland on a move to Real Madrid?
Perhaps not.