Malo Gusto: Chelsea sign one of Europe's biggest full-back prospects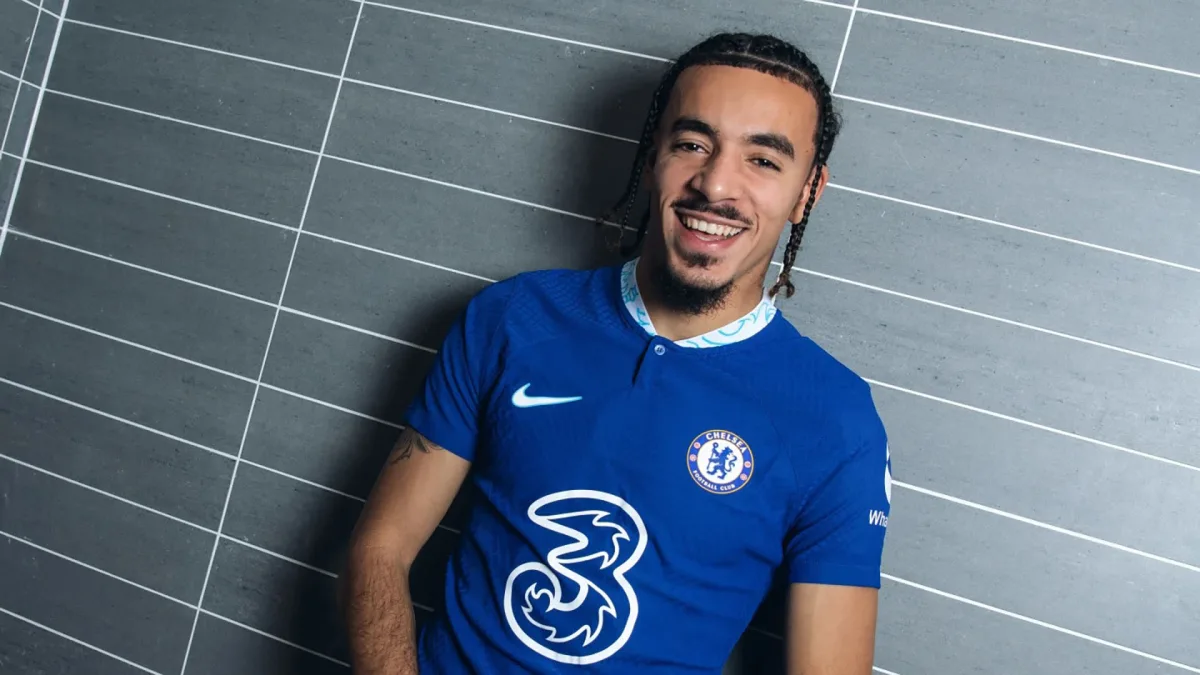 Chelsea's January spending spree has continued. Having already made six signings, the Blues have agreed a deal for Malo Gusto of Lyon, with the right-back set to spend the rest of the season on loan at the French club.
Graham Potter's side were not alone in their admiration of the 19-year-old. Manchester City and Tottenham have been monitoring his progress while Manchester United have previously been credited with an interest in the dynamic teen and may well target a player of his profile in the summer.
Chelsea had a bid rejected by Lyon, but remained persistent and got a deal done over the weekend, taking advantage of the fact that his contract with the Ligue 1 side was to expire in the summer of 2024.
MORE: Lyon president stuns Chelsea with Malo Gusto stance
According to FootballTranfers' Expected Transfer Value (xTV) model, Gusto's expected value at the moment is close to €25 million, but Chelsea's opening bid was less than that amount. However, they have now completed a deal for a fee of €40m, which should get the job done.
But why have Chelsea been so keen to sign Gusto?
MORE: How Chelsea could line up this time next week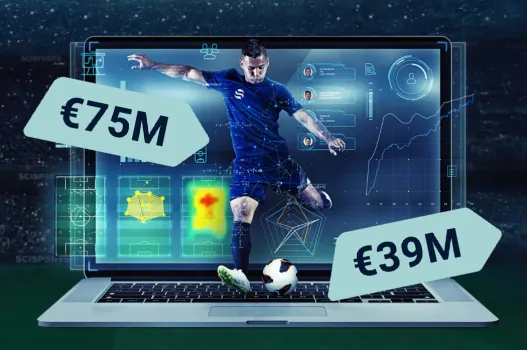 Our Machine Learning model calculates an Expected Transfer Value (xTV) for more than 240.000 players in the world.
Read more here.
Our Machine Learning model calculates an Expected Transfer Value (xTV) for more than 240.000 players in the world. It uses information on the player's skill, potential, performance, contract duration, position and other statistics to estimate an accurate xTV.
Read more here.
The makings of a modern full-back
Still just 19 years old, Gusto has spent all of his senior playing career at Lyon. In fact, he was born in the region where the Groupama Stadium is currently located. He initially played for a couple of local clubs, moving to Lyon's renowned youth academy at the age of 13.
As a youngster, he played in more advanced positions, including those of an attacking midfielder and right winger. Ultimately he ended up becoming a right-back, but those offensive attributes can still be seen in his game.
Gusto properly began to break into Lyon's senior side last season as he gave serious competition to Leo Dubois for the right-back position and made 30 appearances in the league. The France international moved to Galatasaray last summer, so Gusto has made that position his own since the start of the 2022/23 season.
He has certainly made the most of the chances he has been given. This season, SciSports' model rates him as one of the best full-backs in Ligue 1.
A quick look at his pizza chart highlights his outstanding attacking output, while also showing his high involvement in possession.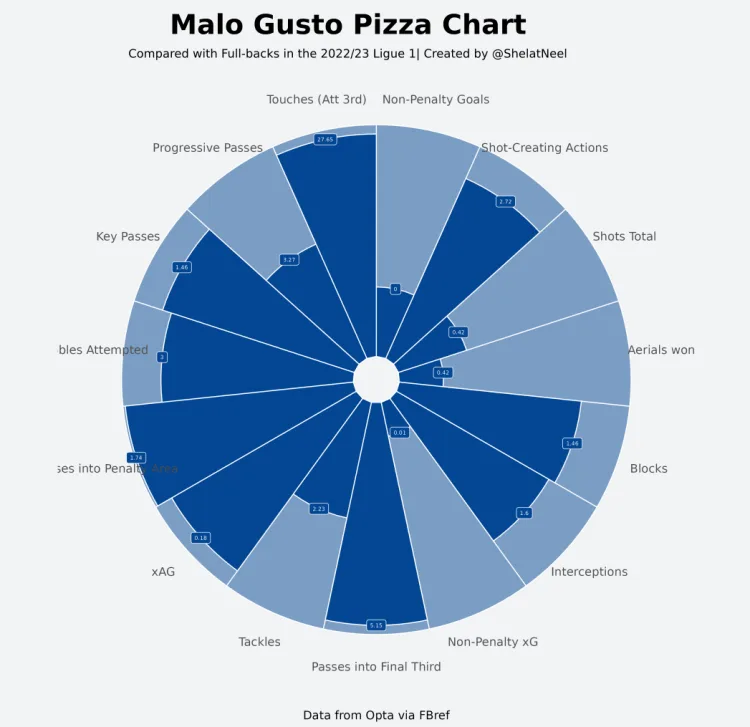 As you would expect given those numbers, Gusto operates high up the pitch. However, he is also capable of moving into more central areas close to the halfspace, as his heatmap depicts.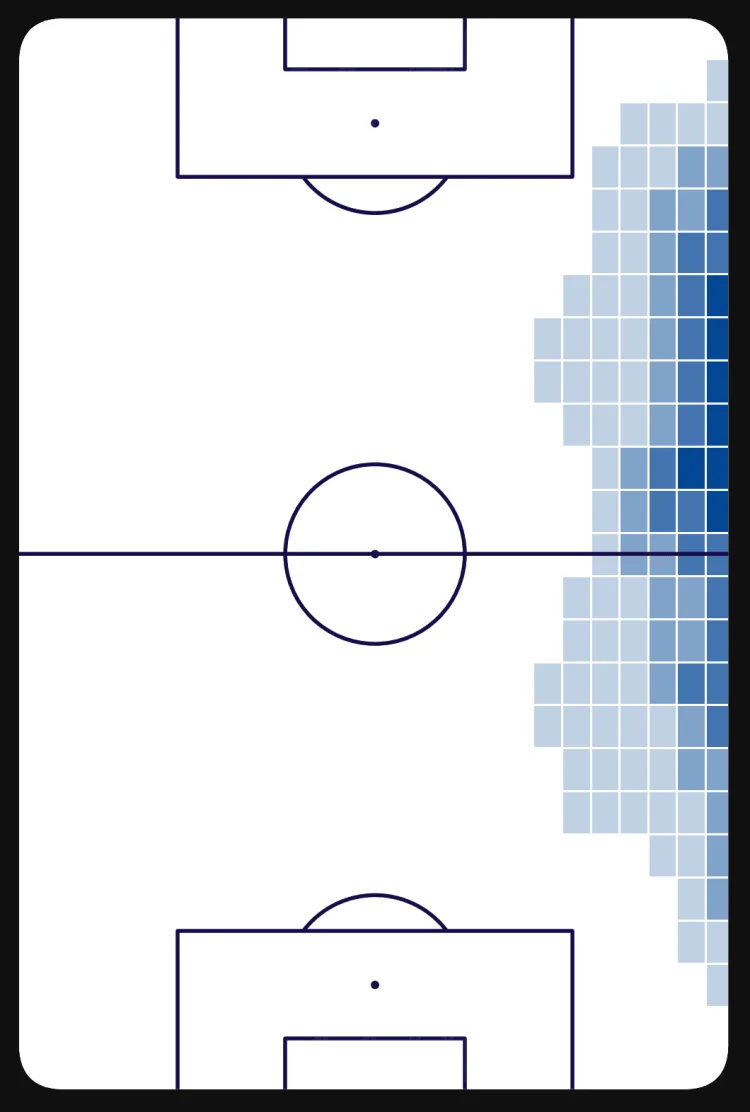 One of Gusto's greatest strengths is his ball-carrying and dribbling. Likely due to his time as a more attacking player in his younger days, he is at his best with the ball at his feet. He loves to take his man on, which is why he has attempted 3 dribbles per 90 on average in the league this season.
Besides his ball control, his dribbling ability is aided by his speed. Watch for that in the second half of this clip:
This @gusto_malo nutmeg 😮‍💨#Ligue1UberEats pic.twitter.com/0KSDEv7RmG

— Ligue 1 English (@Ligue1_ENG) January 25, 2023
Besides being fast, SciSports' model also shows that Gusto has great stamina, so he is a persistent threat. This has played a part in helping him maintain his incredible average of 12 progressive carries per 90 in Ligue 1 this season. As this event map shows, he tends to bring the ball into dangerous areas on the right in the opposition half.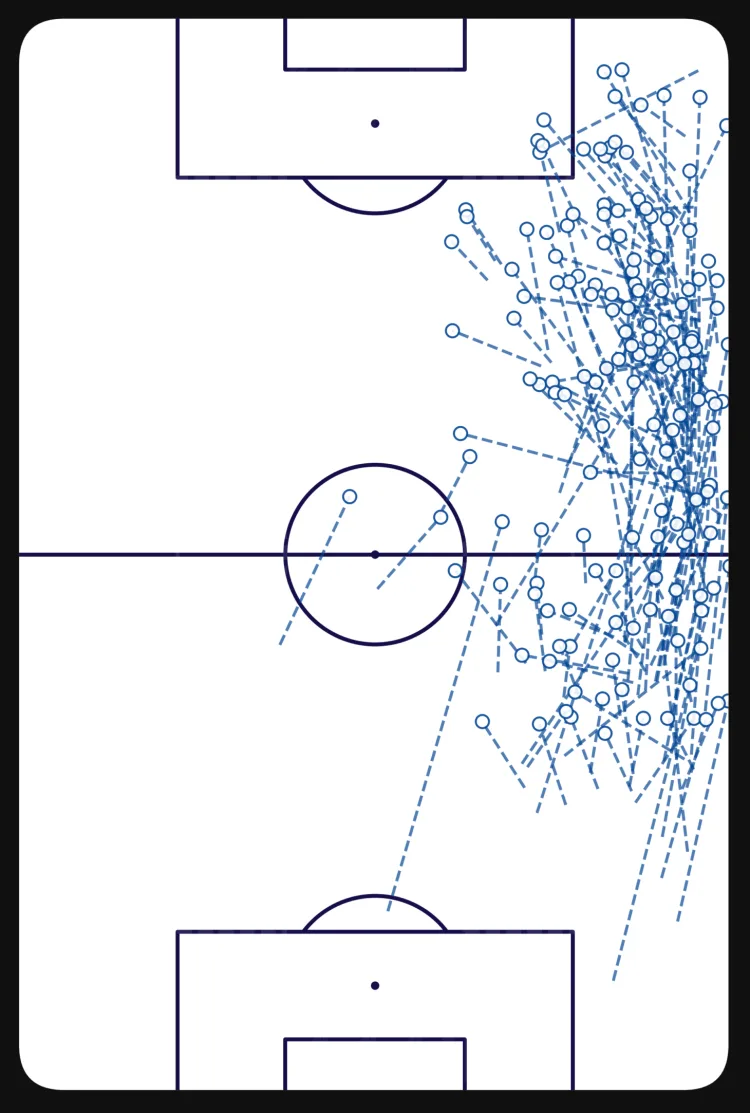 Gusto is a real threat in the final third too. His crossing is one of his best attributes, as he has the most crosses attempted (91) and completed (25) in in Lyon's squad this season. The second stat also is the best tally in Ligue 1.
The accuracy of his deliveries have helped him create around 1.5 chances per match in the league, which have helped him earn the highest xA tally among his team-mates at 3.4.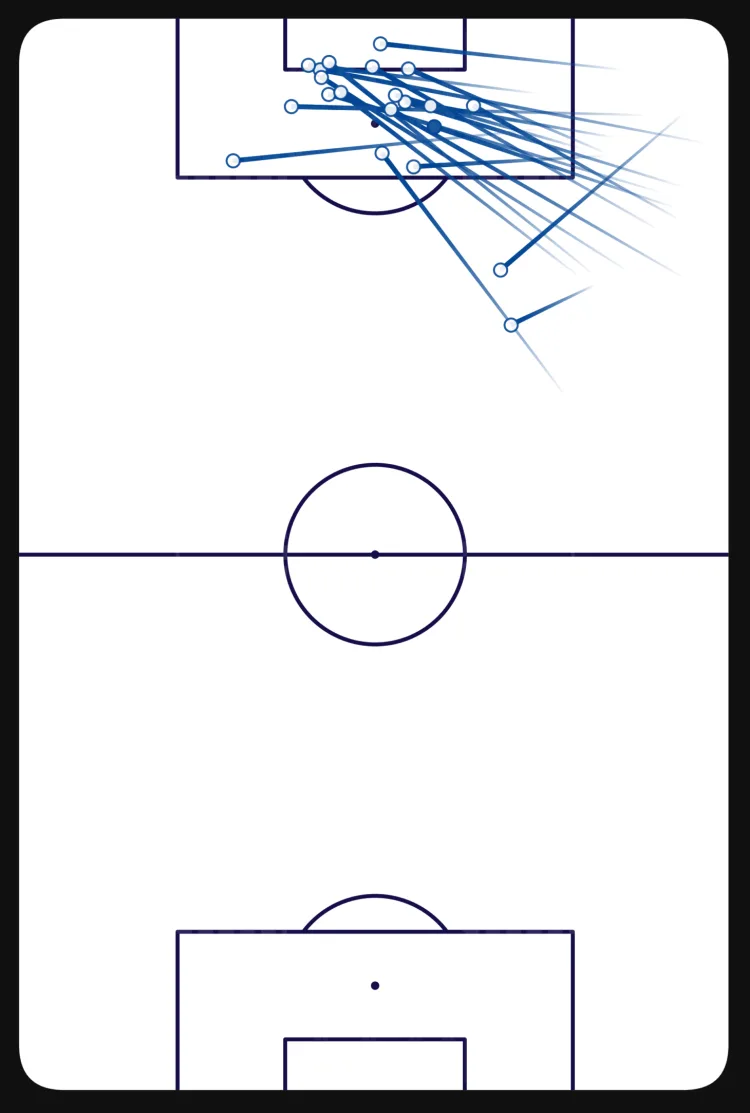 Clearly, Gusto already is an exceptionally talented attacking full-back, so the aspect of his game he should focus on developing now is the defensive side of things. At present, Gusto is an aggressive front-foot defender who likes to press opponents high up the pitch, as his defensive actions heatmap shows.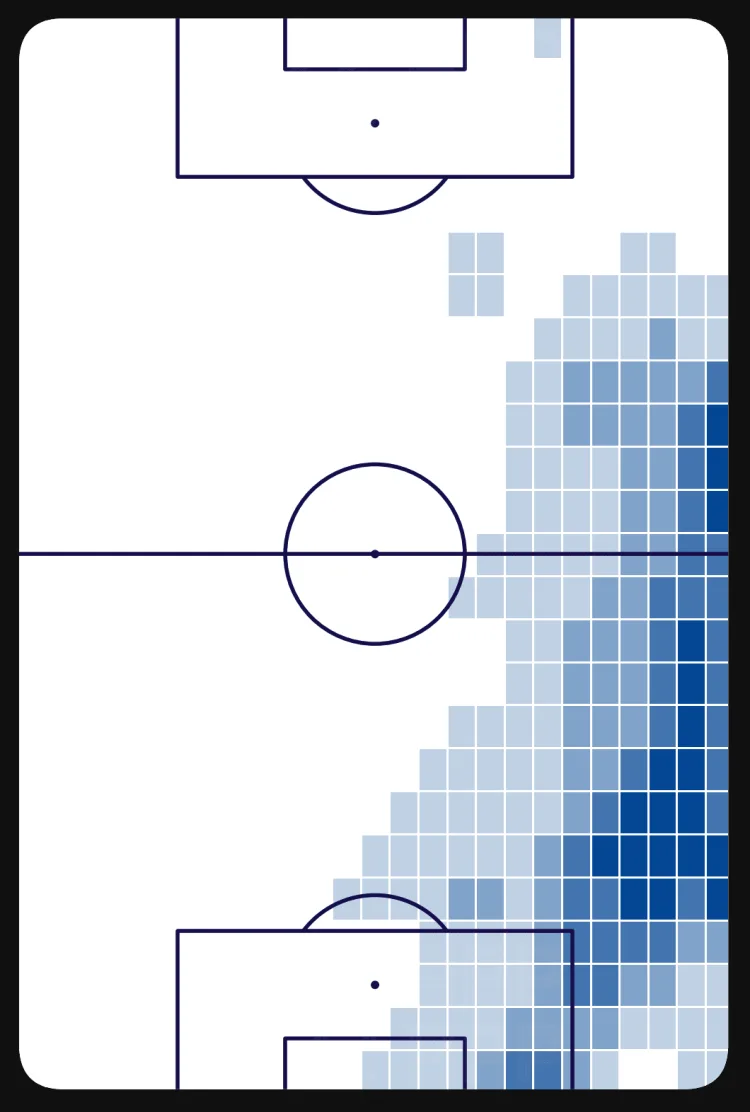 However, he can tend to be a bit rash at times and lose duels. On average, Gusto gets dribbled past close to 9 times in 10 games, which puts him in the lower percentiles among full-backs in Ligue 1 this season. Further, he has won just 58% of defensive challenges in the league this season, which is the lowest average among Lyon's first-choice back-four.
At well under 6 feet tall, Gusto's aerial abilities are not among his strengths either. He has won just 35% of his aerial duels in the league this season, which is the second-lowest average in Lyon's squad behind only Tete, who is a winger.
Overall, though, Gusto still is a fairly secure and strong defender. He is not exceptional in these measures, which is the reason he should turn his focus to them since his on-ball qualities already place him among the best full-backs in France. On the whole, though, there can be no doubt that his strengths massively outweigh his slight weaknesses.
Potential future at Chelsea
Although he is clearly very talented and already consistently playing at a high level, Gusto should not be expected to become the starting right-back for Chelsea in the near future. That position will remain Reece James' for now, but given the Englishman's recent injury issues, Gusto could well see a good deal of game time.
Currently, Cesar Azpilicueta is mostly filling in for James on the right of Chelsea's defence, but Gusto could offer a very different alternative in that position. While the Spaniard is more defensively secure, Gusto possesses much more attacking prowess that could come in handy, particularly against opponents that try to sit deep and defend more.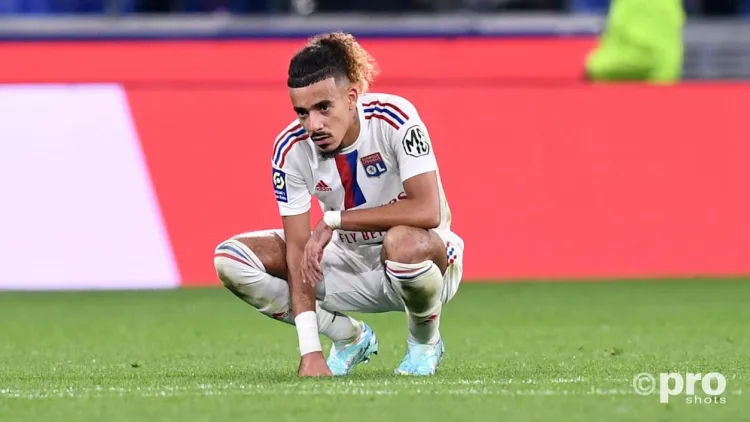 In the long term, Gusto will aim to challenge James for the starting right-back spot, but he has some development to do to get there. James himself is fairly young at just 23 years old, so it is difficult to envision his performance levels dropping off anytime soon. Therefore, Gusto may well find himself stuck as the second-choice option for a good while.
This is more of a compliment to the England international's quality than a sleight on the Frenchman's talent, but there is no doubting the fact that Gusto has the potential to be one of the world's best players in his position in a few years, so he is definitely one to watch.