Why Harry Maguire is fantastic for England and a flop for Man Utd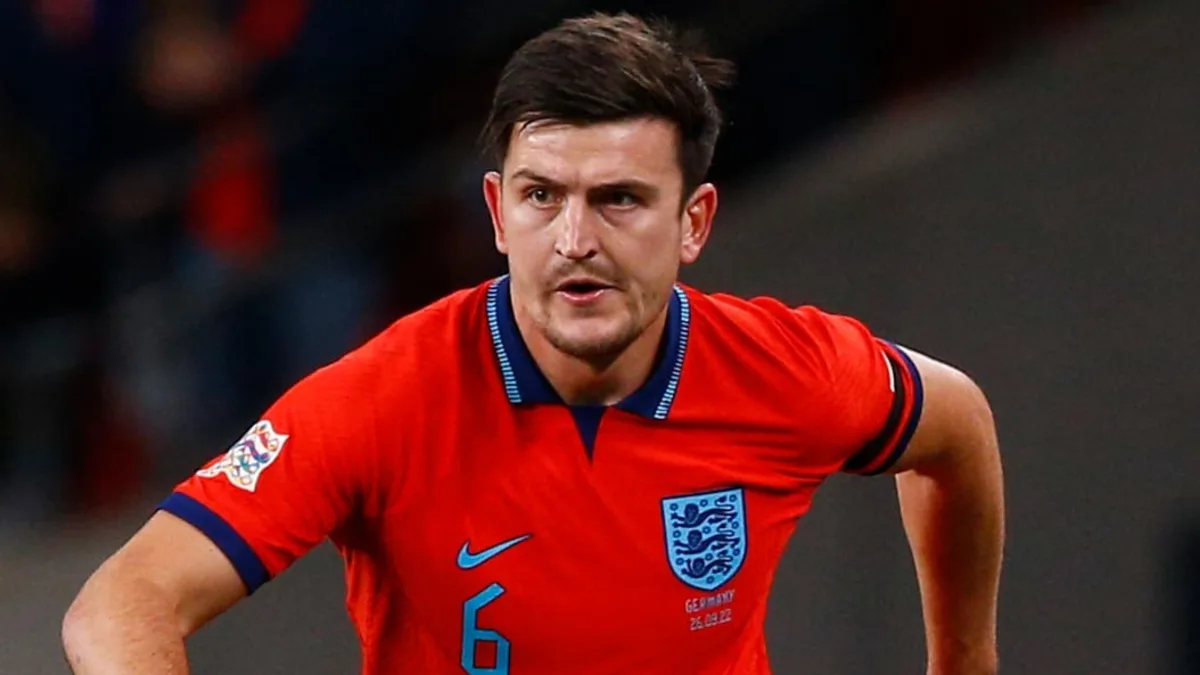 Harry Maguire has been one of the best players at the 2022 World Cup so far.
The England centre-back has been a rock at the back for The Three Lions, who romped through Group B as winners with seven points from their three matches.
England have only conceded one goal with Maguire on the pitch, with Gareth Southgate's men keeping clean sheets against the United States and Wales.
Maguire has been the undisputed star of the England back line, alongside John Stones.
He has won virtually everything in his box and aerially and been a constant threat on corners and set-pieces. He even got an assist in the 6-2 win over Iran.
World Cup 2022: Teams, fixtures, results, favourites
World Cup all-time top scorers
Ronaldo vs Messi at the World Cup: How their stats, goals, assists and performances compare
The 29-year-old's form comes at odds with his struggles at Man Utd.
Maguire has lost his place in the Man Utd starting XI this season, making just three Premier League stars.
He has struggled badly for Man Utd when he has played, ever since Euro 2020 and made a string of errors last season.
Some even called for Maguire not to be called up to the World Cup with England, but manager Gareth Southgate showed his faith and he has repaid it.
So why does he star for England but struggle for Man Utd?
Former Man Utd and England defender Gary Neville has attempted to explain it.
What did Neville say about Maguire?
"I think he feels loved more by England maybe, I think he feels more at home," Neville told Sky Sports.
"During my career, I can think of one player who was playing better for their country than their club – Harry Maguire plays better for his country than his club. I think there are a few players who feel that way, Raheem Sterling. If you look at that game against Iran that is better form than we have seen him in for Chelsea this season.
"They have a good group, a manager who believes in them, who has selected them regularly. I didn't think Harry would play, if he was going to play I thought it would be on the left of a back three so for Harry to play the first games like he has, I think is a massive success.
Top of the group and into the last 16. 🙌🏼🏴󠁧󠁢󠁥󠁮󠁧󠁿🦁 #ThreeLions pic.twitter.com/MyB2Rcr74u

— Harry Maguire (@HarryMaguire93) November 29, 2022
"Harry is a great centre back and he has been brilliant in the last two tournaments, he has just had an awful time at United these last 12 months. United is a very unforgiving place, I know that from being there for 20 years, if you just do not get it right that place can just eat you alive - Harry is just getting that at this moment in time."
Maguire has been tipped to leave Man Utd in 2023 given he is no longer a first-team player.
But could his World Cup form see a renaissance at Man Utd?
"I think he will come through it at United," Neville added.
"All I will say is that there was great players who have been through the same experience at Manchester United where it was tough for them but they came through it and were better for it.
"I don't think Harry Maguire or Marcus Rashford will come out of this tournament phased or lacking in confidence any more. I went through it but I came out of it feeling bulletproof and that is how they will feel too after it."
Maguire is next in action on Sunday evening when England play Senegal in the last-16 of the World Cup.