Ronaldo v Messi: How their stats, goals & assists compare in 2022/23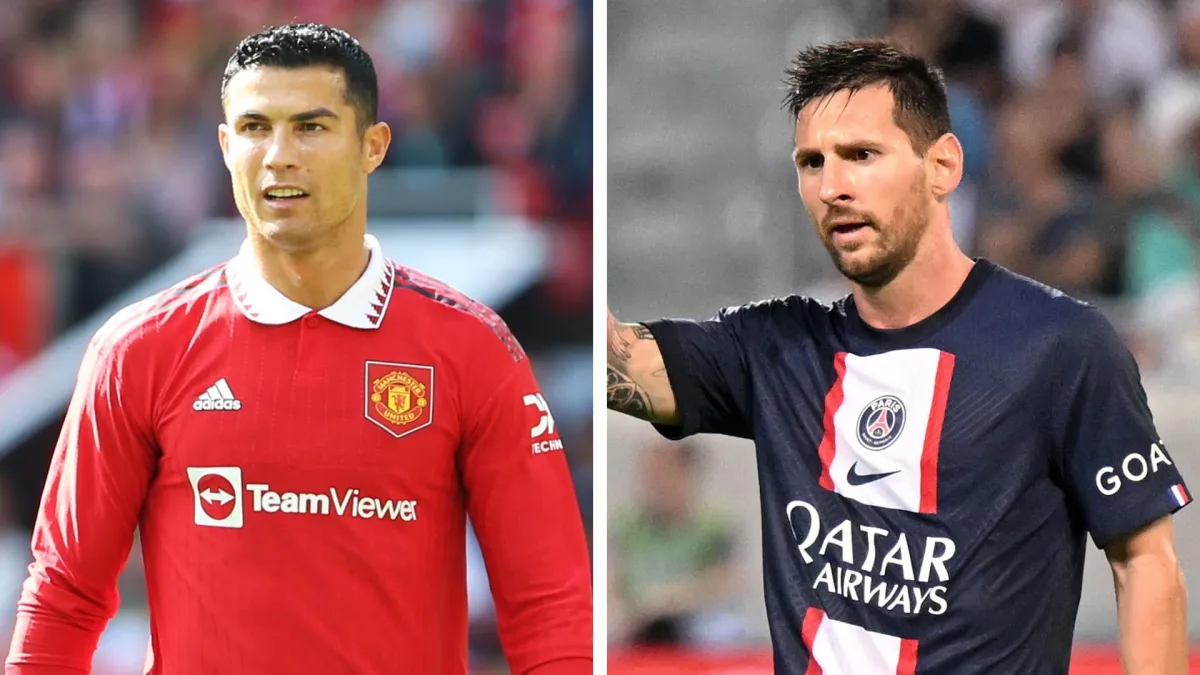 Despite approaching the end of their professional careers at the very top level, Cristiano Ronaldo and Lionel Messi are still the two most high-profile footballers in the world.
As well as their incredible status at the pinnacle of the sport, both players enjoyed productive campaigns in the 2021-22 season, proving they're still capable of performing at the top.
Ronaldo v Messi: How do their stats, goals & assists compare in 2021/22?
Ronaldo wanted to leave Man Utd in the summer of 2022 in order to play Champions League football, something the Red Devils weren't able to provide after their worst finish in Premier League history last campaign. However, Ronaldo was unable to find a new club and he remained a United player when the transfer deadline passed at the start of September.
Cristiano Ronaldo at PSG: Goals, assists, results & fixtures in 2022-23
Lionel Messi at PSG: Goals, assists, results & fixtures in 2022-23
Out of contract in 2023: The best free agents available on a Bosman
On the other hand, Messi enjoyed a far more relaxing summer in 2022 than in 2021, with the Argentine staying put at Paris Saint-Germain rather than moving clubs like he did in 2021. The Barcelona legend left Camp Nou on a free transfer after they couldn't afford to renew his contract.
Although they have both left La Liga and no longer play in the same domestic division, Ronaldo and Messi are still compared often, with their fans religiously debating who is the greatest of all time.
Here are how their records compare in 2022-23:
| | Cristiano Ronaldo | Lionel Messi |
| --- | --- | --- |
| Games Played | 8 | 12 |
| Minutes | 378 | 1062 |
| Goals | 1 | 7 |
| Assists | 0 | 8 |
Ronaldo v Messi: Who has scored more goals in 2022-23?
Messi has currently scored more goals than Ronaldo in the 2022-23 season. The PSG star has scored seven goals in 12 games in all competitions, while Ronaldo's solitary goal came from the penalty spot in the Europa League.
Ronaldo missed almost the entirety of pre-season following his request to leave Man Utd, which meant he didn't start in their Premier League opener against Brighton & Hove Albion.
With Man Utd losing 2-0 at half-time, Ronaldo was turned to off the bench in the second-half, but he was unable to get on the scoresheet as Ten Hag lost his first competitive game as Man Utd's head coach.
Ronaldo started the next match away at Brentford and played the entire 90 minutes as Man Utd were embarrassed 4-0 in London.
The 37-year-old played a combined 80 minutes from the bench in United's four straight wins over Liverpool, Southampton, Leicester and Arsenal, repectively. He was then left on the bench for the whole game of the 6-3 Manchester Derby thrashing on October 2.
Ronaldo opened his account for the season with his first ever Europa League goal, netting a penalty in United's 2-0 win over Sheriff Tiraspol in September.
Messi scored his first goal of the 2022-23 season in his first game of the campaign - a 4-0 win over Nantes in the Trophee des Champions. After a deflected through-ball from Neymar found the Argentine, Messi rounded the goalkeeper and passed it into the open net with his weaker right-foot.
In the Ligue 1 opener, Messi bagged two goals against Clermont Foot to get his league season underway. With PSG 3-0 up as the clock closed in on 80 minutes, Messi strolled forward, combined with Neymar before stroking the ball into the far corner with his left-foot.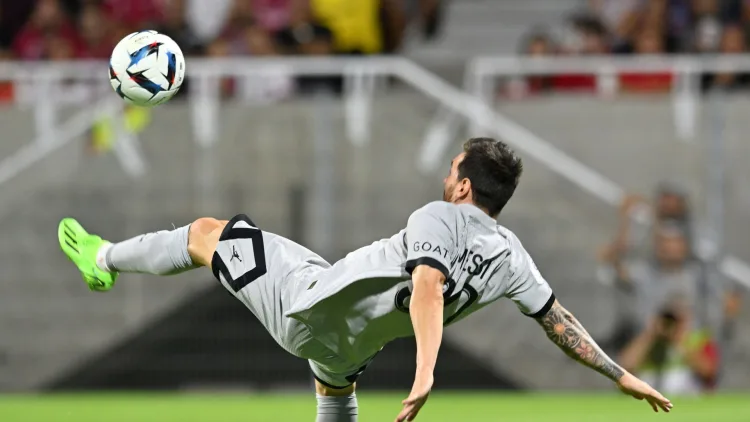 Just six minutes later, Messi darted in behind and was picked out by a beautiful through-ball by Leandro Paredes; facing towards his own goal, Messi controlled the ball with his chest before he produced an outrageous bicycle-kick that looped over Mory Diaw to make it 5-0.
Messi didn't make a goal contribution in the 5-2 win over Montpellier, but scored and assisted in the following 7-1 victory over Lille.
He didn't add to his goal tally in PSG's 1-1 draw with Monaco, nor during the wins over Toulouse, Nantes and Brest but netted in the Champions League win over Maccabi Haifa and against Lyon before the September international break.
Messi scored a brilliant free-kick in the 2-1 win over Nice on October 1.
Ronaldo v Messi: Who has more assists in 2022-23
Messi is currently leading the assist tally against Ronaldo, with eight assists to the Portuguese international's zero.
In the same game as he opened his Ligue 1 goal tally, Messi registered his first assist of the campaign. Just eight minutes into the fixture against Clermont Foot, Messi opened his foot up and lightly bounced Pablo Sarabia's cross straight into the path of Neymar, who finished in the bottom corner.
His second assist came in the 7-1 win over Lille, in which he also scored.
He then delivered four assists in two games in the 3-0 victories over Toulouse and Nantes, before providing another in the 1-0 win over Brest.
Messi also grabbed a goal and an assist in the Champions League against Maccabi Haifa.
Ronaldo v Messi: Who had more goals and assists in 2021-22?
The 2021-22 season was Ronaldo's first year back at Man Utd and Messi's first ever professional campaign away from Barcelona after he made his free transfer move to PSG.
Ronaldo v Messi: How do their stats, goals & assists compare in 2021/22?
With the two players in new environments, it was Ronaldo who adjusted quicker, scoring 24 goals in all competitions, while Messi scored just 11. However, the Argentine star was far more productive when it came to assists. He registered 14 assists, while Ronaldo could muster just three.
In total, Ronaldo performed better as he notched 27 goals and assists in all competitions, while Messi managed 25.