Premier League top scorers 2022/23: Haaland storms clear after derby delight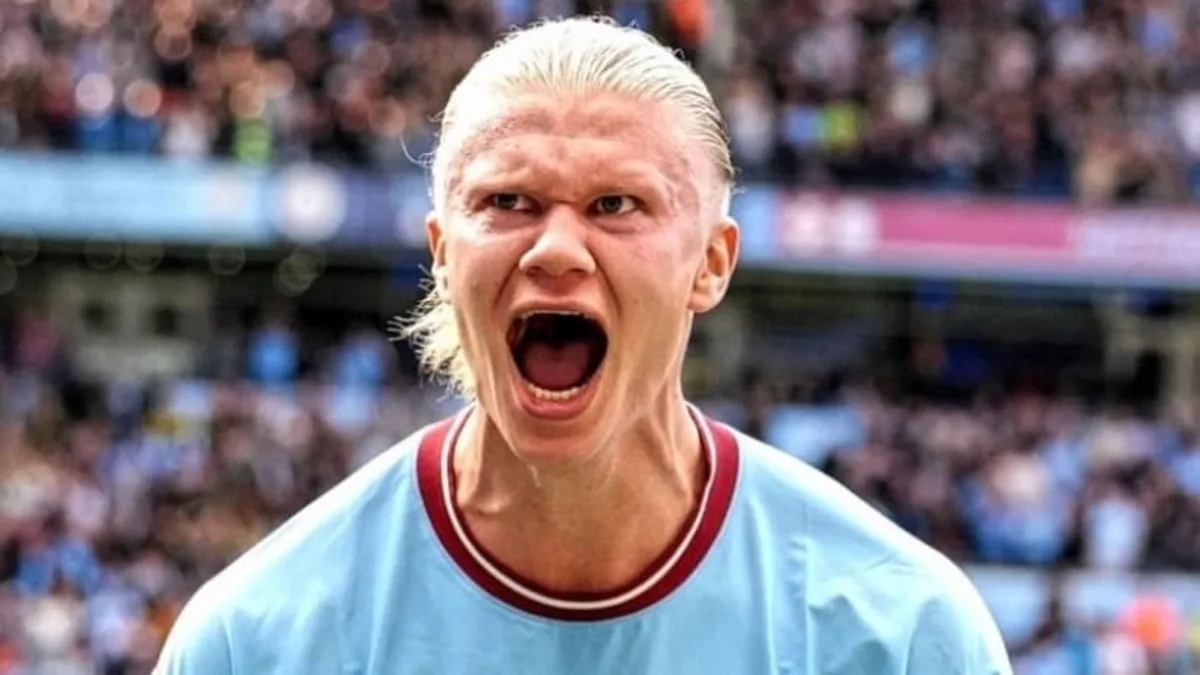 The Premier League Golden Boot race is now under way for the 2022/23 season and it looks like we are in for another exciting campaign.
Mohamed Salah and Son Heung-min shared the Premier League Golden Boot award last year, having finished with 23 goals each.
Liverpool star Salah's victory was his third in this award, matching the career total of Tottenham forward Harry Kane, who is a perennial contender to come out on top.
For Son, meanwhile, it was a first triumph after a spectacular season, where his sublime link up play with Kane at Spurs again came to the fore.
Cristiano Ronaldo, who came into 2022/23 facing an uncertain future with Manchester United, finished third last season.
Now that he has remained at Old Trafford, the Portugal legend will be expected to challenge strongly to score the most goals in the division.
However, it is a new arrival to the Premier League, Manchester City forward Erling Haaland, who came into the year as the favourite to top the goalscoring charts in England.
Erling Haaland at Man City: Goals, assists, results & fixtures in 2022-23
After his big transfer, the former Dortmund sensation joined a Man City team who have won four top-flight titles in five years and, fitness permitting, was expected to post a huge total that would prove hard to beat in the Golden Boot battle.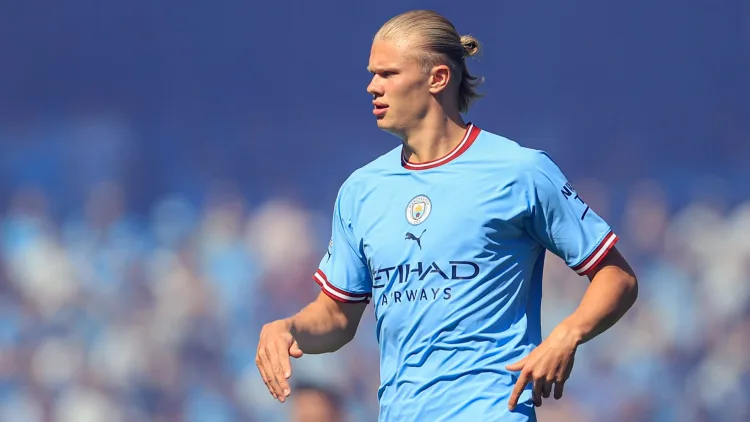 Other contenders as the season began included Gabriel Jesus, who left Man City to join Arsenal, where he hoped to play a more regularly in a prominent central role that boosted his opportunities.
After Sadio Mane left Liverpool, the Reds' second candidate behind Salah was new striker Darwin Nunez, who arrived from Benfica as a major transfer signing with high expectations.
Raheem Sterling was another player who has departed from Man City and went into the new season as Chelsea's most likely contender, though Kai Havertz also hoped to stake a claim.
Former Golden Boot winner Jamie Vardy was among the players outside of the Big Six teams hoping to make an impression, along with Callum Wilson and Ollie Watkins.
Keep this page saved throughout the season as we take an in-depth look at the latest standings for the players who have the most EPL goals.
2022/23 Premier League top scorers
Erling Haaland has stormed clear in the Premier League Golden Boot race after his ruthless hat-trick in the Manchester derby.
Man City striker Haaland already had two Premier League hat-tricks to his name – those arriving in home victories against Crystal Palace and Nottingham Forest – going into Sunday's match with Man Utd.
And another treble in the 6-3 thumping win for Pep Guardiola's side moved Haaland on to 14 league goals for the 2022/23 campaign.
August's 4-0 win for Man City over Bournemouth, in which he registered an assist, is the only top-flight match in which Haaland has not scored in so far.
Haaland's tally, which has come from just eight games, puts him well clear at the top of the goalscoring charts in England and he has double the scoring total of former Golden Boot winner Harry Kane in second place.
Kane has enjoyed a faster start than he had last season, as it was not until the second half of the campaign when he hit top gear after links with Man City appeared to contribute to a lacklustre initial period.
This time around the Tottenham star has seven goals from eight Premier League appearances, his latest strike coming from the penalty spot in the North London derby defeat to Arsenal.
Fulham striker Aleksandar Mitrovic is third with six goals as he builds on his prolific Championship campaign last year and then there is a five-man group in a tie for fourth place.
That quintet includes Liverpool attacker Roberto Firmino, who scored twice in the dramatic 3-3 draw with Brighton on Saturday, as well as Leandro Trossard, who netted a sublime hat-trick at the other end.
But another high-profile Liverpool forward, Mohamed Salah, has been off the pace in the early stages of the 2022/23 campaign.
With two goals from seven matches, Salah already sits an astonishing 12 goals behind Haaland and five behind Kane, key battles to watch given those two stars were expected to be his two main rivals as the season began.
But it could be worse for Salah, as one huge name is yet to get his first goal of the Premier League season.
Man Utd forward Cristiano Ronaldo has not opened his account after a summer that produced intense transfer speculation over his future.
He did not come off the bench as United suffered derby woe at the hands of City and Haaland.
Arsenal's top goalscorer is Gabriel Jesus (5), while Marcus Rashford and Raheem Sterling (both 3) top the charts for Man Utd and Chelsea respectively.
2022/23 EPL TOP GOALSCORERS
| Player | Team | Goals |
| --- | --- | --- |
| Erling Haaland | Man City | 14 |
| Harry Kane | Tottenham | 7 |
| Aleksandar Mitrovic | Fulham | 6 |
| Ivan Toney | Brentford | 5 |
| Gabriel Jesus | Arsenal | 5 |
| Roberto Firmino | Liverpool | 5 |
| Phil Foden | Man City | 5 |
| Leandro Trossard | Brighton | 5 |
| Rodrigo | Leeds | 4 |
| Wilfried Zaha | Crystal Palace | 4 |
| Alexis Mac Allister | Brighton | 4 |
| Son Heung-min | Tottenham | 3 |
| Marcus Rashford | Man Utd | 3 |
| Martin Odegaard | Arsenal | 3 |
| Luis Diaz | Liverpool | 3 |
| Pascal Gross | Brighton | 3 |
| Raheem Sterling | Chelsea | 3 |
| Gabriel Martinelli | Arsenal | 3 |
| James Maddison | Leicester | 3 |
| Callum Wilson | Newcastle | 3 |
| Miguel Almiron | Newcastle | 3 |
| Alexander Isak | Newcastle | 2 |
| Bernardo Silva | Man City | 2 |
| Ilkay Gundogan | Man City | 2 |
| Mohamed Salah | Liverpool | 2 |
| Josh Dasilva | Brentford | 2 |
| Che Adams | Southampton | 2 |
| Jadon Sancho | Man Utd | 2 |
Who are the past winners of the Premier League Golden Boot?
The record for most goals in a Premier League season is shared by Alan Shearer (1994/95) and Andy Cole (1993/94).
Both players scored an astonishing 34 goals, though the season was longer then – Shearer did it in 42 matches and Cole in 40.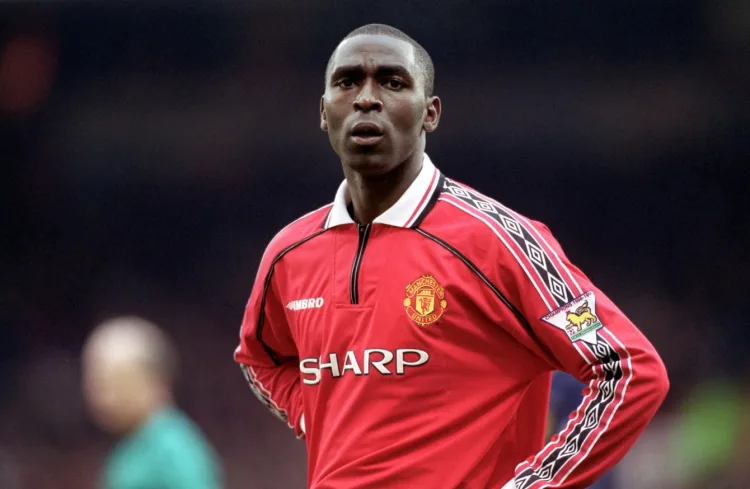 Mohamed Salah came close to that record in 2017/18, scoring 32 times in 36 outings, producing the best Premier League goalscoring season in this century.
The Golden Boot winner with the best goals per game ratio in a season is Harry Kane.
England's captain netted 29 times in just 30 games to win the 2016/17 title, averaging 0.97 goals per game.
Liverpool have had the most Premier League Golden Boot winners with seven.
Arsenal are just behind on six, while Man Utd and Tottenham have had five winners, with Chelsea on four.
There are only four players who had scored the most goals in the EPL more than twice.
Shearer won the Golden Boot three times, once with Newcastle and twice with Blackburn Rovers, while Kane's win in 2020/21 was also his third.
Salah's success in the 2021-22 season meant he joined that list of three-time winners.
Thierry Henry holds the record, though, having been named the top scorer in the Premier League on four occasions for Arsenal.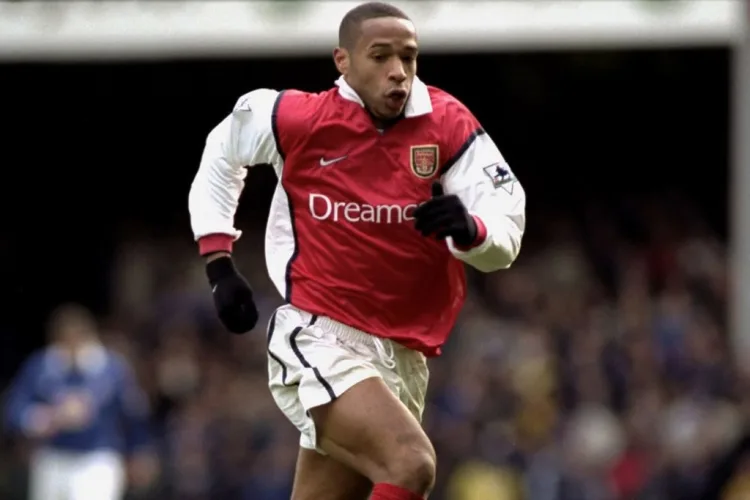 Cristiano Ronaldo and Luis Suarez are two of the biggest names to have won the award, scoring 31 goals in 2007/08 and 2013/14 respectively.
The Premier League began from the 1992/93 season.
Prior to that, Ian Wright was the last highest goalscorer in England when it was the old First Division.
Gary Lineker and Alan Smith were also winners in the 1990s before the league was rebranded.
Recent Golden Boot Winners
| Season | Winner/Team | Goals |
| --- | --- | --- |
| 2021/22 | Salah/Son, Liverpool/Spurs | 23 (award shared) |
| 2020/21 | Harry Kane, Spurs | 23 |
| 2019/20 | Jamie Vardy, Leicester City | 23 |
| 2018/19 | Aubameyang/Mane/Salah, Arsenal/Liverpool | 22 (award shared) |
| 2017/18 | Mohamed Salah, Liverpool | 32 |
| 2016/17 | Harry Kane, Spurs | 29 |
| 2015/16 | Harry Kane, Spurs | 25 |
| 2014/15 | Sergio Aguero, Man City | 26 |
| 2013/14 | Luis Suarez, Liverpool | 31 |
| 2012/13 | Robin van Persie, Man Utd | 26 |
Who are the Premier League top scorers of all time?
Alan Shearer is the highest goalscorer in Premier League history, having ended his career in 2006 with a magnificent 260 goals to his name in England's top division.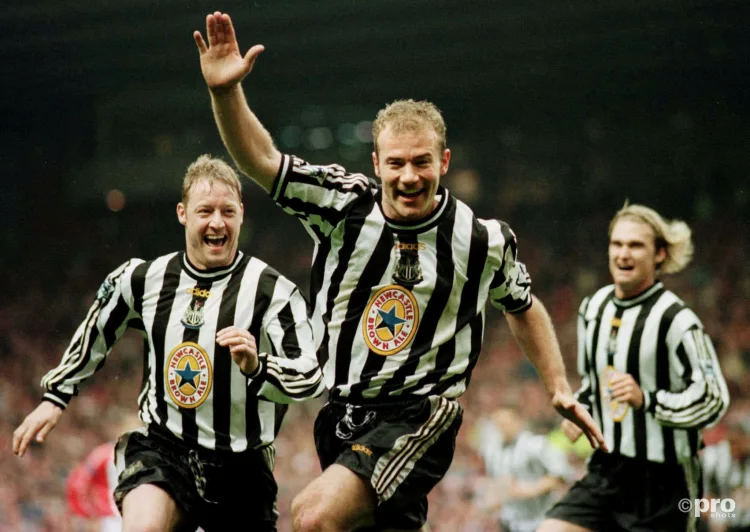 Man Utd legend Wayne Rooney (208) is the only other player who has scored more than 200 EPL goals.
Andy Cole (187), Sergio Aguero (184), Frank Lampard (177) and Thierry Henry (175) are other former Premier League players who sit near the top of the all-time list.
Kane is the highest-scoring active player and he had 183 goals at the start of this season.
The Tottenham star has long been cited as one of the rare contenders who has a chance to rival Shearer's record total.
Before 2022/23 began, Robbie Fowler (163), Jermain Defoe (162) and Michael Owen (150) rounded out the 10 players in EPL history who have scored 150 goals or more.