Lampard rules out Gordon transfer as Chelsea miss deadline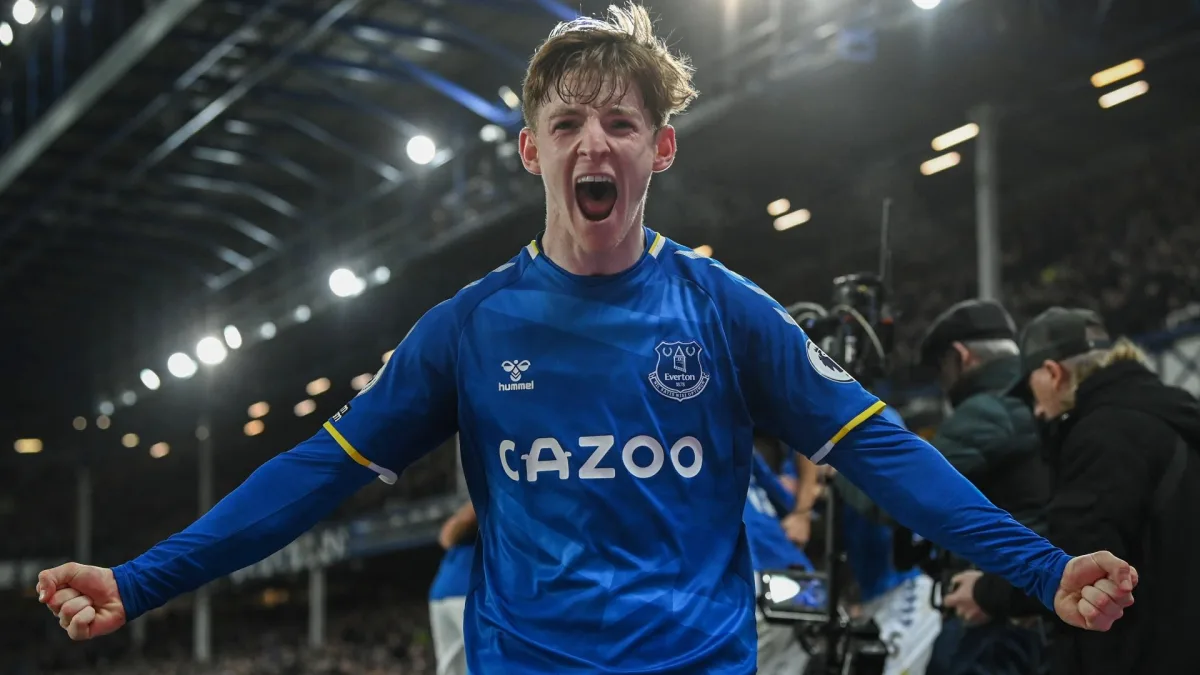 Frank Lampard has dashed Chelsea's hopes of signing Anthony Gordon by claiming the deadline to sign the winger has passed after another goalscoring display.
Gordon has been strongly linked with a £60 million move to Chelsea and the 21-year-old netted for the second game in succession in Everton's 1-1 draw with Leeds.
Speaking after the game, Lampard told reporters that he was confident of keeping his prized youngster and that it was 'too late' to sell the player.
"Anthony is too important a player," Lampard said. "He has showed his worth in the last two games. He is going to be special. In the bigger picture, he has an affiliation with the fans. It is a process, can we build around that?
"The interest in him is because he is a top player and why we are so keen to keep him. You saw the reasons why we think so highly of him in the last two games. He is our player, he has come through he is a very good player and will get better and better.
"I don't have to worry about him anymore, there's just a couple more days. You saw the worth he is to this club.
"I've always told him since I joined this club that I thought there was more goals in him because he's got everything, attitude, ability, speed, and now great finishing. That will give him confidence to carry on.
"I'm very confident he'll be our player. The deadline to decide to sell him has passed. What good what it do us to do anything with Anthony now?"
What do Chelsea do now?
Chelsea, meanwhile, suffered their second defeat in three games in a 2-1 loss against Southampton as their need for a goalscorer was amplified.
Thomas Tuchel opted to switch from a three-man defence into a four in the hopes of providing more quality up front but, despite Raheem Sterling's opener, the Blues looked toothless going forward.
Kai Havertz once again started up front and the German now has just one goal in his last 13 games as Chelsea head into deadline day desperate to bolster their attack.
"I don't have to worry about Gordon in the final two days of the transfer window now." - Frank Lampard pic.twitter.com/2vtAxxLGM9

— 𝗧𝗵𝗲 𝗧𝗼𝗳𝗳𝗲𝗲 𝗕𝗹𝘂𝗲𝘀 (@EvertonNewsFeed) August 30, 2022
The club are set to complete the signing of Wesley Fofana from Leicester for a fee of around £80 million, while they are reportedly in advanced talks to sign Josko Gvardiol next summer for £77m from RB Leipzig.
However, the most pressing issue is undoubtedly up front and it appears likely that Chelsea will push ahead with a move for Pierre-Emerick Aubameyang, having spent the past few weeks haggling over a fee.
A deal for Gordon now looks all but dead and Tuchel may be rueing the club's inability to secure the player earlier in the window after his bright start to the season.