Who is Charlie Patino? Arsenal's 'best ever' youngster monitored by Barca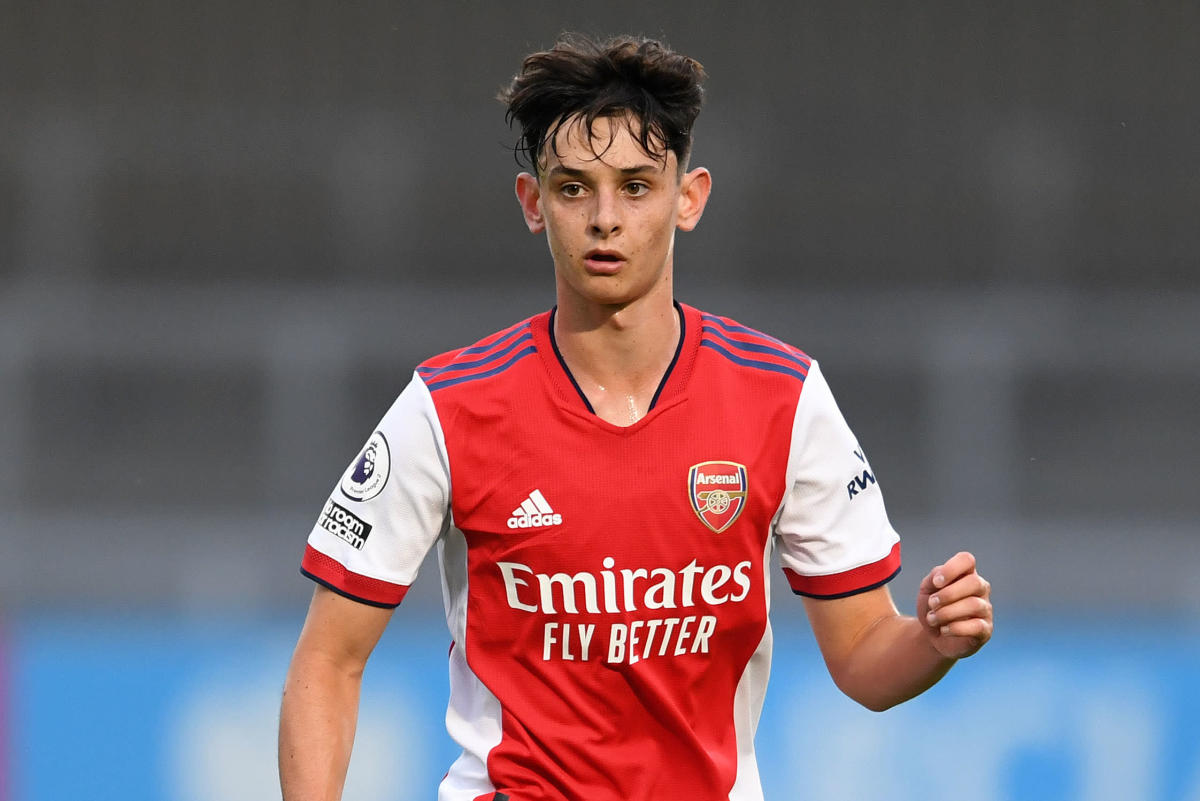 Arsenal could have a future superstar on their hands in the form of 17-year-old Charlie Patino.
The Gunners may be going through a tough period in the first team under Mikel Arteta, with just one win from their opening four matches in the 2021/22 Premier League.
With the emergence of the likes of Bukayo Saka and Emile Smith Rowe, and with players like Patino coming through, there is cause for optimism at the Emirates, even if Barcelona have been tipped to make a move for the teenager.
So, what kind of player is Patino?
What position does Charlie Patino play in?
Patino primarily plays as a central midfielder, usually in a deeper role dictating the play, though he can also feature as a No.10.
How good is Charlie Patino?
Patino's potential can be summed by a quote from Arsenal scout Brian Stapleton, who said of the young man:
"Of all the years I've been scouting, he's the best kid I've ever seen," he told Goal.
"I got a tip off about Charlie from a guy, so I went over there and I couldn't believe what I was seeing. He was 11 and I think he was playing in the Under-13s, and I was like 'wow'.
"His first touch was unbelievable, his vision, his awareness of space. He was way above his years, he was on another planet to anyone else on the pitch.
"I made a phone call to my head of my department at Arsenal at the time, Sean O'Connor. He asked what I thought and I said, 'well, I'm not coming back again. I don't need to see any more, you need to sign this kid straight away.'"
Patino was tipped to feature in Arsenal's first team to try and impress Arteta in pre-season before an injury kept him out of contention.
He is, however expected to play for the first team sooner rather than later.
The young midfielder is blessed with superb vision, composure, and as mentioned by Stapleton, a fabulous first touch.
Stapleton added: "Sean O'Connor discovered Jack Wilshere and he said to me that Charlie is the best player who has ever walked through the doors at Hale End," he said.
"The kid has got so much potential, but he's not there yet.
"There is a pathway that Arsenal have got for him and he's probably going down the same pathway as Phil Foden at Manchester City.
"Charlie has an amazing awareness of where he is on the pitch and where other players are on the pitch. His vision is so good, he can split a defence with a pass.
"And he has that desire to do well. When he's on that pitch he can be an animal, he's a winner."
Patino is eligible to play both for Spain and England at international level.
What clubs are interested in Charlie Patino?
Patino featured in the youth academy at Luton Town before being picked up at Arsenal aged 11.
Before the Gunners won the race for his signature, Chelsea and Tottenham were also interested.
Barcelona could provide the major competition for the teenager, though. He grew up supporting the club and is able to play for Spain on international duty through his grandparents.
When does Charlie Patino's contract expire?
Patino signed his first professional contract a few days after his 17th birthday but when at that age the contract can only be two years long. When he turns 18 in October, Arsenal are expected to act quickly to tie him down for longer.
How old is Charlie Patino?
Patino was born in 17 October 2003, making him 17-years-old.
What is Charlie Patino's height?
Patino is five-feet-nine-inches tall.
What is Charlie Patino's Instagram?
Patino's Instagram has 43k followers as of September 2021.