Snubbed by Buendia & Ramos - Arsenal must land Locatelli to stay a big club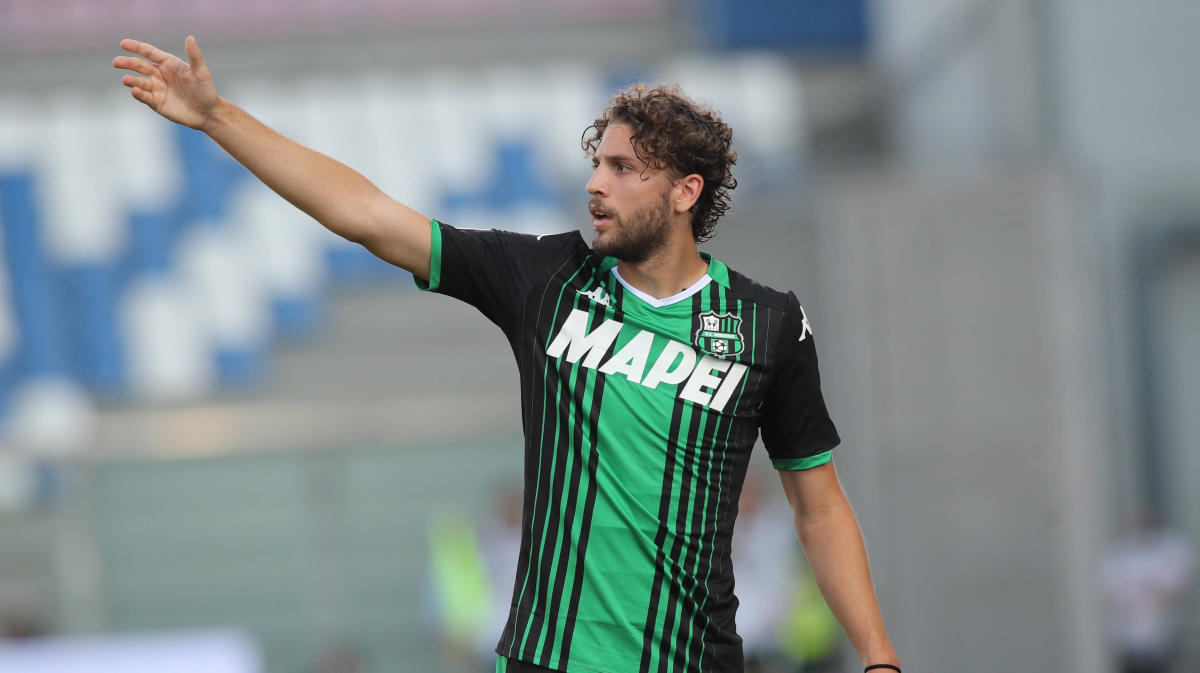 Arsenal have reportedly launched a €40 million bid for Sassuolo and Italy midfielder Manuel Locatelli, and perhaps without knowing it, the deal has great implications on the club's status.
After being a stable pillar in the top four for so long under Arsene Wenger, with the Frenchman being much maligned for often finishing fourth, the side have begun an ominous slide down the table over recent years. In fact, the last time they finished in the Champions League places was in 2015/16, when they came second behind title winners Leicester City.
Since then, they've finished: fifth (16/17), sixth (17/18), fifth (18/19), eighth (19/20), and eighth again (20/21). Specifically under Mikel Arteta, the Gunners have fallen away from England's best clubs, with Leicester overtaking them in reputation and ability, whilst West Ham also finished ahead of them last season.
Not only can Arsenal not offer Champions League football, they didn't finish in the Europa League spots, and can't even provide Europa Conference League football after finishing below North London rivals Tottenham, who will play in that competition next season.
Arsenal's pursuit of Locatelli
The move for Locatelli has been rumoured for several weeks now, but with competition from Juventus, it has been understood that Arsenal were on the backfoot.
However, Andrea D'Amico, the agent of Juventus midfielder Nicolo Fagioli, has spoken out about the Locatelli move. The potential for his client Fagioli to be used by Juventus in a deal for Locatelli has been floated around, but D'Amico has squashed these rumours. Speaking to Sky Sports Italia, he also added that "Juventus would like to sign Locatelli and Arsenal have already offered €40m."
If that is correct, then it shows Arsenal's intent this summer window, having already signed Nuno Taveres and Albert Sambi Lokonga, whilst Ben White also seems likely to join from Brighton.
𝗟𝗼𝗸ed and loaded 🔒 pic.twitter.com/teIKur1gPA

— Arsenal (@Arsenal) July 19, 2021
After a stellar 2020/21 Serie A season, and an excellent showing for Italy in the European Championship group stages, before Marco Verratti returned to fitness, Locatelli has been touted for a move away to one of Europe's biggest clubs, so it could be a coup from Arsenal if they land him.
Why landing Locatelli is so important
With no European football, it could be extremely tricky for Arsenal to land the midfielder. But, if the Gunners can persuade Locatelli, one of Europe's most talented midfielders, to join, then it could set the ball rolling for more major targets to view the club as an attractive prospect.
Thanks to no European, or more specifically Champions League, football, Arsenal have found it difficult to attract major targets in recent years, and hence they've kept sliding down the table, further and further away from the top.
However, if they can sign Locatelli, then their fortunes could change as other targets may start seeing the m as a viable option, and they'll no longer be the club that misses out on primary targets.
Who have Arsenal missed out on in recent years?
As mentioned, Arsenal have found themselves on the wrong end of transfer deals over the past few years, largely due to their falling status.
Just this summer, Emiliano Buendia chose to join Aston Villa over the Gunners, despite Norwich receiving identical bids from the two clubs. That means that Buendia simply opted for Villa Park over the Emirates, deeming Dean Smith's project more attractive.
Furthermore, when Emiliano Martinez joined Villa from Arsenal, he said: "Everyone thinks it's a step down going from Arsenal to Villa, but I actually think it's a step up in my career."
Another example of Arsenal being snubbed by a player came with Sergio Ramos, before he joined Paris Saint-Germain this summer. The Gunners were heavily in for the Spanish centre-back, and it was revealed that Arsenal offered him €17m per season, which is €5m more than he earned at Real Madrid and what he is now on at PSG, yet he still rejected them.
📸 @SergioRamos ❤️💙 pic.twitter.com/0tkKsocCSE

— Paris Saint-Germain (@PSG_English) July 18, 2021
Thomas Lemar back in 2017 is another example, but the Frenchman chose to stay at Monaco as Arsenal couldn't offer Champions League football. He eventually joined Atletico Madrid in 2018.
Overall, Arsenal haven't be able to attract the calibre of player needed to help them regain Champions League status, but if they can persuade Locatelli to join, then the tide may turn, and bigger and better players may start arriving at the Emirates once again.