Who is Kamaldeen Sulemana? - Liverpool and Man Utd battle over winger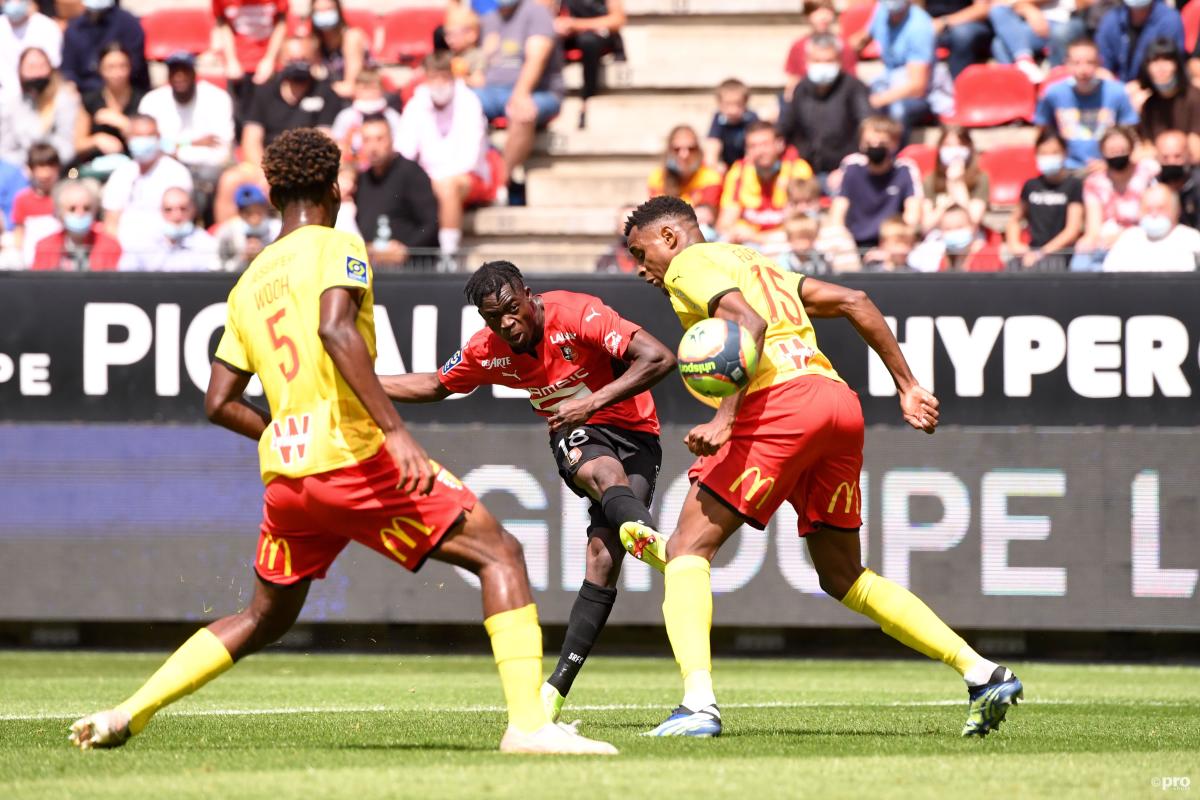 One young star who is the talk of the town in Europe is 19-year-old Ghanaian winger Kamaldeen Sulemana, who had been targeted by Manchester United and Liverpool after his impressive 2020/21, but has been signed by Ligue 1 side Rennes.
The move was confirmed in the summer, and despite interest from England, Kamaldeen selected France as his next destination.
The youngster was plying his trade in Denmark with Nordsaelland last year, having joined them from Ghanaian football academy Right to Dream in 2020, and his performances since moving continents catalysed plenty of chatter about his talents, with one coach even likening him to Neymar.
Not only have those comparisons come about, but Kamaldeen had been heavily linked with a move to Manchester United and Liverpool.
FOOTBALLTRANSFERS' MOST VALUABLE PLAYERS IN THE WORLD
So, here is the lowdown on the wonderkid, known as Kamaldeen.
What position does Kamaldeen Sulemana play in?
Kamaldeen usually plays as a forward either through the centre or on the left.
How good is Kamaldeen Sulemana?
Since moving to Nordsaelland in January of 2020, he started 35 times for the Danish outfit, scoring 14 goals and recording five assists, which is certainly a good return for a young player not only changing countries but moving from another continent.
Even though Kamaldeen clearly has an eye for goal, his best attribute is undoubtedly his dribbling, which is where the comparisons to Neymar have came from.
Within the 2020/21 Superliga in Denmark, he averaged 4.4 completed dribbles per game which is by far the most of any player in the competition. The player second on the list has an average of 3.3 per game.
To put that into context, there are only two players in the Premier League with a better average – Allan Saint-Maximin and Adama Traore, while Neymar himself only completed slightly more at 4.7 per game.
"We are talking about a player with potential on a par with Neymar, and maybe even more than that, because he is even faster," Nordsjaelland coach Flemming Pedersen previously said of Kamaldeen to TV3 Sport.
With his flashy dribbling style, however, has come some criticism that he can perhaps be too greedy at times on the pitch.
For Rennes so far, he has made 10 starts in Ligue 1, scoring four goals and recording two assists.
What clubs are interested in Kamaldeen Sulemana?
Due to his obvious talents, Kalamdeen was the attraction of some of Europe's biggest clubs, with Manchester United, Lyon, and Bayer Leverkusen making their interest known.
Interestingly, though, it was Ajax who apparently made the first moves to actually acquire the player, with director Marc Overmars telling ESPN:
"Of course, [Kamaldeen] has been performing fantastically in recent months," ex-Arsenal winger Overmars told ESPN .
"I did have some contact with the club, and now Ajax are being mentioned every week as an interested party.
"Every club tries to put their players in the shop window, [but] at the moment we already have some wingers of our own. We'll see calmly what will happen before we make any big steps."
However, it was Rennes who landed the supreme talent, signing him on a five-year deal.
Now, it is Liverpool who have emerged as his biggest suitors, with Jurgen Klopp eyeing a potential summer bid.
When does Kamaldeen Sulemana's contract expire?
Kamaldeen's contract at Rennes expires in 2026 so they will be in the driving seat when it comes to future negotiations. They will, however, be hoping to keep him for as long as possible.
What age is Kamaldeen Sulemana?
Kamaldeen was born on 15 February 2002. He is 19.
What height is Kamaldeen Sulemana?
Kamaldeen is 174cm, or 5ft 9in.
What weight is Kamaldeen Sulemana?
Kamaldeen is 68 kilograms, or around 10 stone.
What football boots does Kamaldeen Sulemana wear?
Kamaldeen wears Nike Mercurial Superfly VIII Elite soccer cleats
What is Kamaldeen Sulemana's Instagram?
Kamaldeen's Instagram account has 54k followers as of July 2021.
Who is Kamaldeen Sulemana's girlfriend?
Kamaldeen is currently not dating anyone publicly.