How does Arsenal target Ivan Toney compare to the best of the best in England?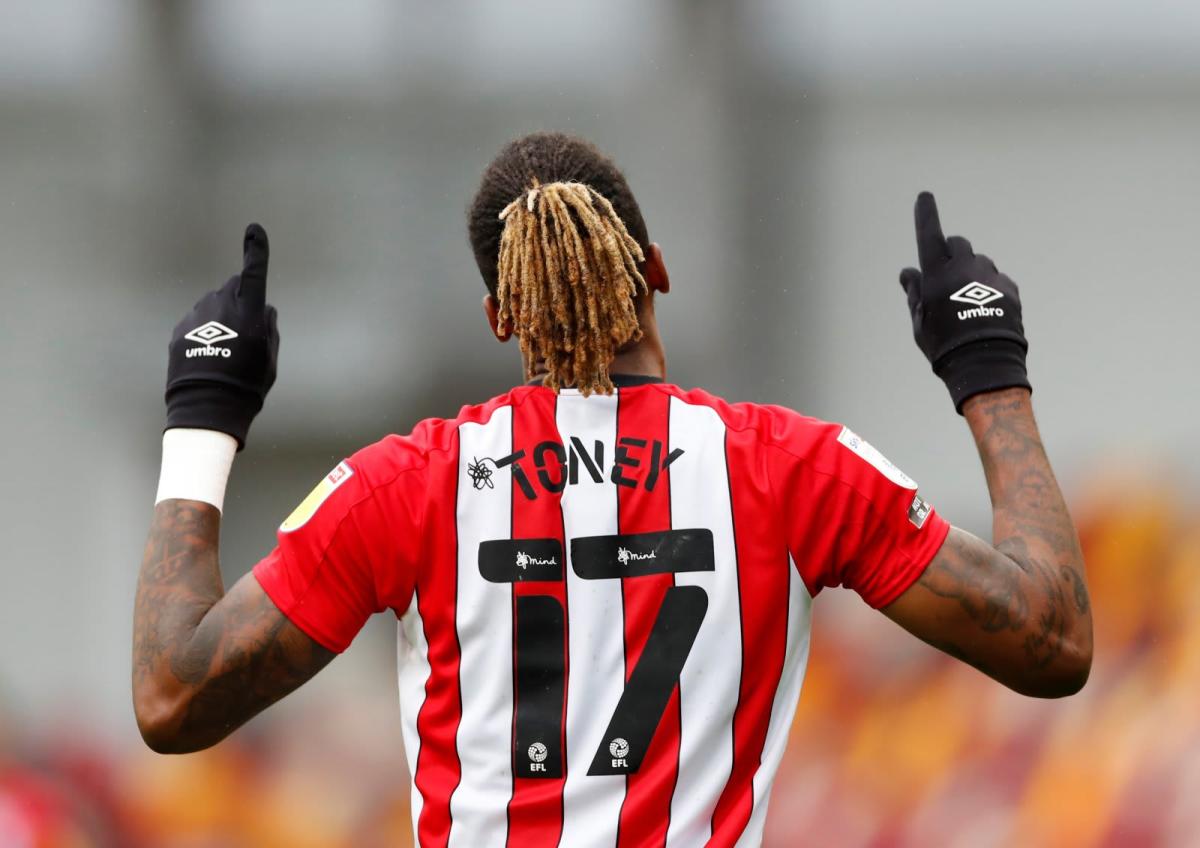 After a stellar campaign for Brentford in the Championship, Ivan Toney has recently been linked with a move to Arsenal and Everton in the Premier League, but how good is the 25-year-old striker?
Signed from Peterborough as Ollie Watkins' replacement last summer, Toney has lit up the second tier this term, and is just one goal away from equalling Glenn Murray's record for Championship goals in a season; Toney is on 29, Murray had 30 in 2012/13.
READ MORE: Carragher warns that a 'changing of the guard' is required for Liverpool's front three
That blistering form has caused the likes of Arsenal, Leicester and Everton to take notice, but how good really is he, and would he perform at a higher level?
How does Toney compare to Premier League strikers?
Toney could well follow in Ollie Watkins' footsteps, and move from Brentford to the Premier League, and his numbers this year are actually better than Watkins' last year.
With 29 goals so far, Toney has scored more than Watkins did (26), and his underlying numbers are also better. He is taking 3.2 shots per 90 to Watkins' 2.8 last term, and has created eight big chances so far this year, more than Watkins' six in 2019/20.
| 2020/21 | Minutes per goal | Minutes per assist |
| --- | --- | --- |
| Ivan Toney (Brentford) | 130.9 | 379.5 |
| Ollie Watkins (Aston Villa) | 228.5 | 742.5 |
| Dominic Calvert-Lewin (Everton) | 161.7 | 2,426 (0 league assists) |
| Alexandre Lacazette (Arsenal) | 144.3 | 938 |
| Jamie Vardy (Leicester) | 191.8 | 311.8 |
| Timo Werner (Chelsea) | 389.3 | 333.7 |
| Edinson Cavani (Man Utd) | 142.6 | 570.5 |
| Gabriel Jesus (Man City) | 224 | 597.3 |
| Neal Maupay (Brighton) | 303.8 | 1,215 |
League statistics in 2020/21 between Toney and selected Premier League strikers
Neal Maupay is another example of a Brentford striker who has excelled in the Championship and moved up into the Premier League, and Toney's numbers are far better than the Frenchman's.
They're coming in a far inferior league, but it does bode well. One thing that does retract from Toney's numbers is the fact that he has scored nine penalties this term. Whilst this certainly isn't a bad thing, it does show that he will suffer a drop off if he either doesn't get to take penalties at a new club, or a new club don't win as many penalties as Brentford.
With Arsenal, Leicester and Everton all interested, it's encouraging that Toney is not only scoring at a better rate than their current options, but is creating at a better rate as well, barring Jamie Vardy.
One underrated quality of Toney's is that creativity in the final third; he's just not just a penalty box poacher, but he's capable of opening up opportunities for his team-mates as well.
Only Vardy of the strikers mentioned in the table can better Toney's tally of eight big chances created this season, and with that under his belt, the Brentford striker is extremely well-rounded.
Playing for an expansive Brentford side, Toney is bound to get plenty of goals, which he has, but it would be interesting to see if he could convert those numbers into the Premier League, or any top league, and continue to dominate.
Toney is certainly good enough to perform in the top flight, but the question is whether any club will take a gamble on him for around £30 million? The early signs are that someone could.