Man City and Liverpool target Vlahovic starting to irritate Fiorentina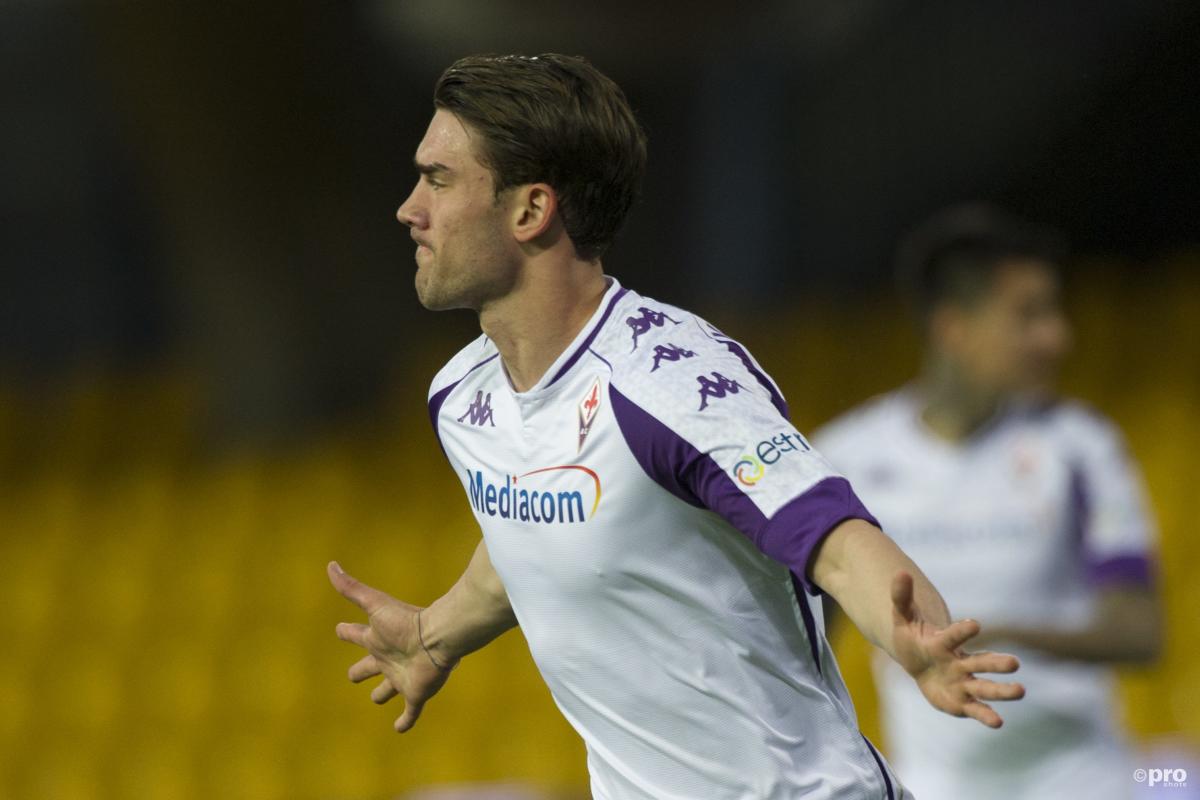 Fiorentina president Rocco Commisso has spoken of his frustration at striker Dusan Vlahovic for not accepting an offer to become the club's highest-paid player in history.
Over the past year, Vlahovic has developed into a prolific Serie A striker, and last season scored 21 goals in 35 starts in the Italian top flight.
He has already started the new term among the goals, too, scoring four in seven games.
Over the summer he was the subject of much transfer speculation and the Italian media at the time reported that Fiorentina turned down a bid in excess of €50 million from Atletico Madrid for their star striker.
Vlahovic would eventually stay but the club are sweating over his future as his contract runs out in the summer of 2023, meaning he would be free to leave with no transfer fee exchanged.
Commisso has revealed that Fiorentina have offered him a lucrative €40m contract to extend his stay which has not yet been accepted.
"I don't know if he'll sign, let's all just stay calm," the club's billionaire owner told reporters in Florence.
"We've been working on it for months, some days are more positive than others. I speak to Dusan and he says he's only focusing on the pitch and I should talk to his agents, then I talk to his agents and they say I have to speak to the player.
"His agent should come to Florence, he is the one doing the negotiations. What I will say is that this would be the highest salary ever given to a Fiorentina player, including Gabriel Batistuta and Manuel Rui Costa."
"I told Dusan that he is taking a huge risk not signing this deal. We are offering him a five-year contract worth €40m.
"I had to work a whole year to earn what he would in two or three days. I don't know how football reached this stage."
When asked if Vlahovic's behaviour was beginning to irritate him and the club, Commisso said:
"A bit, yes. Fiorentina are not just Vlahovic. This is a team and we want to keep concentrated. What else can I do? I would love to have resolved the issue already, but it's not up to me."
Who could sign Vlahovic?
Atletico Madrid and Tottenham were the two club most seriously linked with the striker in August.
Given Diego Simeone's preference for tall and powerful strikers, he may well be an ideal addition at the Wanda Metropolitano. His physique, as outlined above, would also make him a tantalising import for the Premier League.
Arsenal were also linked with the player in the past, as he would certainly be a different option to Pierre-Emerick Aubameyang for Mikel Arteta.
Recent reports, however, suggest that Liverpool and Manchester City have now entered the race for his signature as both will likely be on the lookout for a centre-forward in 2022.
Liverpool are searching for an upgrade on Roberto Firmino in the number nine role, while Man City spent the summer attempting to sign Harry Kane to no avail which highlight their desire for a new player in that position.
In the summer of 2022, Fiorentina are unlikely to turn down a big-money bid again as Vlahovic's contract will only have a year to run at that point.