The Serie A star who escaped terrorists & travelled eight months on foot to Italy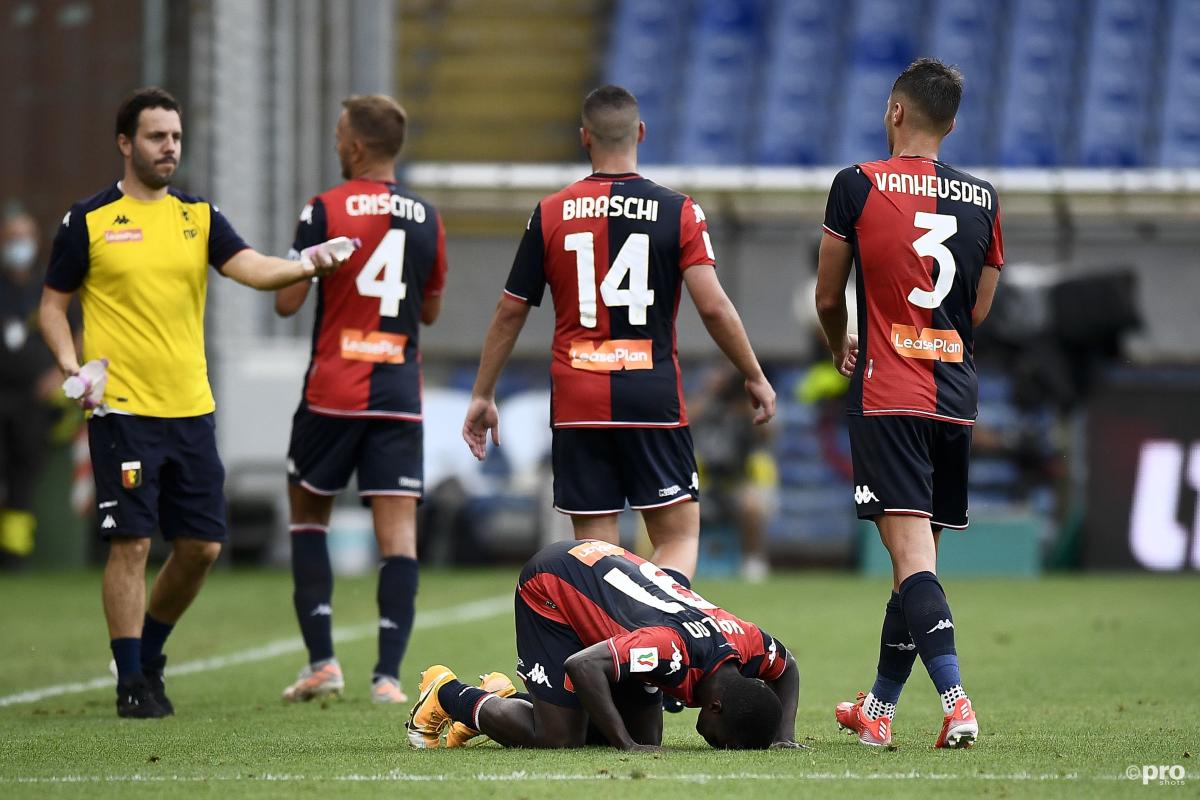 The most astonishing story from the first matchday of the 2021-22 Serie A season doesn't revolve around a result on the pitch or the performance of a superstar like Cristiano Ronaldo.
Instead, it focuses on a young 20-year-old attacker named Yayah Kallon.
Kallon made his full Serie A debut in the opening match of the campaign against champions Inter.
It completed an astonishing journey for the Sierra Leone forward, who arrived in Italy six years ago.
Kallon fled his homeland as a 14-year-old because a group of guerrillas had targeted him – as they do many young kids in the country – with the aim of kidnapping him to fight for their army.
"In my country in Sierra Leone there is a terrorist group that kidnaps children to turn them into soldiers and my parents were afraid it could happen to me too. So they decided to let me leave. It was hard, I didn't want to go but it was the best thing to do," Kallon explained earlier this year.
So began his gruelling journey on foot and by boat from the south-west coast of Africa and up through Africa towards Europe.
It took Kallon eight months to make it to Italy, a trip that involved numerous nightmare tales.
"The journey was long and difficult," he explained.
"At the beginning I was alone. Then along the way I met guys from many countries, from the Ivory Coast to Senegal to Mali and even if we didn't speak the same language we became a group."
This nightmare included a four-hour journey through Libya stuffed in the boot of a car along with four other kids.
"In my country in Sierra Leone there is a terrorist group that kidnaps children to turn them into soldiers and my parents were afraid it could happen to me too. So they decided to let me leave."
- Yayah Kallon
The player's agent Paolo Bordonaro explains how Kallon was "only able to breathe through some holes in the bodywork of the car."
"He had to put his mouth on the hole in order to be able to breathe.
"For six months he didn't speak to his mother, who thought he was dead. And in the meantime his brother was kidnapped by the guerrillas."
"The worst moment was definitely the period in Libya," Kallon added.
"There were no rules there and you met kids walking around armed. To pay for the crossing by sea I worked. I cleaned the house, I was a bricklayer. But when I managed to save up the 1000 Libyan dinars needed to cross the sea, I was robbed so I had to start all over again."
Kallon eventually made it to Italy's southernmost island of Lampedusa by boat before moving on to Sicily and then Genoa in another gruelling 20-day journey. He finally ended up in Cassine in Piemonte.
At the time of reaching his final destination in 2016 at the age of almost 15, Kallon had incredibly never played football for a team. He had only kicked a rag-ball around with friends on the dirt-streets in Sierra Leone.
💫 "Il mio gol? Lo dedico a Gino #Strada. Un grande uomo, il mondo intero deve dirgli grazie. Per il mio paese ha fatto moltissimo, ha costruito ospedali e curato persone. Ha fatto tantissimo per tutta l'Africa, sono triste per tutto questo".

🔴🔵 Yayah #Kallon pic.twitter.com/tN424PATIh

— Genoa CFC (@GenoaCFC) August 15, 2021
At school in Italy, Kallon got the chance to play organised football for the first time and immediately his natural talent was evident.
His talent was spotted by Bordonaro, who became a father figure and tutor to him. After a failed trial at Entella, he was signed up to Genoa's academy where he worked his way up through the youth ranks.
How good is Yayah Kallon?
Kallon spent a year on loan at Savona before excelling in Genoa's Primavera side last season, scoring nine goals and delivering seven assists.
He made his Serie A debut on the final day of the campaign as a second-half substitute against Cagliari, impressing and even having a goal disallowed for offside.
SERIE A VALUES: HOW MUCH IS KALLON WORTH?
In 2021-22, Kallon has made his true breakthrough into Davide Ballardini's senior side.
He scored his first goal with a brilliant curling winner deep into injury time against Perugia in the Coppa Italia.
And then he started versus Inter on the first Serie A matchday of the campaign. Despite losing 4-0, Kallon was one of Genoa's better players.
Yayah Kallon, 20. Incredible story❤️

Fled Sierra Leone at 14 from terrorists who kidnap kids for their army. Took 8 months to get to 🇮🇹 by foot/boat. Incl 4 hours in car boot thru Libya

When he arrived, he'd never played football. Now his full Serie A debut v champions! #INTGEN pic.twitter.com/EcCKTwemwx

— Carlo Garganese (@carlogarganese) August 21, 2021
He had three shots on goal, although he snatched on two good opportunities in the first half.
Nevertheless, Kallon, who is of no relation to former Inter striker Mohamed Kallon, showed that he has a bright future ahead of him.
What position does Yayah Kallon play?
Naturally he is a second striker, with speed, technique and trickery. He is left-footed but can also use his right foot.
How old is Yayah Kallon?
Kallon is 20 years old and was born on 30 June 2001.
What is Yayah Kallon's height?
Kallon is 179cm (5ft 10ft) tall.