Are Messi and Ronaldo incompatible with modern football?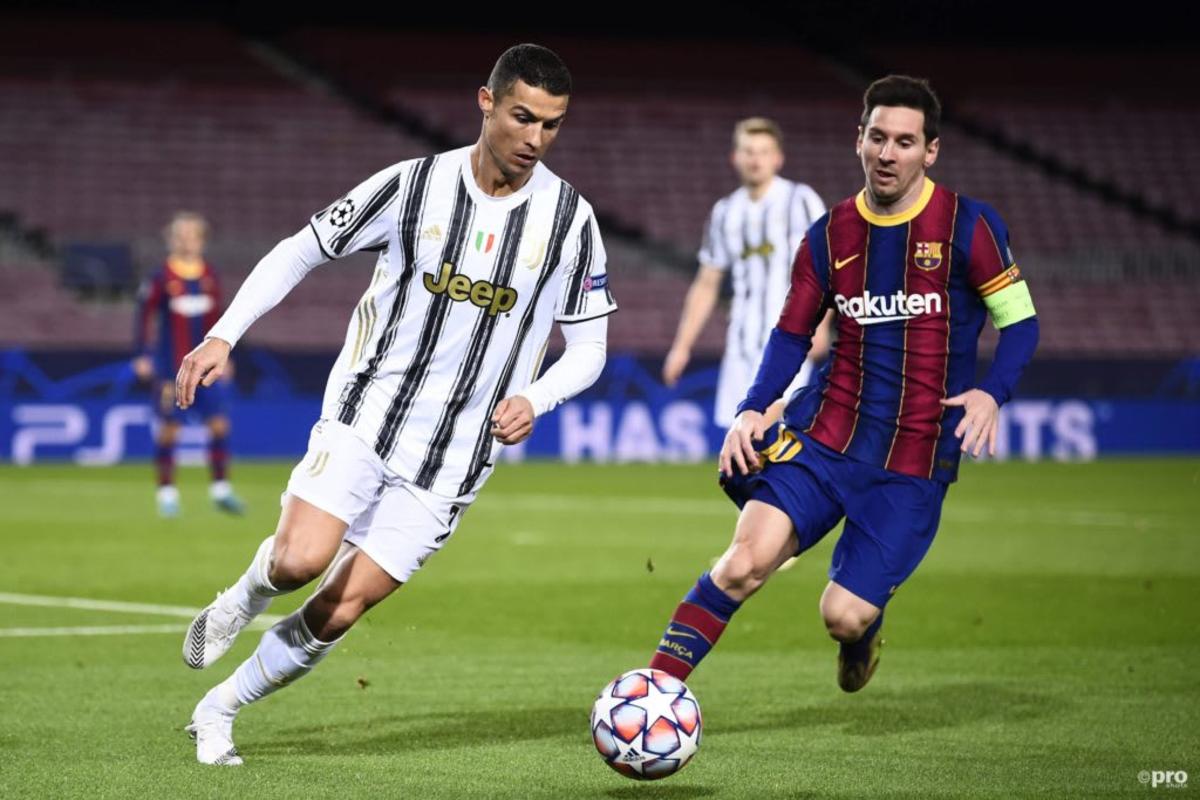 There can be little denying that Lionel Messi and Cristiano Ronaldo have been the two best players of their generation.
Between them they have won 11 Ballons d'Or, nine Champions Leagues, 17 league titles and scored over 1500 goals – breaking record after record for club and country.
Even now, at 34 and 36 respectively, Messi and Ronaldo remain world class players.
Last season, Messi won the Pichichi Trophy as La Liga top-scorer for the fifth year in a row. He then won the Copa America Golden Boot and Best Player Award. He will almost certainly lift a seventh Ballon d'Or later this year.
Meanwhile, Ronaldo hit 29 goals to take the Capocannoniere crown in Serie A before claiming the Euro 2020 Golden Boot, despite being knocked out in the last 16.
HOW MUCH IS CRISTIANO RONALDO'S PRICE TAG?
Individually, Messi and Ronaldo are still performing at a level that very few footballers are capable of.
The question is: can Messi and Ronaldo still win major team honours in what has become overwhelmingly a team sport in recent years?
Do Messi and Ronaldo contribute enough defensively?
Football today, unfortunately, requires all 11 players to contribute to both the offensive and defensive phases of the match.
Gone are the days of a number 10 being gifted a free role, or a holding midfielder or sweeper just defending the space behind their line.
Just as goalkeepers and defenders must be able to pass, dribble and navigate their way through the opposition press, so must attackers contribute to defending and closing down from the front.
Not one player in the team can be carried any longer, no matter how good they are.
Italy's Euro 2020 triumph was the perfect example of what is possible when every player is singing from the same hymn sheet.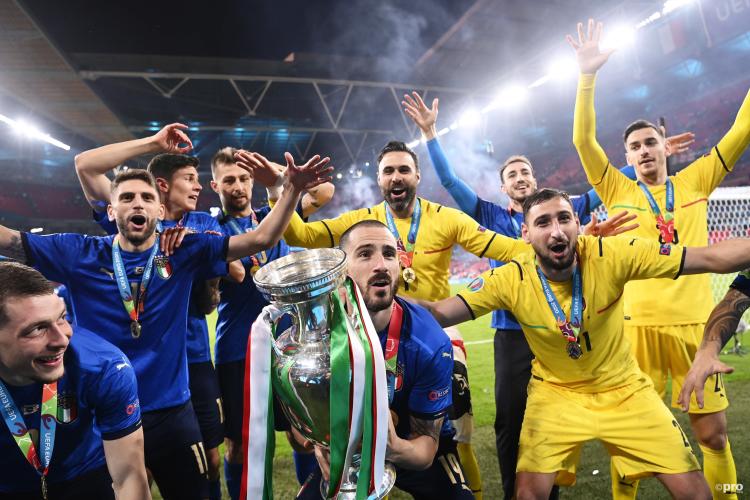 The team moved as one unit both offensively, defensively and positionally, with every player understanding their tactical role and working hard to press and win the ball back – regardless of where it was.
This was particularly evident from goal kicks as Italy often stopped their opponents escaping their own penalty area and trapped them.
PLAYER RATINGS: Italy v England - Euro 2020 final
This elite level of pressing and positional play which Italy demonstrated at the Euros is impossible if even one player doesn't follow the script.
Messi and Ronaldo – as has been the case for a few years now – refuse to join in and press with their teams, nor contribute defensively in terms of tracking back and winning the ball. If Messi or Ronaldo were playing for Italy, their opponents would have escaped the press at goal kicks.
Additionally, teams target areas on the pitch where an opponent is not picking up the slack. For example, if Ronaldo is not tracking back in his left wing position of Juve's 4-3-3, the other team will double up on the left back, creating an overload. This may then cause Juve's left central midfielder to move over to help out, which then leaves them a man light in the centre.
Positional play has become exceptionally complex now. Another real-life example, again in Euro 2020, was in how Spain managed to neutralise Italy during their semi-final at Wembley.
Luis Enrique stopped Italy from escaping from goal kicks by man-marking the Azzurri's ball-carriers, Jorginho and Marco Verratti, via Dani Olmo and Koke.
This caused all kinds of problems for Italy tactically in this game but was only possible through incredible levels of discipline and fitness. In the end Italy won on penalties, but it was Spain who in truth won the tactical battle.
Can Barcelona and Juventus win Champions League with Messi and Ronaldo?
In the last few years, both Barcelona and Juventus have struggled badly in the Champions League.
Juve have won just one knockout game in three seasons since Cristiano joined the club, and have been eliminated by the weakest remaining team in the competition for two years running. This is a dismal return given the €341 million the Bianconeri invested in the Portuguese between transfer fee and wages back in 2018.
My beautiful queen ❤️ pic.twitter.com/Jmbld6ySq7

— Cristiano Ronaldo (@Cristiano) July 22, 2021
As for Barca, they were thumped 5-2 by PSG in the last-16 this year and 8-2 by Bayern Munich in the quarter-finals last year. Meanwhile, the two seasons before that they suffered historic collapses to Liverpool and Roma, respectively.
The Champions League winners in these last few seasons have been ultra-disciplined, super-fit and well-drilled outfits in Liverpool, Bayern Munich and Chelsea who press high up the pitch, run all day and carry no passengers like Messi and Ronaldo.
It can be argued, of course, that neither Barcelona nor Juventus were strong enough in any of these seasons to win the Champions League.
Both clubs have been run appallingly when it comes to the transfer market in recent seasons, as demonstrated by the fact that they found themselves €1.2 billion and €400 million in debt, respectively, heading into this summer. Barca have since received a new bank loan, while Juve welcomed a cash injection from their parent company.
Messi's fans would also point out that he just helped Argentina to a Copa America triumph this month. However, one could argue that winning the Copa in its current guise is not the achievement it once was.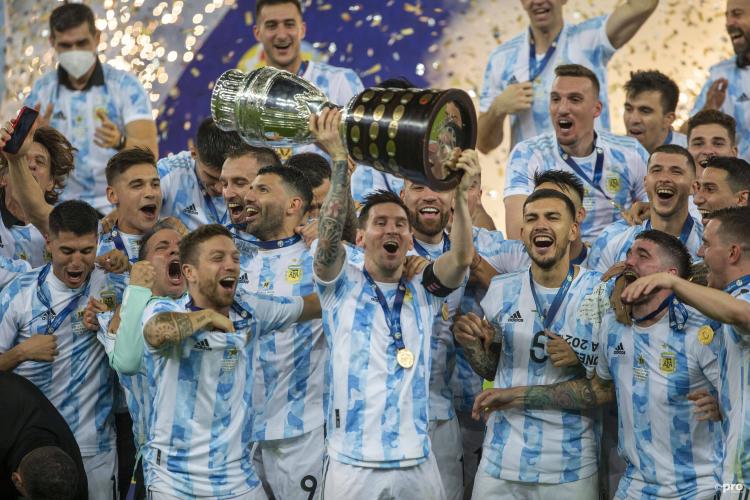 Four of the five teams in each group qualified for the quarter-finals, before Argentina beat Ecuador and then Colombia on penalties to reach the final against Brazil. Those who watched the tournament wouldn't disagree that the standard of South American international football right now is as low as it has been in a long time. European football is much higher, as shown by all four semi-finalists at the last World Cup being from UEFA.
The elite football is elsewhere and the best of the best is reserved for the Champions League knockout stages. It remains very questionable whether Barcelona and Juventus can go all the way carrying a Messi and Ronaldo who don't play for the team.
Juventus wanted Ronaldo out
Juventus certainly realise this is an issue. Maurizio Sarri often complained that his type of football, which relies on a high press, was incompatible with Ronaldo (and to the same extent Paulo Dybala). It is understood that the returning Max Allegri has harboured the same concerns, which is a reason why Juventus have tried to find a buyer for Ronaldo this summer.
Ronaldo is in the final year of a contract that costs Juve €60m in gross wages. The Bianconeri are hamstrung from doing much transfer business this summer unless they sell Ronaldo, but there is little interest in him.
Meanwhile, Barcelona are struggling to find the funds to keep Messi at the club after his contract expired at the end of last month. His last contract infamously cost Barca a barely believable €555m over a four-year contract.
Given the way football is today; are Ronaldo and Messi really worth it?