Who is Dusan Vlahovic? Fiorentina's Serbian striker interesting Arsenal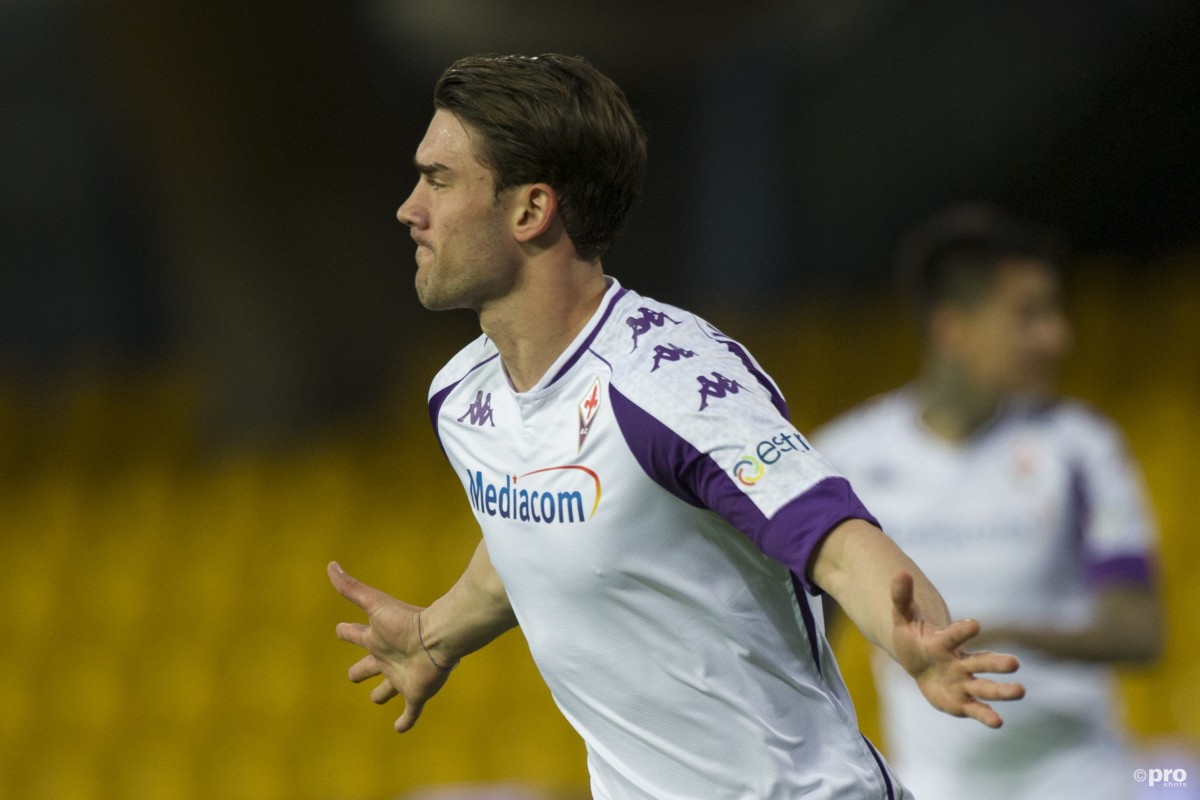 Fiorentina's Serbian striker Dusan Vlahovic is a wanted man. Arsenal have been heavily linked with a move for the 21-year-old, and there are rumours that Tottenham Hotspur and Atletico Madrid are set to join the race for his signature.
In three years in Florence, Vlahovic has proven a slow burner. He was highly-rated at Partizan Belgrade despite scoring just once in 21 league games over a span of two years.
A year after his Serie A debut, in September 2019, he scored his first goal in Italian football. Since then, he has shown himself to be developing in front of goal.
What position does Dusan Vlahovic play in?
At 6 ft 3, Vlahovic is very much an out-and-out striker and somebody who can play as a target man.
How good is Dusan Vlahovic?
This season has really proven to be a breakout year for the youngster, as he averages one goal every two games in Serie A. As mentioned above, that is way above the rate he was scoring at before, even back in Serbia.

As well as goals, he effectively averages one in two when it comes to shots on target, typically taking 2.8 per game, 1.3 of which are successful. His physique, build and new-found proficiency could make him an ideal import to the Premier League.
Crucially, he doesn't just score goals, but he has a healthy knack of scoring at key times, too. Of his 12 Serie A strikes this season, seven have been decisive, with four equalisers.
His general play is also mightily impressive, too. He has created four Big Chances for team-mates this term, while he attempts almost 16 duels per game on average, winning six of them.
Before Cesare Prandelli resigned as Fiorentina boss, he said of Vlahovic:
"This is the most delicate moment of Dusan's career, because people expect things from him now.
"He has to keep it simple and focus on the basics.
"He's certainly motivated, I practically have to push him off the pitch, as he would like to stay there for hours. I think it's the kind of pressure he can deal with."
Which clubs are interested in Dusan Vlahovic?
According to Mundo Deportivo, Atletico Madrid have joined the race for his signature. Given Simeone's preference for tall and powerful strikers, he may well be an idea addition at the Wanda Metropolitano.
Arsenal have been linked with him in the past, and he would certainly be a different option to Pierre-Emerick Aubameyang for Mikel Arteta.
With the report from the Spanish outlet, Tottenham are also mentioned as a potential destination, but it is unclear whether they view Vlahovic as a replacement or a team-mate for Harry Kane.
When does Dusan Vlahovic's contract expire?
Vlahovic's contract at Fiorentina expires in June 2023.
What is Dusan Vlahovic's Instagram?
As of March 2021, Vlahovic's Instagram has 137k followers.
Who is Dusan Vlahovic's girlfriend?
Vlahovic is not currently dating anybody publicly.