Who is Dusan Vlahovic? The striker wanted by Conte's Spurs, PSG, and Bayern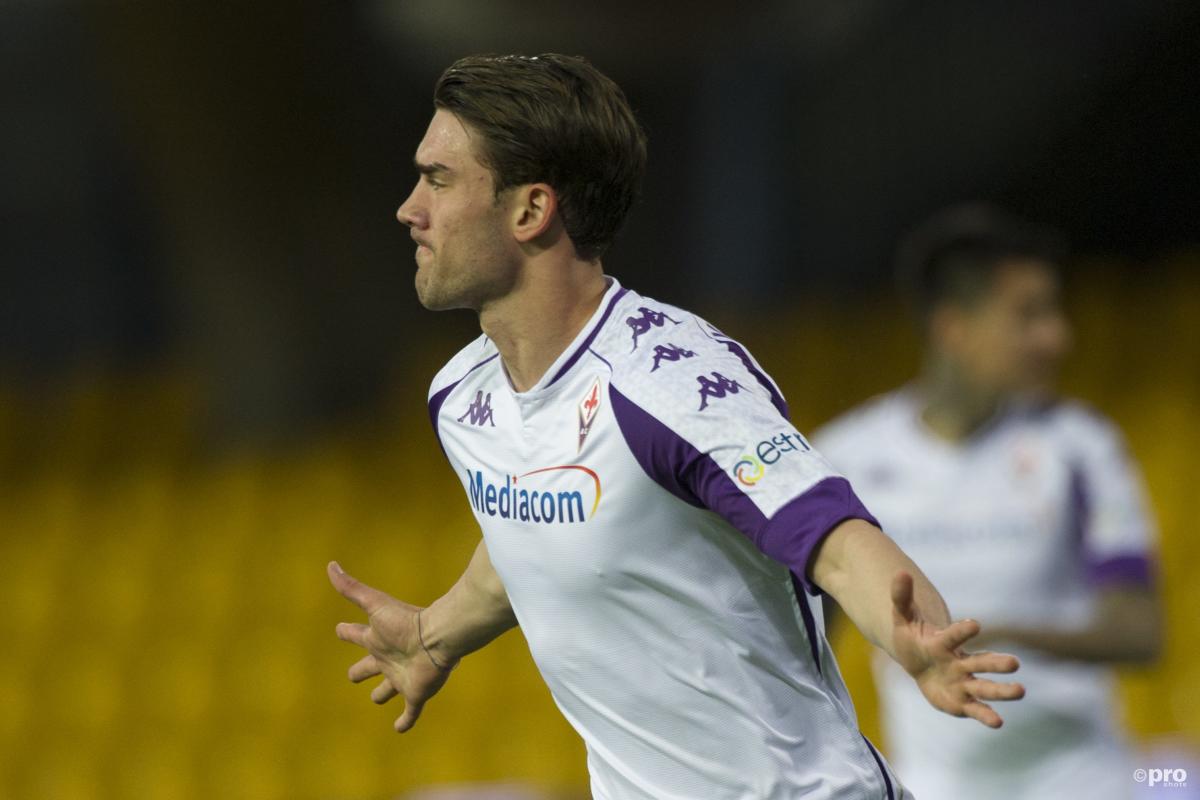 Fiorentina's Serbian superstar striker Dusan Vlahovic is one of the hottest prospects in the transfer market, with the 21-year-old wanted by Europe's biggest and best teams. Juventus, Bayern Munich and Paris Saint-Germain have all been linked with a move, while the new appointment of Antonio Conte at Tottenham has sparked rumours of a move to North London.
Harry Kane is, of course, the number one option up front currently, but his form hasn't been great this season, while Vlahovic has been almost unplayable in 2021.
With Conte now at the helm, the links between Vlahovic and Spurs are greater than ever, and rumours suggest the club will make a move for the Fiorentina man in Janaury.
A huge transfer fee would be required to prise Vlahovic away from the Viola, as he is adored in Florence, but just how good is he?
Vlahovic has, it must be said, proven to be a slow burner. He was highly-rated at Partizan Belgrade despite scoring just once in 21 league games over a span of two years.
It took him a year after his Serie A debut, in September 2019, to score his first goal in Italian football, but since then, he has shown himself to be a force to be reckoned with in front of goal.
What position does Dusan Vlahovic play in?
At over 6ft 2in, Vlahovic is very much an out-and-out striker and somebody who can play as a target man.
How good is Dusan Vlahovic?
The 2020/21 season proved to be a breakout year for the forward, as he scored 21 goals in 34 starts in Serie A.
As mentioned above, that is way above the rate he was scoring at before, even back in Serbia.
As well as goals, he effectively averaged one in two when it came to shots on target, typically taking 2.8 per game, 1.3 of which were on target. His physique, build and proficiency in front of goal could make him an ideal import to the Premier League.
Crucially, he doesn't just score goals, but he has a healthy knack of scoring at key times, too.
Former Serbia striker Darko Kovacevic believes Vlahovic can go on to become one of the best players in the world.
"He is just twenty [one] years old and is showing great things", Kovacevic told Radio Bruno.
"I don't say this because he is Serbian like me, but because he is a very high level player and a hard worker.
"When I was the sporting director [of Serbia] I saw him play with Serbia Under-21s and I saw all his qualities.
"If he continues like this, in three, four years he will be among the top five best strikers in the world."
Which clubs are interested in Dusan Vlahovic?
Paris Saint-Germain were believed to be leading the race for Vlahovic's signature, according to reports from France. The Parisians believe he could present an option to replace Kylian Mbappe, who is expected to join Real Madrid in the summer of 2020.
However, the Ligue 1 giants will face competition from Juventus and Bayern Munich, with the latter believing the player has the correct profile to replace Robert Lewandowski.
This past summer, it was Atletico Madrid and Tottenham who were mentioned as interested parties.
But, with the appointment of Conte, Tottenham now appear to be in the driving seat for his signature, and a move for him in January could be on the cards.
How old is Dusan Vlahovic?
Vlahovic was born on 28 January 2000. He is 21.
What height is Dusan Vlahovic?
Vlahovic is 190cm, or just over 6ft 2in.
What weight is Dusan Vlahovic?
Vlahovic weighs around 80 kilograms, or 12 stone, 6 pounds.
What football boots does Dusan Vlahovic wear?
Vlahovic wears Nike Mercurial Vapor 14 soccer cleats.
When does Dusan Vlahovic's contract expire?
Vlahovic's contract at Fiorentina expires in June 2023.
What is Dusan Vlahovic's Instagram?
Vlahovic's Instagram has 290k followers as of October 2021.
Who is Dusan Vlahovic's girlfriend?
Vlahovic is not currently dating anybody publicly.