Sevilla demanding €80m for Man City, Man Utd, and PSG transfer target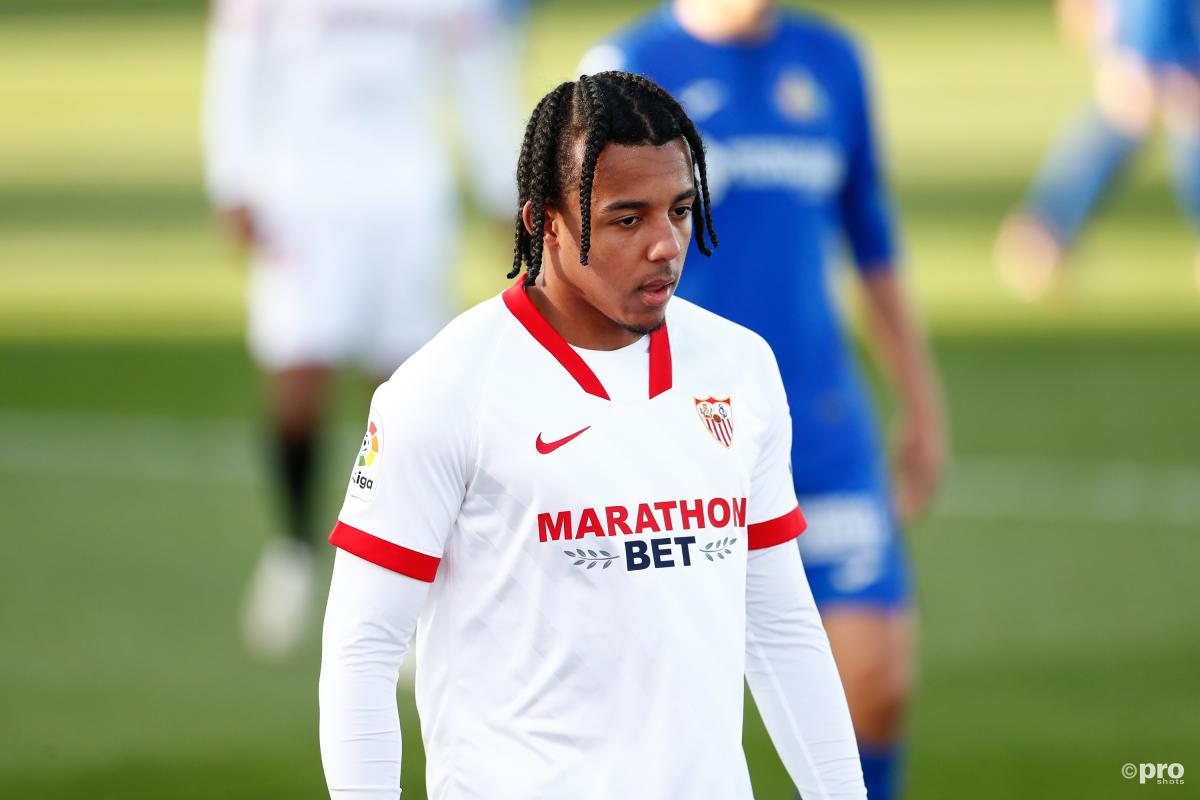 If Man City or Man Utd want to press ahead with their plans to sign young star Jules Kounde from Sevilla, they will have to part with £70 million (€80m) to trigger his release clause.
In the summer before the 2020/21 campaign, Man City were on the lookout for a new centre-back and had identified Kounde as a transfer target.
The Premier League runners-up offered £48 million (€55m) for Kounde, but Sevilla remained firm on their asking price which was indeed the aforementioned release clause of €80m, which has been in place since he signed for Los Nervionenses.
Man City would go on to purchase Ruben Dias from Benfica, but they reportedly still retain some interest in Kounde as they believe him to be a superstar of the future.
However, City are in a long list of suitors for the 22-year-old which includes Real Madrid, Barcelona, Man Utd, and PSG.
Kounde signed for Sevilla in 2019 from Bordeaux for around €20m, and director of football Monchi has known since it was a great piece of business.
"The signing that I have the least doubts is Kounde," Monchi said after a summer which saw a flurry of new players arrive at the Ramon Sanchez Pizjuan.
Jules Kounde – Transfer options assessed
Man City
As mentioned above, City made their interest in Kounde known in the summer, but with the big-money purchase of Ruben Dias having worked out superbly, and with John Stones enjoying a magnificent renaissance at the Emirates, they may decide to spend money on other positions that need to be strengthened.
The only scenario, really, that could see Man City make a play for Kounde is if Aymeric Laporte leaves, with the Frenchman reportedly unsettled in Manchester after falling out of the team this campaign.
Man Utd
It is no secret than Man Utd are searching for a new starting central defender to partner captain Harry Maguire.
Even though Kounde will likely become one of the best defenders in Europe in the coming years, he isn't there yet, and what the Red Devils need at the back at the moment is experience, which may see this one fail to materialise.
They are reportedly interested in Sergio Ramos should he leave Real Madrid at the end of his contract.
Real Madrid
Even before it became increasingly likely that Ramos would leave, Real Madrid were already on the hunt for a new centre-back to buy this summer. They have previously been strongly linked with David Alaba, Dayot Upamecano, and Pau Torres, but also like the look of Kounde.
Interestingly, during the negotiations with Sevilla in the summer of 2020 for the transfer of Oscar Rodriguez from the Santiago Bernabeu to the Ramon Sanchez Pizjuan, Sevilla offered Madrid the opportunity to have first refusal on Kounde should they be open to a sale.
Barcelona
Barcelona couldn't afford to buy Eric Garcia in January for €4m. This transfer won't happen.
PSG
New PSG head coach Mauricio Pochettino is keen to add quality to his defensive ranks in the summer, with the Ligue 1 champions also linked with Ramos.
Kounde is also a target, and PSG could have an ace in the hole to play in this one as the young star was actually born in Paris so he or may to have a affiliation with the Ligue 1 juggernaut.
Even if he isn't a PSG fan, it could certainly interest him to return to the city of his birth.