Eduardo Camavinga to Real Madrid: What agent change means to France star's future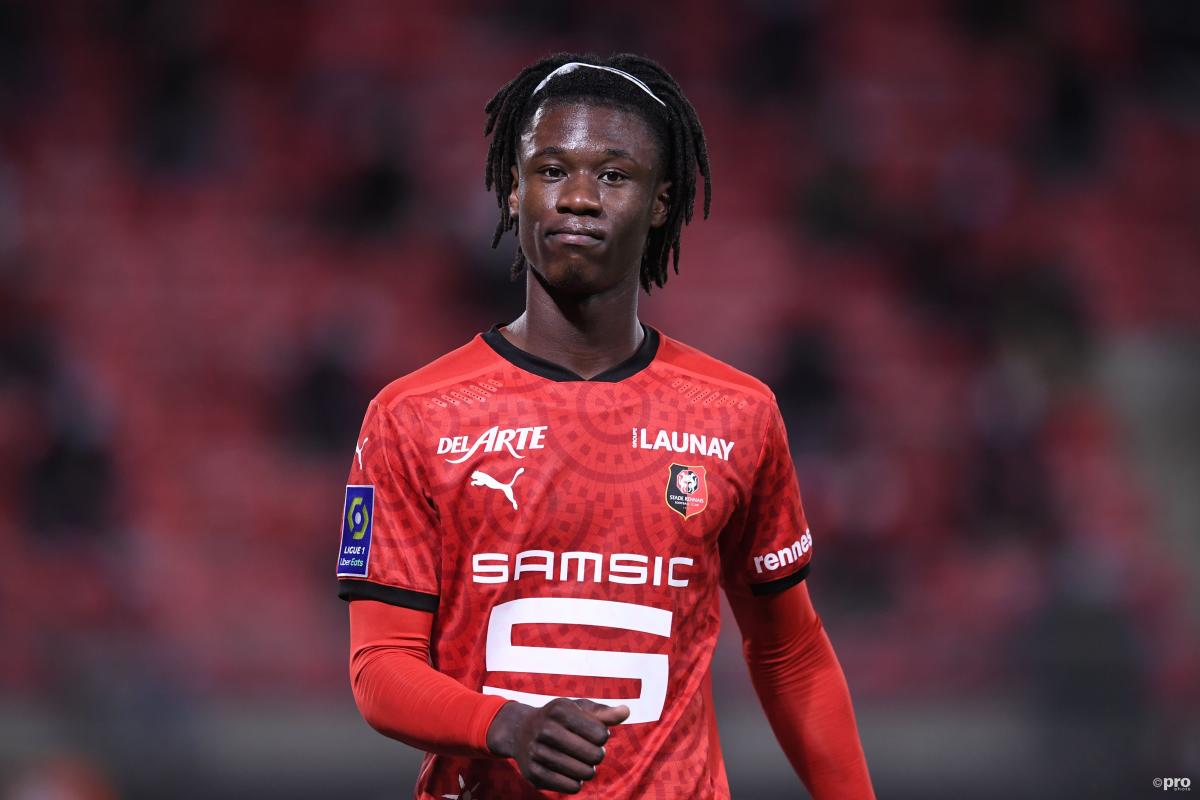 Eduardo Camavinga is set to be one of the big stories of the summer transfer window, with the Rennes midfielder a target for several top European clubs, including Real Madrid and Manchester United.
The teenage midfielder has already written a page for himself in the record books. He became France's youngest international since the First World War when he made his debut for Les Bleus against Croatia earlier this year.
His performances for Rennes have justified the hype. Camavinga may not have fired in the Champions League to his full capacity due to injury, but domestically he has been a major force in Ligue 1 since debuting as a 16-year-old in December 2018.
His contract is up in 2022, meaning this is the summer Rennes must sell him if he does not agree new terms.
Already, there is a sense that he is ready to graduate to a bigger challenge, but he has not discounted extending his stay in Rennes to gain more experience.
However, there has been a significant shift in the Camavinga camp over recent days.
Moussa Sissoko, the agent who has accompanied him over the course of the last year, is set to be sidelined.
Sissoko won much acclaim for the manner in which he handled Camavinga's affairs and successfully kept him grounded during a time when his profile was dramatically escalating. He was not operating with a contract, making it easy for a change. The player, however, remains close to him.
Eduardo Camavinga snapshot:
| STATISTIC | EDUARDO CAMAVINGA |
| --- | --- |
| AGE | 18 |
| CLUB | Rennes |
| INTERNATIONAL TEAM | France |
| POSITION | Central midfielder |
| STYLE | Advanced Playmaker |
| CONTRACT EXPIRES | 2023 |
| RENNES APPS | 52 |
| RENNES GOALS | 2 |
Camavinga's father, Celestino, is reported by L'Equipe to have made that important call. He is currently managing the player alone.
"I don't know exactly what it means for him," Rennes head coach Julien Stephan commented on Thursday. "In any case, I know that he had a very good agent. I don't know what the position is today, but he was very well advised."
Is this good news for Real Madrid or Manchester United? Possibly.
Many of the game's biggest agents are now circling. Cristiano Ronaldo's agent, Jorge Mendes, is one of the names who could take charge of Camavinga's future. Pini Zahavi is another, while Jonathan Barnett, who is Gareth Bale's advisor, is also linked with the role. Former Monaco vice-president Vadin Vasilyev could make him the jewel in his new company: VV Consulting.
Each agent has links of varying strength to different clubs. Mendes, for example, has notably fed many of his players to Wolves in recent years. Clubs managed by Jose Mourinho, another of his clients, can expect favourable dealing when his stars are involved.
Mendes has also worked with Real Madrid in the past. They would see it as a positive sign if he were to join the Portuguese agent's stable.
Barnett has also worked with the Spanish club, though Bale's acrimonious relationship with the Los Blancos may not help forge a fresh deal. His agent has always spoken out very publicly and very forcefully in favour of the Wales star.
With this in mind, Camavinga's future is likely to be closely tied to this next big decision.
The noise around his future is unlikely to stop, but until he has a new agent in place, paper talk is likely to be just that. Only once he has a new representative will his future become clearer.