Locatelli, Phillips, Damsgaard and 10 breakout stars at Euro 2020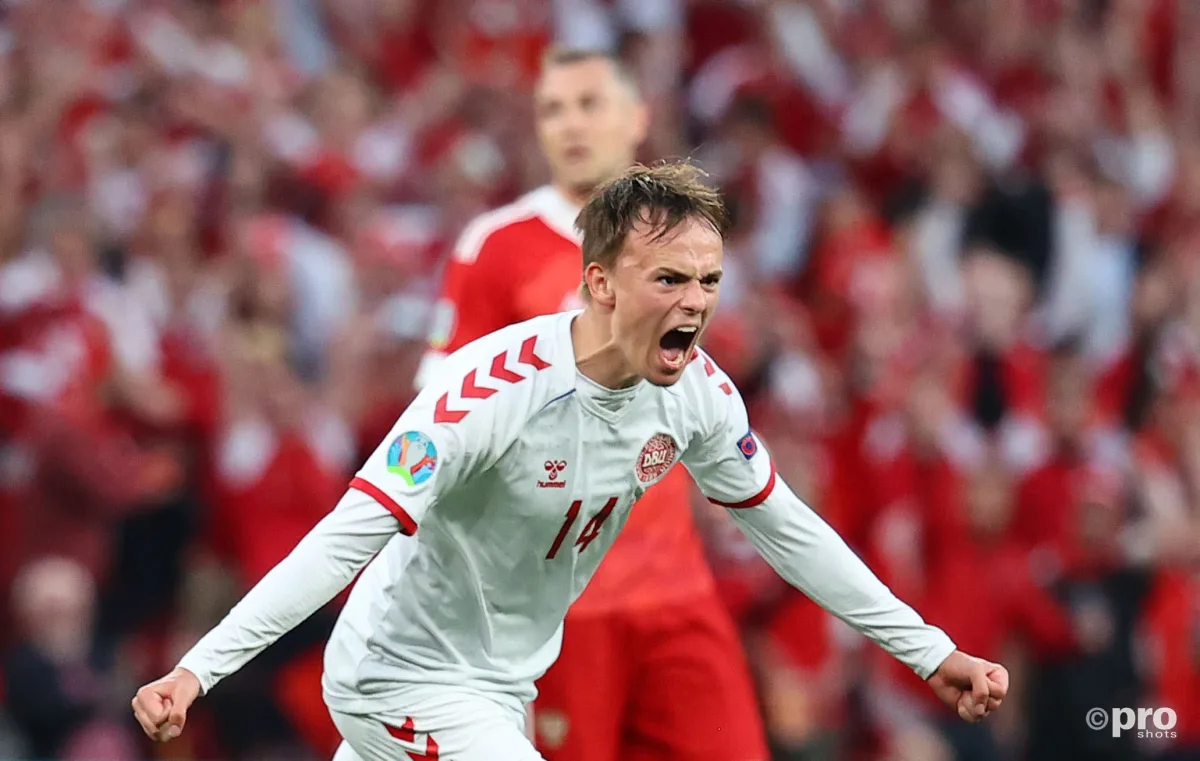 Euro 2020 was a tremendous competition for some of football's biggest stars to trade blows but it was also a tournament for unexpected performers to announce themselves on the biggest of stages.
Whether it be cultured Italian midfielders, pacey full-backs from the Netherlands or even just a young Scot hiding on Chelsea's bench for much of last season, the European Championship shone a light on some outstanding, unknown players.
Article continues under the video
Here are the top 10 breakout stars from this year's competition.
Kalvin Phillips - England
England's star-studded side had very few surprises in store for the world at the start of Euro 2020 but there's certainly some truth to the fact that Kalvin Phillips has surprised fans and critics alike with his persistent role in Gareth Southgate's team.
Alongside Declan Rice, the Leeds United midfielder has been nothing short of remarkable in the way he harasses opposing players, intercepts passes and drives the ball up the park with clear purpose.
England have made their way to the final off the back of smart, defensive football and Phillips has been key to that.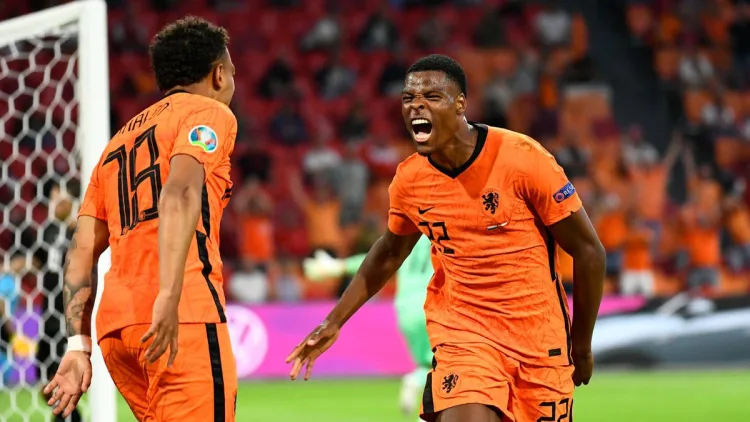 Denzel Dumfries - The Netherlands
At PSV last season Denzel Dumfries was undoubtedly excellent as an attack-minded full-back and bagged no less than four goals and nine assists in all competitions for the Eredivisie side.
As such, it should come as no real surprise that despite the inconsistent nature of Frank de Boer's Netherlands side, Dumfries was one of the few bright sparks that shone despite his team's poor performances.
A goal against Ukraine in a hard-fought 3-2 victory was quickly met with a second in the 2-0 victory over Austria. And while some of the Netherlands' key players didn't show up for this competition, Dumfries certainly did.
Mikkel Damsgaard - Denmark
There were a number of players that stepped up a level and performed admirably for Denmark after the nightmarish scenes in their opening clash with Finland. And Mikkel Damsgaard was certainly one of them.
In place of Christian Eriksen, Damsgaard lit up the tournament with his remarkable range of passing and his eye for an outstanding long-range shot.
His goal against Russia was excellent, but it was undoubtedly bested by the midfielder's tremendous free-kick against England in the semi-finals.
That is a simply stunning free-kick from Mikkel Damsgaard! 💥😱 #ENGDEN | #ITVFootball | #Euro2020 pic.twitter.com/0mkPNI9v5m

— ITV Football (@itvfootball) July 7, 2021
Jeremy Doku - Belgium
Although Jeremy Doku perhaps didn't enjoy as much game time as some of the other names on this list, there's no doubt that he made the most of his game time for Belgium when it was offered to him.
Undoubtedly, the best performance from the young winger came in the semi-final against Italy when Belgium turned to the 19-year-old forward to step in for an injured Eden Hazard and take on the responsibility of creating chances from a jaded Kevin de Bruyne.
Doku didn't score or set up a goal but for 90 minutes he danced through Italian defenders and was perhaps the only Belgian player to seriously question Italy's dominance of the game.
Leonardo Spinazzola - Italy
There's no doubt that Roberto Mancini's tactical wizardry has been one of the most exciting and innovative things at Euro 2020 and at the heart of that has been the right-footed runs from left-back by Leonardo Spinazzola.
While Serie A fans will be well aware of what he's capable of having watched him in action for Roma, Spinazzola delighted the rest of the continent with his marauding runs, crosses and shots down the left flank with so much ease.
If not for a horrible injury against Belgium in the semi-finals, the full-back would almost certainly be in the running for player of the tournament.
Watch Joakim Maehle's cross on repeat until you have to go to work tomorrow. Soothing.

pic.twitter.com/oMnEDJaUuc
— MUNDIAL (@MundialMag) July 4, 2021
Joakim Maehle - Denmark
Another Dane that stood out at Euro 2020 was undoubtedly left winger Joakim Maehle from Atalanta.
While Maehle perhaps didn't have the best time of it up against Raheem Sterling in the semi-finals, he still managed to score a tremendous goals against Russia and Wales and bagged an assist in the quarter-final win over the Czech Republic.
Not bad for a player that was not only playing on the wrong wing but often played in a more defensive role than he's used to in Serie A.
Robin Gosens - Germany
Few things went right for Germany at Euro 2020 but if there was a silver lining to the grey clouds over Jogi Low's head it was the performances of Robin Gosens.
Drafted in as a last-minute tactical switch by Low, Gosens was deployed as a left wing-back in each of Germany's four games and was perhaps most prominent in the Portugal game when he bagged a goal and an assist in the 4-2 victory.
Germany will likely rip things up and start again for next year's World Cup, but we can certainly be sure that Gosens will keep his spot on the left-flank after his performances in this competition.
Manuel Locatelli - Italy
While most of Italy's impressive team were well known around the continent, one player that has stepped into the starting XI and performed well beyond expectation has been Manuel Locatelli.
Well known in Serie A for being a smart holding midfielder, Locatelli has come to encompass the tactically astute side Mancini has put together and will now challenge for the ultimate glory of winning Euro 2020.
Patrik Schick's incredible goal against Scotland. 🤯#SCO #CZE #EURO2020

(via @BBCMOTD)pic.twitter.com/2PFZ4qPS6e
— Squawka News (@SquawkaNews) June 14, 2021
Patrik Schick - The Czech Republic
Heading into Euro 2020, Patrik Schick had scored just 13 goals in 36 games for Bayer Leverkusen in an all-round underwhelming campaign in the Bundesliga. However, once he pulled on his Czech Republic top he suddenly became a superstar.
Against a Scotland side that fancied their chances, Schick happily overcame the odds with a tremendous header in the first half and then a truly remarkable long-range shot over the goalkeeper in the second.
In the following game Schick bagged an opener against Croatia to earn his side a point and scored two more times against the Netherlands and then Denmark to finish the competition with five goals in just give games.
Billy Gilmour - Scotland
Most English football fans would have heard of Billy Gilmour, but few would have seen the Chelsea youngster in action until he was unexpectedly thrown into Scotland's starting XI to face England at Wembley.
Scotland didn't have the best campaign, but that night at Wembley everything seemed to go to plan as they frustrated Southgate's side to earn a point. At the very heart of that performance was Gilmour, who showed no signs of trouble stepping up to face the likes of Mason Mount, Declan Rice and Phillips.
Read more about:
UEFA European Championship
,
Atalanta
,
Atalanta
,
Bayer 04
,
Chelsea
,
Chelsea
,
Leeds United
,
Leeds United
,
PSV
,
PSV U21
,
Roma
,
Billy Gilmour
,
Christian Eriksen
,
Declan Rice
,
Denzel Dumfries
,
Eden Hazard
,
Joakim Maehle
,
Jérémy Doku
,
Kalvin Phillips
,
Leonardo Spinazzola
,
Manuel Locatelli
,
Mason Mount
,
Mikkel Damsgaard
,
Patrik Schick
,
Portu
,
Raheem Sterling
,
Robin Gosens