With Koeman gone, Barcelona must face reality - they're no longer a football giant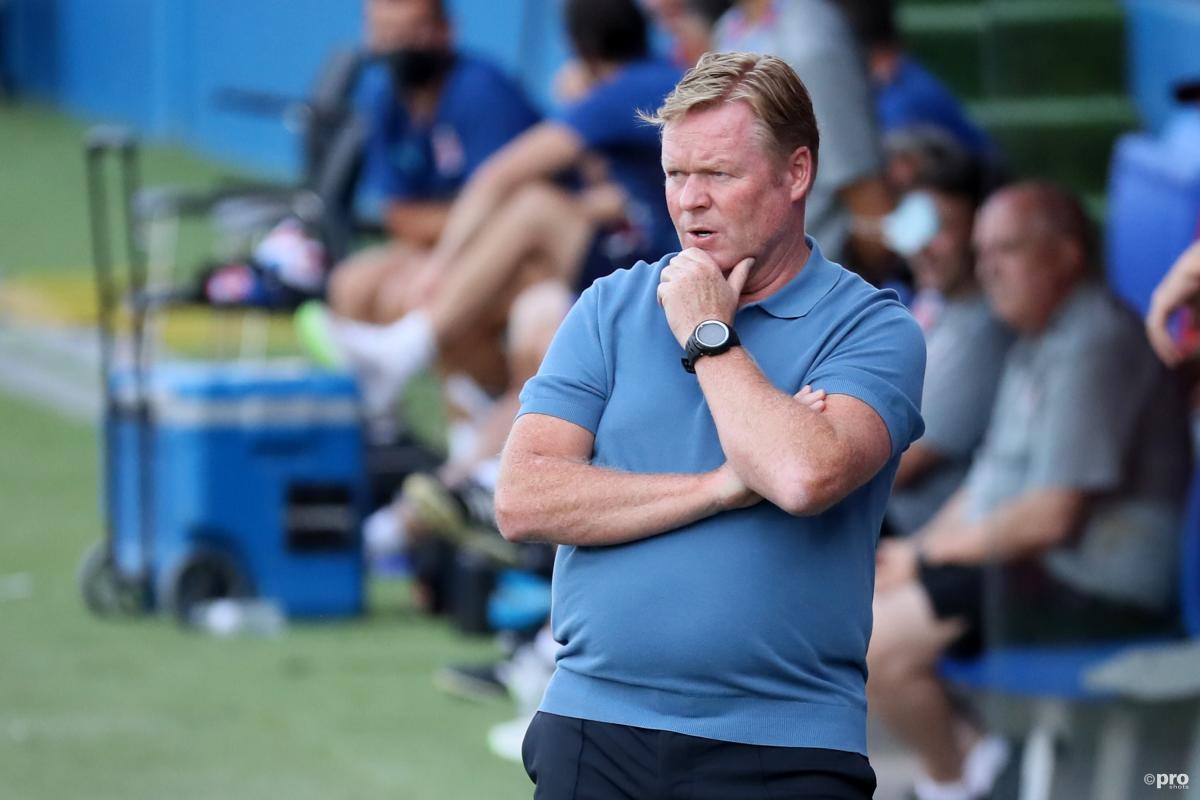 Ronald Koeman, in many ways, was treated abysmally by every facet of Barcelona.
His dream job, the one that he'd spent his tumultuous managerial career building towards, began with Lionel Messi's public desire to leave and the beginning of a realisation that the team he perhaps hoped to build just wasn't going to happen.
It didn't get much better from there.
FC Barcelona has relieved Ronald Koeman of his duties as first team coach

— FC Barcelona (@FCBarcelona) October 27, 2021
Koeman can himself take some responsibility. He is, at times, a deeply polarising figure, easily unlikeable. He has all the arrogance of Johan Cruyff but none of his charisma nor his era-defining ideas. Instead, everything he says appears needlessly acerbic, critical and curt. It often doesn't befit the role of Barcelona coach.
But then Barcelona as an institution doesn't deserve the mismanagement of it by former presidents, spurious financiers and utter dysfunction. It's not Koeman's fault that the Barcelona he has inherited is a hot mess.
It's not Koeman's fault that the debt has reached €1.4 billion, making any franchise signings impossible.
It's not his fault that Lionel Messi's decadent €140m contract was not only granted to him but also ultimately forced him out of the exit door.
It's not his fault that Barcelona's five highest earners from 2019 would pay for an entire squad of a mid-table Premier League team.
It's not his fault that ex-president Josep Maria Bartomeu spent in excess of €400m on Ousmane Dembele, Philippe Coutinho and Antoine Griezmann, three transfers of catastrophic proportions.
And it's also not his fault that the club and the surrounding media continuously ignore these warnings and think everything is somehow going to work out.
But like Ernesto Valverde and Quique Setien before him, Koeman has been made responsible for the underperformance of the expensive flops provided to him. There are players currently playing for the club who would have barely made the B team 10 years ago, and this is the new reality. It's as close as a club can get to starting again.
What next for Barca?
Barcelona are virtually a phoenix organisation at this stage. Their wage budget under La Liga regulations is six times less than Real Madrid's. They can't afford a transfer fee - for anyone - nor can they offload the players they do have for market value given their very public predicament; just look at what happened with Griezmann and Atletico Madrid.
And yet Koeman has overseen some good things. An excellent Copa del Rey win last season. A second half of the campaign where Frenkie de Jong finally developed into the perfect talent for a perfect club. Pedri's brilliance and Gavi's breakthrough.
And actually, the underlying xG of his Barcelona side actually isn't that bad.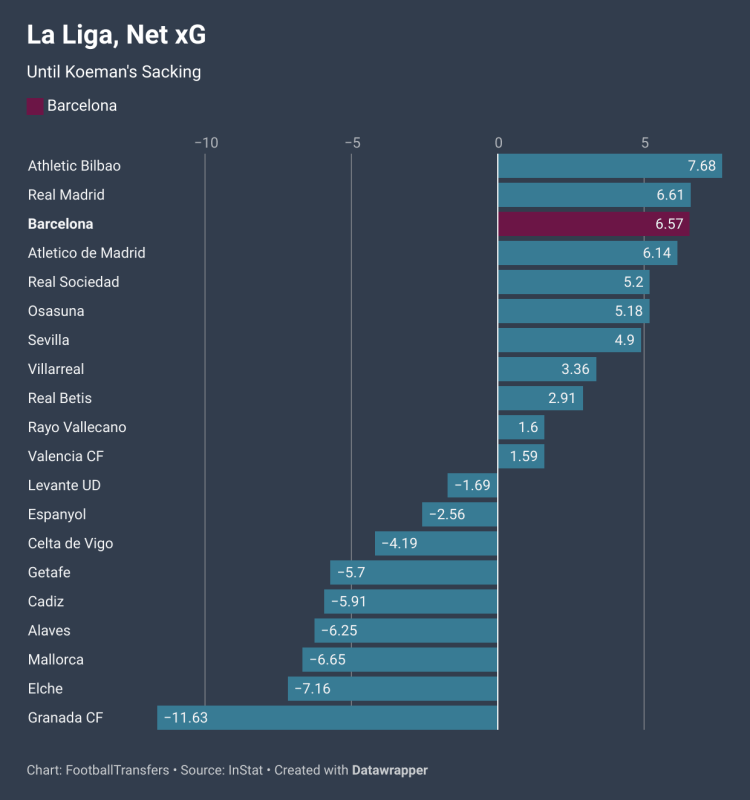 They aren't the team of Messi - that much is obvious - but they have been a little unlucky in matches, not least the weekend's Clasico where Real Madrid may have played within themselves, but Barca missed good chances at key moments.
It's happened in other matches too, and the fact their net xG (expected goals for minus expected goals against) is third in the table shows not only how tight La Liga is this season, but how some of those matches could have gone either way.
And so Koeman is gone, but Barcelona and Joan Laporta had better have a plan in place that doesn't involve money, or the prestige of the institution, because these are lost ideas. This must become a project for someone, the right someone, that has the backing of the board, the fans and the patience of everyone.
Because this is now a long way back. Making Koeman the first scapegoat in a long line of them fails to address the underlying issues and now Laporta needs to admit what Barcelona are; no longer a big club.