Should Real Madrid sign Dani Olmo or trust Martin Odegaard will come good?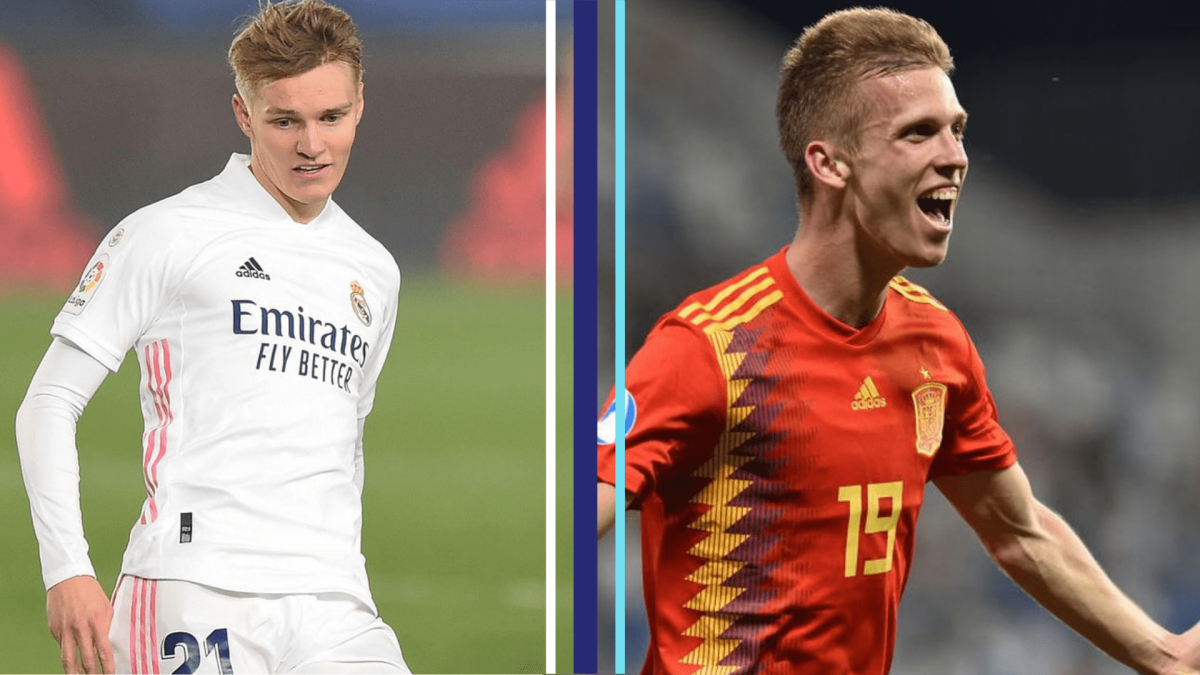 Real Madrid may have a decision to make in the summer with regards to which wonderkid attacking midfielder they want to take them forward – Martin Odegaard or Dani Olmo.
This week, Olmo's agent revealed that Real Madrid had "not closed the door" on a future move for his client, although didn't provide a timeline as to when the interest from Los Blancos could materialise into an actual offer.
The interest in Olmo generates a few questions, mostly to do with the future of Odegaard.
The Norwegian arrived at Real Madrid to much fanfare as a teenager before being shipped out on loan to Heerenveen, Vitesse, and then Real Sociedad last season.
It was with the Basque side in 2019/20 in which he started to make good on is early promise, emerging as one of the best performers in La Liga that season.
His development would lead to Zinedine Zidane requesting that Odegaard's two-year loan be cut short as the Frenchman believed the youngster could play a part in his Real Madrid squad.
Odegaard started the first two games of the season, only to quickly fall out of favour, and barely play towards the turn of the year.
In January of 2021, he signed on loan with Arsenal until the conclusion of the current campaign.
Meanwhile, in the Bundesliga, Olmo continues to impress since his transfer to RB Leipzig from Dinamo Zagreb a year ago, having previously joined the Croatian outfit from Barcelona's youth academy.
How do the two players compare? Well, Odegaard has barely played this season, so for the purposes of the comparison, we'll look at Odegaard in 2019/20 up against Olmo from 2020/21.
Odegaard v Olmo
| Stat | Odegaard | Olmo |
| --- | --- | --- |
| Starts | 34 | 25 |
| Goals | 7 | 4 |
| Assists | 9 | 7 |
| Final Third Passes P90 | 20.0 | 21.6 |
| Dribbles P90 | 2.2 | 1.7 |
| Crosses P90 | 4.3 | 1.1 |
| Duels Won P90 | 4.2 | 6.0 |
Via FootballCritic
As we are looking at a full season for Odegaard last year compared to an incomplete one for Olmo this year, it may be more effective to look at contributions per 90 minutes rather than their numbers overall.
In 2019/20, Odegaard averaged a goal contribution via one scored himself or an assist every 183 minutes.
In 2020/21, Olmo averages a goal contribution via one scored himself or an assist every 189 minutes.
The difference in productivity between the pair when it comes to goal contributions is negligible, but there are other areas which represent significant differentiations.
From the figures above, the starkest contrast comes from crosses sent into the box per 90 minutes, with Odegaard sitting at 4.3 while Olmo's is lower at 1.1.
This could be attributed to a couple of factors, one being that Odegaard was a regular set-piece taker for Real Sociedad, and and the other that he has a bigger tendency to drift out wide and whip crosses into the box from the inside-right position with his left foot, while Olmo produces more centrally.
However, the pair are both starting number 10s, with their best work coming in the spaces in between the opposition defence and midfield.
Therefore, it seems unlikely that Zidane, or whoever is in charge of Real Madrid, will play the pair in the starting XI together should they feature in the same squad.
Even in stature they are similar, with Olmo just 3cm taller than Odegaard.
Their goal contribution outlays, and in most aspects of their game other that crossing, they are quite similar players.
That begs the questions: Is there room at the Santiago Bernabeu for them both?